For more than a decade, Johnny Depp has been using his fortune to save and improve the lives of struggling children.
Beginning in 2008, Depp began an annual donation of around one million pounds ($1.2M) to London's Great Ormond Street Children's Hospital. The hospital is one of the largest centers for child heart surgery and heart transplantation in the world.
The hospital successfully treated his daughter after she suffered from temporary kidney failure in 2007, and Depp has made it part of his life's mission to help other children who are dealing with difficult health issues which no child should have to face. He regularly shows up at children's hospitals dressed as his character 'Jack Sparrow' to encourage and cheer up the hospitalized children.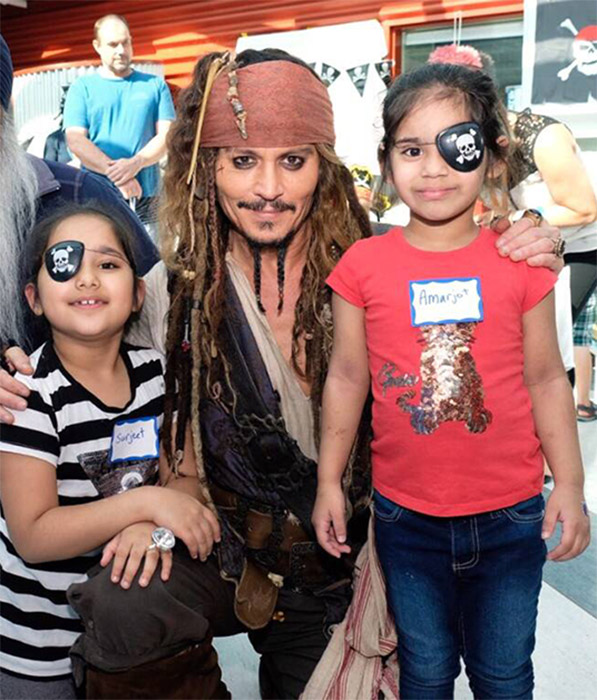 "For me it's a gift. They give me the gift," Depp said. "When my daughter was ill in Great Ormond Street, it was the darkest period of my life. I'd always done these visits but after that experience the visits became more and more important."
Depp also likes to take time out while filming his movies to visit the local children's hospitals in the area. In Australia, he recently made a private visit to the Lady Cilento Children's Hospital and photos emerged on social media.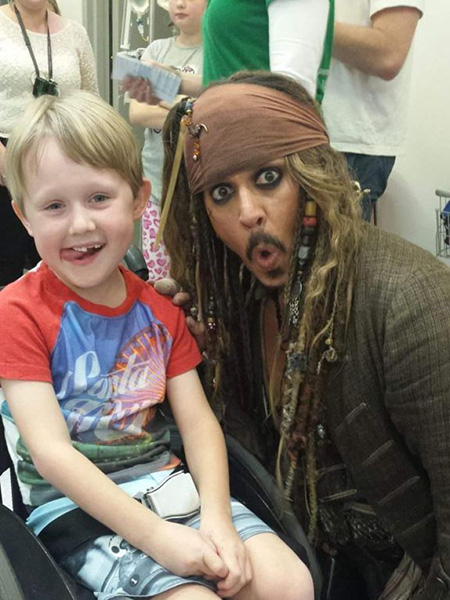 Max Bennett had a nice chat with Depp, and his mother explained that he gave her son some "gold coins" which were engraved with pirate symbols.
"He was going from room to room seeing all the kids who couldn't get out of bed," Ms. Bennett said. "We waited out of the front of one of the rooms, and he came up to us and had a really good chat with Max."
Depp spent hours in the rehabilitation ward as well visiting every child who was there; making sure no one was left out of his visit.
"He was taking his time to make sure he spoke to each and every one of them," Ms. Bennett said. "It was really beautiful. Everyone kept on trying to move him on, but he kept on coming back. He was here for the kids."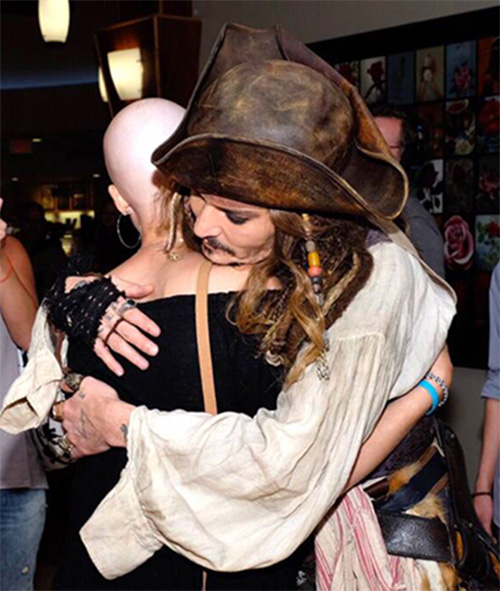 Johnny Depp's compassion and philanthropy is known to extend far beyond children's hospitals. When Depp replaced Heath Ledger in the film The Imaginarium of Dr. Parnassus in 2009, after Heath had passed away that year, the kind actor donated his entire fee for his role in the movie to Heath Ledger's 2-year-old daughter.
Depp also regularly donates large sums to the children's charity War Child, which provides assistance to children in areas experiencing conflict and the aftermath of conflict. They help support children in dealing with trauma, in overcoming their experiences, and in having a real chance at a better future. The kind charity is one of the few organizations which is actively helping the children fleeing the wars in Afghanistan, Iraq and Syria.
Depp has helped countless children, and even received the Courage to Care award in recognition for his contributions to the Children's Hospital of Los Angeles, which provides seriously ill children with medical care from some of the country's best doctors, regardless of their family's ability to pay.
Thousands of children are living a better life today thanks to the kindness and charity of Johnny Depp. If you're also wanting to make a difference in the lives of hospitalized children, consider visiting The Great Ormond Street Children's Hospital and making a donation.
You are Loved.
See Also: Let's Cheer For This Brave Toddler Who Is Celebrating After Beating Stage 4 Cancer