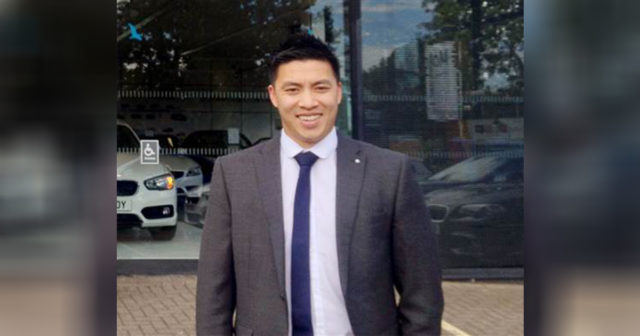 The world is one big family, and we all need to help each other.
When a distressed elderly woman who, by accident, phoned the Stratstone BMW dealership in the U.K., Dang Vuong turned the experience into an incredible act of kindness.
Dang, the sales manager, was alerted by his receptionist that a call had come through from an 80-something woman who had fallen in her bathroom.
The woman had meant to call her daughter, but Dang didn't think twice about the mistake, and immediately drove to her home to help her.




"My initial thought was that I needed to help her, and make sure she is OK. I made sure our receptionist stayed on [the] line until I arrived," said Dang.
He found her front door of her home unlocked, walked in, then found her on the bathroom floor with a wound on her face, and the tub overflowing.
"I felt like I had to go and help because I couldn't live with myself if something happened to her and I didn't even try. If it were my grandparent, how would I feel if she was left alone?" he said.
The woman was surprised at first, but so very thankful for Dang who dressed her wound and helped her lay down on the sofa.
"I've been brought up to help people, especially my elders," he said.
Once she was settled, Dang waited with her until a family member arrived.
Once the woman's granddaughter, Sara Tweedy, heard about the heroic act of kindness Dang performed for her Grandmother, she made this post on social media;
"I would like to say a massive thank you to the manager at BMW Silverlink for helping my nana today. After falling in her house this morning she tried ringing my Mam, however, she got 2 digits wrong which lead to her ringing BMW. The manager got in his car and went straight to her house where he found her on the floor, and her bath was almost ready to overflow. He picked her up and was able to contact us through her Mobile while he stayed with her until my Mam got there."
"We can't thank him enough for what he did for her, there really are some caring and thoughtful people out there that don't get recognized for what they do. Hopefully someone will see this that knows him and he can see how grateful we are! I will be calling in to thank him in person too. Feel free to share this post"
"They are so grateful of my actions," Dang said of the family. "I didn't think anything of it, as I would hope any other human being would have done the exact same thing."
You are Loved.
View this post on Instagram
Related Compassion:
When Buying Breakfast, He Found It Had Already Been Paid For By A Kind Homeless Man Who He Regularly Talked To
Formerly Homeless Teen Never Gave Up And Graduated High School As The Class Valedictorian
Formerly Homeless Woman Buys 4 Homes, Lets Homeless Families Live There For Free