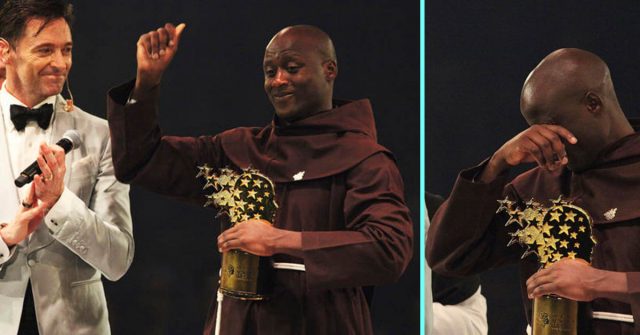 A teacher from a remote village in Kenya, Peter Tabichi, has been crowned the best educator in the world. He gives away 80% of his personal teacher salary to his poorest students to make sure they can attend school. Out of 10,000 nominations from 179 countries, Peter won the Global Teacher Award and the one million dollar top prize.
Peter teaches at Keriko Mixed Day Secondary School in Pwani Village, Kenya, where 95% of his students live in poverty and 30% are either orphans or from single-parent families. Drug abuse, dropout rates, teenage pregnancies, suicide and early marriages are common.
"The school is in a very remote area. Most of the students come from very poor families. Even affording breakfast is hard. They're not able to concentrate, because they haven't had enough meals at home," Peter explained.




Peter is working to turn the lives around of his students with only one computer, poor internet, and a student-teacher ratio of 58:1. To get to their school, many students must walk 7km along roads that become impassable in the rainy season. Dozens of his students would not be able to attend were it not for his personal commitment of donating 80% of his salary to making sure they can afford coming to school.
"It's not all about money," Peter said. "At times, whenever I reflect on the challenges they face, I shed tears."
Peter started a talent nurturing club and expanded the school's Science Club, helping pupils design high quality research projects where now 60% qualify for national competitions. His Mathematical Science team also qualified to participate at the INTEL International Science and Engineering Fair which takes place in Arizona. His hard work and belief in his student's abilities paid off when the school beat some of the best schools in the country in the recent Kenya Science and Engineering Fair. Given their situation, their accomplishments are nothing short of amazing.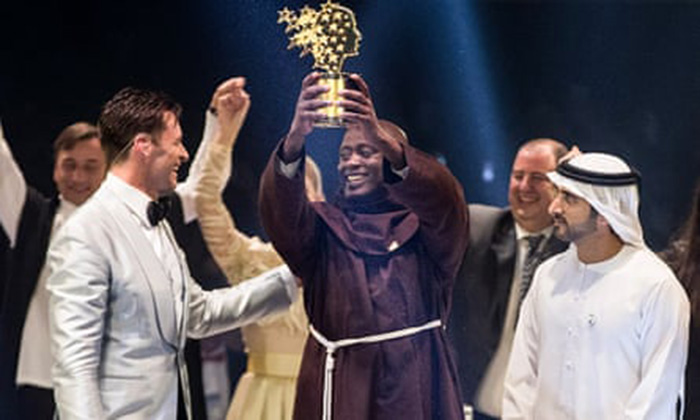 Peter works hard to persuade his local community to recognize the value of education. He visits parents and families whose children are at risk of dropping out of school and encourages them to keep going. He also tries to change the minds of parents who expect their daughters to get married at an early age, explaining to them the benefits for young women to complete their education.
The judges at the competition said that Peter's work at the school had "dramatically improved his pupils' achievement," with many more now going on to university, despite the resources at his school being "severely constrained."



Hugh Jackman presented Peter with the Global Teacher Award, and afterwards he shared that the moment was truly moving and special for him.
"I found tonight to be incredibly emotional, very moving," Hugh said. "It was a great honor, a thrill to be here and I just thought the whole evening was just filled with a really pure spirit."
Peter was shining with both smiles and tears.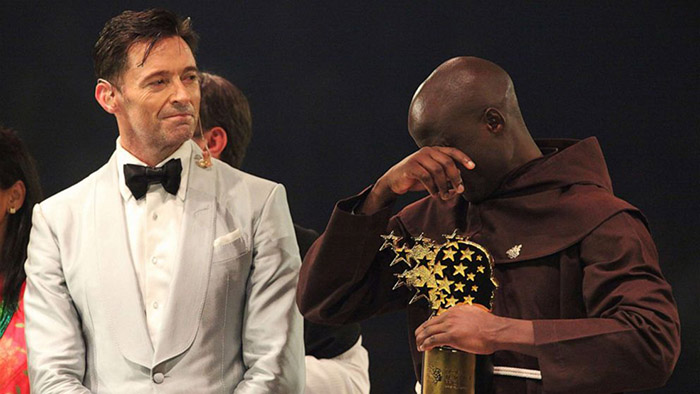 "I feel great. I can't believe it. I feel so happy to be among the best teachers in the world," Peter said. "Seeing my learners grow in knowledge, skills and confidence is my greatest joy in teaching! When they become resilient, creative and productive in the society, I get a lot of satisfaction for I act as their greatest destiny enabler and key that unlocks their potential in the most exciting manner."
Peter explained that his school has no library and no laboratory, so he plans to use the million dollar prize to both improve the school's facilities and to help feed the poor in their community.
"As a teacher working on the front line I have seen the promise of its young people, – their curiosity, talent, their intelligence, their belief," Peter shared. "Africa's young people will no longer be held back by low expectations. Africa will produce scientists, engineers, entrepreneurs whose names will be one day famous in every corner of the world. And girls will be a huge part of this story."
"It's morning in Africa. The skies are clear. The day is young and there is a blank page waiting to be written. This is Africa's time," he said.
It's deeply inspiring to see a teacher like Peter so devoted to his students that he would donate 80% of his own personal income to see them succeed in life, and after winning a $1M prize, to use that money as well to build them a better school.
Thank you Peter Tabichi, for all of the beautifully healing and compassionate work you are doing, and thank you to the thousands of teachers around the world who also go the extra mile to nurture and educate our children towards a bright and better future.
You are Loved.
See Also: A Fifth Grade Teacher Found This Thoughtful Thank You Note From His Student; Thousands Have Been Moved To Tears By It
Watch this beautiful video of an abandoned young child named 'Hope' being rescued: