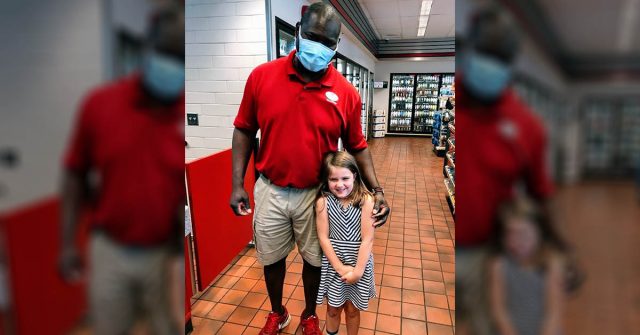 When Chelsie Farr's daughter fell and scraped her knee, a kind cashier came to the rescue with bandaids, neosporin, and left the previously upset little girl with a joyful smile.
Chelsie was so appreciative of the the Quiktrip cashier, named Dedrick, that she shared his photo online with a thank you message.
"My daughter and I just had the sweetest experience and best customer service when we stopped for ice water at Quiktrip in Newnan!" Chelsie wrote.
"Adeley had fallen and scraped her knee and was being totally over the top about it. When we went to the cashier, Dedrick, I asked if he had any bandaids I could just put on her knee."
When Dedrick saw the little girl in pain, he went to open a first aid box, changed to new gloves, and then doctored her up all while sharing a joyful conversation and making the young girl laugh to forget her worries.
"This sweet man went and changed gloves, got neosporin, and went and opened a box of band aids off the shelf. He then came out and doctored her up and made her giggle."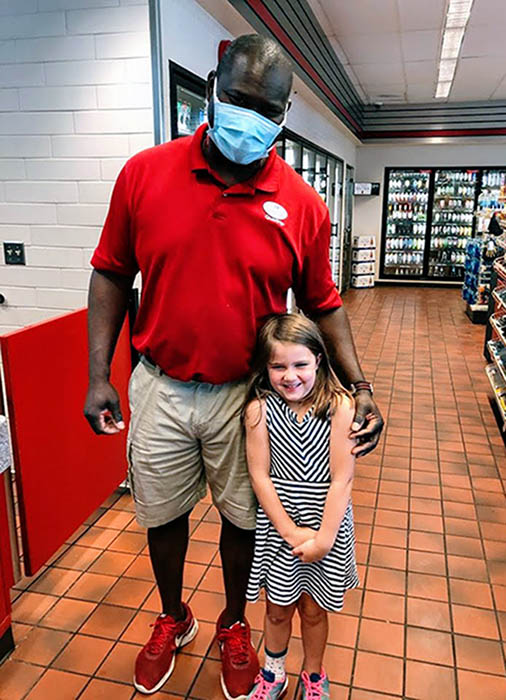 "I almost didn't share this because maybe it seems like something so small, but I seriously was just blown away by his care and concern for customers that were simply purchasing $1.00 in ice waters. But the world needs more positivity. Quiktrip, you have an awesome employee!"
Many have shared their appreciation for Dedrick's kindness:
"Great to hear about the good people and the kind things they do. God Bless you Mr. Dedrick. You are a great example for many to follow. If we would all just treat others the way we would like to be treated the world would be a much better place. Be kind!!!😍" wrote Joan O.
"Happy you shared this and it is a big thing, because too much hatred and negativity shared over and over … a breath of fresh air, thank you. Way to go Dedrick, above and beyond what was expected, nice surprise for mommy and Adeley too …. it was obviously appreciated !!! Hugs from Canada !!!!" commented Marilyn T.
"These are the things that will change the world! Nothing is small when is made with love. God bless that person and you for making that action known. Positive love and solidarity!" wrote Mercedes B.
"I'm a firm believer that it's in the little details that really sets a person/event/establishment apart. ANYONE can do the big things, they're easy and everyone see's them. BUT, the LITTLE THINGS, the things that REALLY make a difference are the things that often go unnoticed. May God Bless this sweet man for his kindness and for attention to the little things. ♥️🙏🏻" shared Kimberlie M.
While it's easy to continue on with our daily lives and to ignore the suffering of others, Dedrick showed us that it's important to take some time out to be kind and to brighten the days of those around us. Adeley went from falling down and being "over the top" about it, to being cheered up and taken care of, and she left with a happy childhood memory.
Thank you Dedrick, for your kindness, and for showing us how we ought to each treat the people around us; with love and compassion.
You are Loved.
Watch this video of a kind young man giving 3 bags of clothes to his classmate who only owned two outfits:
Subscribe for free to Understanding Compassion on Youtube and help us make the world a kinder place.
See Also: Lady Gaga Took A Photo With A Homeless Man Who Said, "But I smell." She Replied, "Don't worry, I smell too."