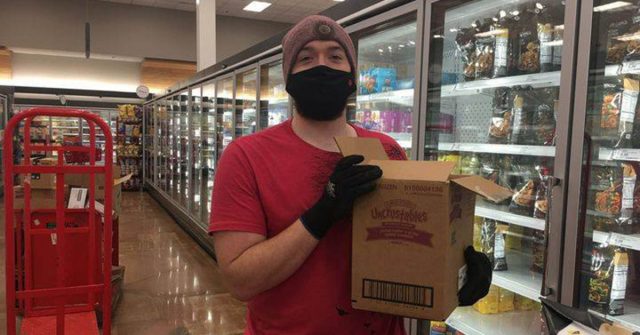 When Maria Albright Miller went shopping at Target for her Autistic child's favorite mini-sandwiches, crustables, she knew finding them would be difficult. It had been months since she had found any at her local stores, and while it may not seem like a big deal, it is for a child with Autism who has very specific needs.
"I haven't been able to find my son's favorite lunch sammys (Uncrustables, grape, reduced sugar, whole wheat) since March," Maria explained. "I was in Target and decided to check, knowing it was going to be futile."
As she was searching the store, she asked an employee who was stocking items, 25-year-old Zac Ander, if he had seen any crustables in the store.
"I found this young man working in the frozen section and explained to him what I was looking for and how I couldn't find it for 8 months and how frustrated I was. I felt so silly that with all that is going on, I know it's seemingly really not that big of a deal but to my VERY picky ASD'er it is a very big deal."




Zac not only heard her request, but he listened with compassion.
"This young man, Zac Ander (he gave me permission to share) immediately felt what I was saying and showed me an amount of compassion I haven't experienced from a complete stranger ever before, his eyes, his face completely changed. We chatted for some time, wished each other well and I was off to finish my shopping."
15 minutes later, Maria was surprised to see that Zac had found her again.
"About 15 minutes later, Zac tracked me down holding a case of those sandwiches! He said he remembered the delivery truck was there so he ran out to the truck and although he didn't think he would find any he wanted to check for me," she explained.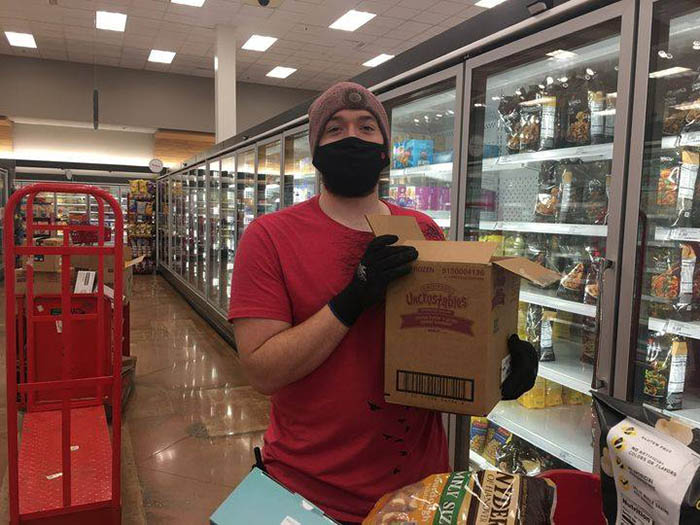 Maria was moved to tears, not only because Zac had been able to find her child's specific favorite food, but because he truly understood her situation and went above and beyond to help her.
"I stood in that aisle and ugly cried in front of everyone, soaked my mask, and didn't care," Maria shared. "I told him I'm not sure if he understands truly what these sandwiches meant, but also pretty sure he didn't get the magnitude of his blessing. I've been struggling with humanity lately and this 25 year old's gift to me, in one fell swoop, changed it all. Turns out he actually did get it."



Thousands of understanding hearts online have shared their gratitude for Zac's kindness.
"Any person with an autistic loved one understands the importance of finding "that thing", if we could just be a tad more compassionate, empathetic and try to find the sandwiches, life would be truly amazing. Take a minute to understand autism, these people are really quite remarkable. Thanks Zac!❤️" commented Christea B.
"This is a great story on so many levels. Zac really went above and beyond. Shows what a beautiful heart he has. And, mama bear…you just keeping it real and sharing your frustration and your love for your son…just think if you hadn't opened your soul to Zac. We all just need to be human and to be here for each other. Little things can be huge things." wrote Michelle D.
"This generation has gown up with ASD students in their classrooms. On some level they "get it". As an aide, I am blessed to see compassion and understanding towards these students from their peers. They are wiser than adults in many cases. Bless your kind heart Zac," commented Linda C.
"Zac, you are awesome! And mom Maria – you are freaking awesome too! You love your son so much that sandwiches made you cry with joy! You both have tough jobs and you made my day! Thank you!" said Anna D.
"❤️ We belong to each other.❤️
Thank you, Zac, from another autism momma. These little things mean so, so much! You have no idea," wrote Lisa B.
You are Loved.
See Also: Brad Pitt Has Been Handing Out Boxes Of Groceries To Families In Need
Please share kindness with others: when we share stories and examples of compassion and kindness, we inspire and encourage others to be kind and compassionate in their daily lives, making the world a better place for everyone.
View this post on Instagram