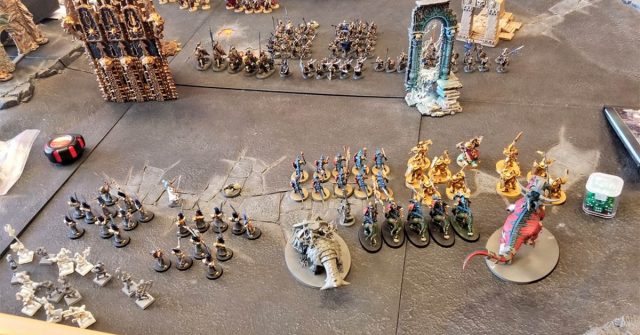 When a mother tried to donate her son's Warhammer collection, who had recently passed from suicide, to a lifeline store, a kind employee refused her donation and instead spent several weeks of his time selling each individual piece online. While she had no idea of their worth, he was later able to present her with $12,000.
"I had a mate who worked in one of the bigger lifeline stores in Australia," the lifeline employee's friend, reddit user quirkyredpanda, shared in a post online. "A woman came into the store with five large clear plastic storage boxes and asked to donate them."
When looking through the woman's items to be donated, he noticed a large, beautifully hand-painted collection of pieces belonging to the popular game Warhammer. Knowing that these game pieces usually contain a lot of value, and that the mother did not know this, he told her that he could not accept her donation.




"He looked inside of the boxes and it was thousands of beautifully hand-painted Warhammer pieces. He was shocked and asked her why. They were her son's and she couldn't keep them in the house anymore since his death. My friend said he couldn't accept the donation, he said the whole collection was worth a lot of money. She had no idea."
The kind young man instead proposed an offer to help the grieving mother; he would try to sell them for her online.
"He asked her for all her details and asked if he could try to sell it for her. She agreed."
He posted pictures of the Warhammer pieces online, and after reading about where the pieces came from, kind collectors purchased every piece that was available for sale from the mother, totaling $12,000.
"After his shift he went home and took photos of everything and posted it online in an Australian Warhammer forum. Within a couple of weeks everything was sold. He called her and she met him at the store."
"He told her he had sold it to collectors all around Australia who loved her son's work. He handed her roughly twelve thousand dollars."
Upon hearing what had happened, the mother cried, and she tried to offer the kind young man half of the money for all of the work he had done. He refused to be paid, as he understood her situation, and he wanted it to be for her. She was deeply grateful, and said she would donate his half to a suicide prevention charity in order to help other young souls who may be in a similar situation as her son was.
"She cried, he cried, she offered him half, he said no. She told him she would donate his half to a suicide charity in her son's name and his name. He said it was the best thing he had ever done in his life."
You are Loved.
Related Stories:
2 Kind Strangers Secretly Shoveled Walkway All Winter So Elderly Man Could Reach His Late Wife's Memorial
These Kind Neighbors Repaired And Painted The House Of A Lonely, Retired School Teacher For Free
Kind Homeless Man Gave His Last £3 So College Student Could Get Home; She After Raised £46,000 For Him
View this post on Instagram