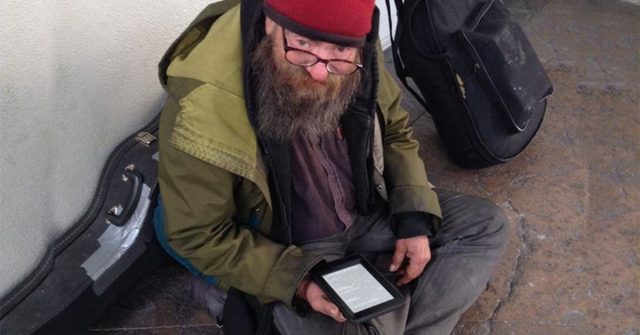 When a kind man saw a homeless person re-reading the same book each day, he decided to give him his personal kindle, loaded with classic books, that he had in his backpack.
Mjuad, from San Diego, California, had moved to Las Vegas for work when he encountered a homeless man named Paul. He saw Paul sitting most days on the side of the street reading the same, worn book, each time he passed.
"This is in Las Vegas. I've walked past him every day this week on the way into work and said hi to him," Mjuad said.
An avid reader himself, Mjuad has a Kindle which has several hundred books on it which he likes to read. He spoke with Paul several times and learned that he had been reading the same book over and over because it was all he had.
"I make good enough money and I have been at the bottom. I try to help out the homeless whenever I can with non-monetary means. When I was talking to him and found out that he really liked to read but was stuck with the same few books, I couldn't just go on having it in my pack knowing someone could get so much enjoyment out of something that, to me, costs so little," he said.
After hearing about why Paul was re-reading the same book, he took his Kindle out from his bag and gave it to Paul.
"I gave this homeless man, Paul, my Kindle after learning that he'd been reading the same book over and over. He hasn't put it down for days."
The following days while walking to work, Mjuad saw that each time Paul had been reading on his new Kindle.
"He says he has hardly put it down. I've never seen someone so happy to receive something and it brings me so much joy to see him every day reading from it."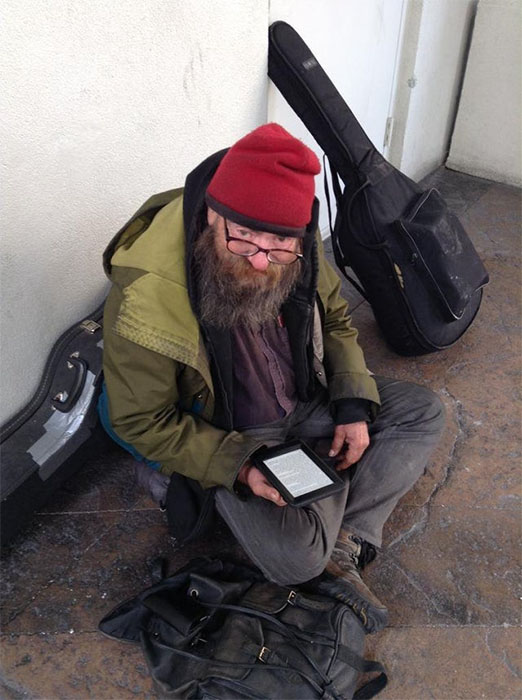 His Kindle has around 200 books, including works by the American writers William Falkner, Ernest Hemmingway, Cormac McCarthy, and George R.R. Martin, as well as Irish novelist James Joyce.
After seeing the joy it brought to Paul, he told him that if he ever runs out of books to read, that he can order them and Mjuad will take care of it.
"I'm going to give him my address so that he can CoD it back to me if he ever runs out of things to read," he said.
Many hearts online have appreciated the specific kindness shown to Paul, giving him something which he would truly appreciate. While many tried to reward Mjuad online, he simply asked that instead, he would appreciate it if they would help a local homeless person in their community.
"Go buy someone hungry dinner or do something to help someone who needs it [instead]," he asked.
One grateful heart shared that he will sometimes give new guitar strings and picks to homeless people he sees carrying a guitar.
"I do this on occasion: Get the guy a few packs of guitar strings and picks. I have never seen more joy than a homeless guy with a guitar getting some fresh strings for his most treasured possession. They are cheap, and worth every penny."
You are Loved.
View this post on Instagram
Related Compassion:
Kind Man Saves The Extra Bagels When His Bakery Closes And Hands Them Out To The Homeless
Kind 8-Yr-Old Leaves Family In Restaurant And Gives Her Meal To Homeless Man Sitting Outside Window
England Has Begun Making Vending Machines That Give The Homeless Free Food
Subscribe for free to Understanding Compassion on YouTube and help us make the world a kinder place.