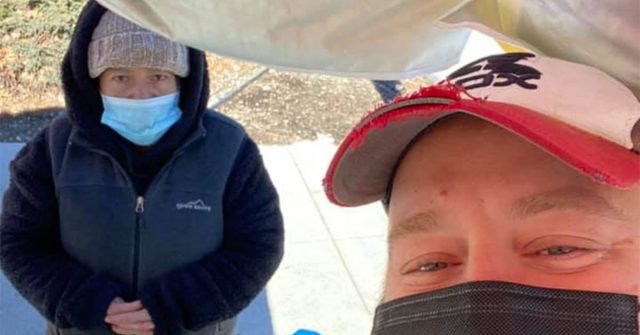 Chicago native Robert Magiet was driving across town on a frigid morning and noticed a tamale street vendor who was outside shivering in the cold.
Anyone who's been in Chicago during the winter knows that Chicago's combination of cold temperatures and strong wind blowing off of Lake Michigan can make it feel freezing for anyone who has to be outside for long. Robert felt compassion for this woman who was braving the frigid cold in order to earn whatever she could during the day, so he decided to stop by and pay her a visit.
Rather than letting her continue to stay out in the cold while trying to sell anything she could, Robert decided to buy her entire stock of tamales, allowing her to go home to where it was warm and helping her make some income for the day as well. Robert left her with a smile, a big tip on top of everything, and with around 120 tamales.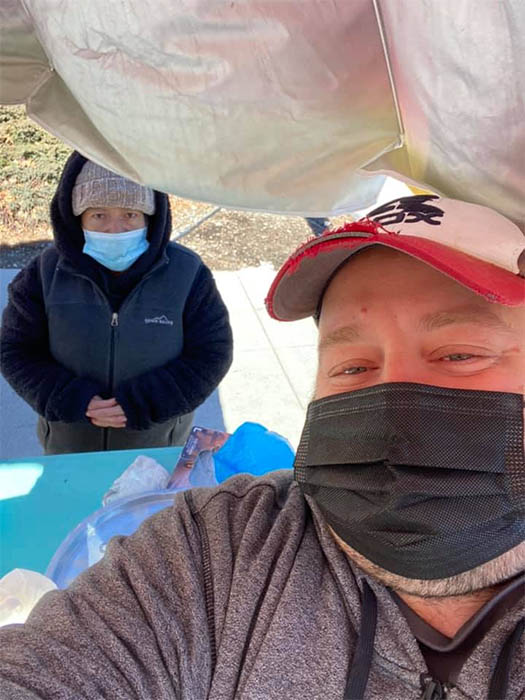 Robert understands the struggle food vendors face as he himself owns a restaurant, so he decided that he wanted to spend more time searching for other local food vendors and help out by buying as much as he could from them.
"Anyone know of any Tamale Cart vendors that will be out this weekend in the cold weather?" Robert asked in a post online. "I went to Yolanda near Humboldt Park and bought her out so she could go home today. I'd love to do the same for other Vendors and distribute the Tamales to our Neighbors experiencing homelessness. Let me know of any leads please. #westtownfeeds"




Robert is no stranger to helping those in need. He recently opened a Love Fridge food pantry, which is a public pantry with refrigerator where people can donate food, and where the hungry and homeless can pickup a free meal.
"The Love Fridge is a Chicago-based initiative created to nourish our communities through mutual aid by offering solutions to food scarcity and food waste," The Love Fridge website explains. "Powered by kindness, generosity, and most importantly, love, we firmly believe that feeding oneself is not a privilege, but a right. With food insecurity at an all-time high, keeping our communities fed is now more important than ever."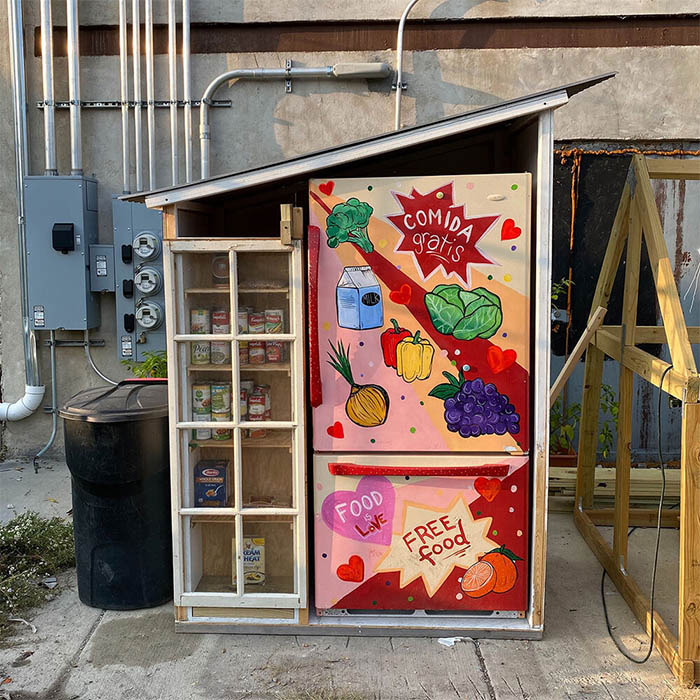 "Our volunteers come from all over Chicago, working within their own neighborhoods to collaborate with like-minded partners to place community refrigerators across the city. These refrigerators, painted by local artists to reflect the communities in which they live, provide neighbors the opportunity to donate food as well as take what they need, ensuring accessible food 24/7."
Robert was also recently able to team up with Fatso's Last Stand and Jack & Ginger's restaurants this past Thanksgiving and deliver more than 1,300 warm Thanksgiving meals to those in need. Each Christmas, he also organizes a large food truck which drives around serving free breakfast and lunch to the homeless.




Robert's friend Taylor Hammond owns The StopAlong pizzeria in Chicago, so one day he asked his friend if he'd be willing to donate his kitchen once a week to help ease food insecurity for people in need. Taylor happily agreed, and now the homeless have pizza on the menu as well.
"It's like, I have a restaurant. I have food. I know people who have restaurants and food. Let's help people who need food," Robert said.
"If somebody in our neighborhood is struggling, we all struggle. I'm not trying to save the world. I'm just trying to help people who need food. If I have the ability to go help somebody, I'm just going to go help somebody. To me, it's literally that simple."
Much of the food Robert collects is distributed to the Love Fridges around Chicago, to Breakthrough Urban Ministries in East Garfield Park, and to Franciscan Outreach's homeless shelter in North Lawndale. If inspired to support Robert's mission, donations can be made to Zelle at 773-807-0057 or by venmo to: @takoreacocina.
You are Loved.
See Also: Kind Principal Works Night Shifts At Walmart To Give The Income To His Homeless Students
View this post on Instagram