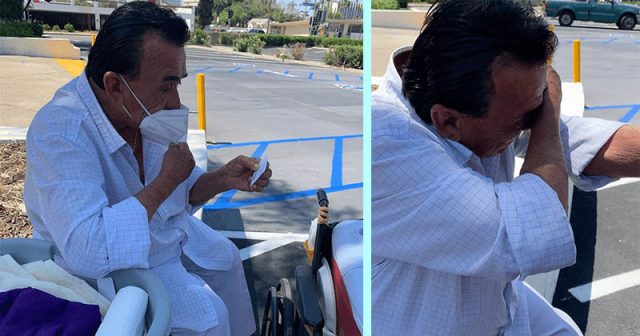 A kind woman in Santa Ana, California, saw a 94-year-old street vendor in a very old wheelchair trying his best to make ends meet by selling tamales, and she decided to give him a few dollars to brighten his day. Kenia Barragan gave Don Joel $5 out of the kindness of her heart, and told him that she didn't need any tamales.
She asked him if he'd eaten yet that day, he said he hadn't, so she offered to bring him a sandwich. The humble Don Joel politely declined by saying "No, no, no, don't worry about it," but Kenia insisted and ordered a sandwich to go from a local restaurant for the elderly man. After she returned with the sandwich, the two had a friendly conversation.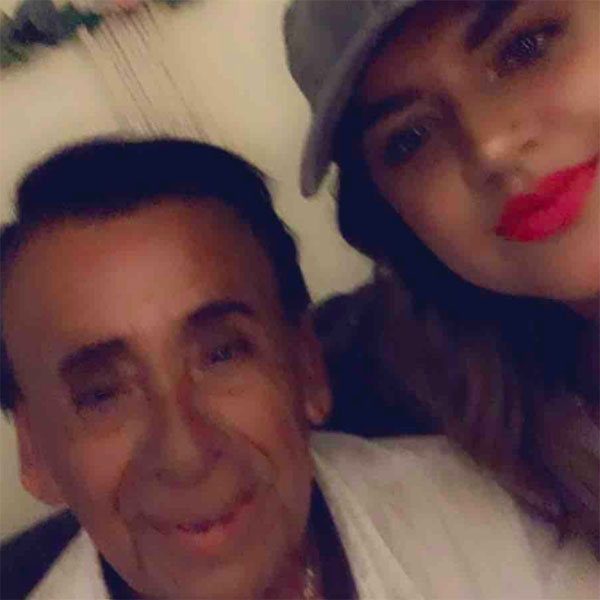 Kenia learned that because of his old age, no one would hire him. Don Joel survived on the little he made from selling tamales for a lady he knew, who would share whatever they earned with him. Kenia learned that while he could barely afford to buy bread and coffee each day, he did not want to ask for financial help from his daughter because he did not want to burden her with his issues.




After Kenia understood how much this older man was humbly struggling and carrying on each day, her heart was gently broken for him. She decided to write a post online to see if any of her friends would be willing to donate so that they could help Don Joel.
"Came to Chase earlier and noticed this man. He was selling tamales," Kenia explained. "so I approached him and gave him the cash I had and told him to keep the tamales for someone else. I started talking to him, and he told me that because he's old, no one will hire him, so he sells tamales for a lady, and then she gives him money at the end of the day."
"His name is Joel, he's 94 years old and uses a wheelchair to get around. He can barley afford to buy his coffee and bread in the morning to eat, and doesn't have money to pay for a phone, let alone his medication. I found all this out, just by taking a few minutes out of my day to acknowledge a stranger. I gave him my phone number, and told him to call me whenever he needs anything… this breaks my heart. He said he's gonna go to church tomorrow and pray for me 😭"
Kenia and her friends began to share Don Joel's story, and they quickly raised $50 for him, which she brought to him that day. She gave him the $50 and told Don Joel that people wanted to help him after hearing his life story, all of which left him in tears.
In a matter of days, more and more people began to donate to help Don Joel, and to everyone's surprise, they were able to raise $85,535 to help this struggling humble man. The donation is life-changing for Don Joel, and now, at 94-years-old, he will be able to eat well and relax, with a bit of safety and security in his life. While bringing him the donations, Kenia made sure to help replace his old and moldy wheelchair with a new one as well.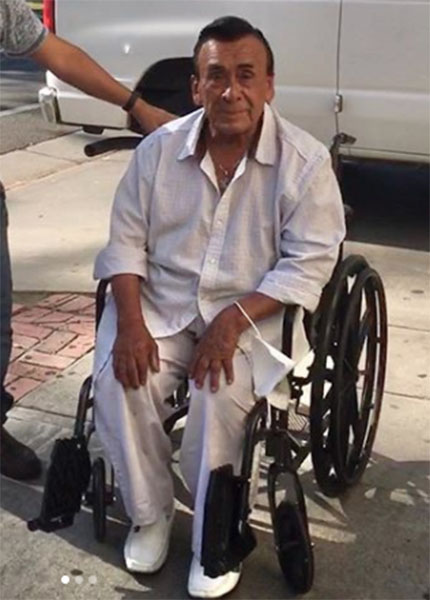 As grateful as Don Joel was for the donations, his humble heart felt that he did not want to inconvenience anyone.
"[People] are offering me so much along with their money. I wanted to cry because I feel bad that they're giving it to me," the 94-year-old said. "I thank the people who are doing that, and I hope that everyone is doing well."



Kenia is so glad that Don Joel will now be able to enjoy his life without worrying where his next meal will come from.
"Sometimes it's just about taking a little of your time and listening to someone's story," she said. "And the most I could do was share it so that more people can help. I just want to help someone. I think that at 94 he deserves something good, that he should have a good time in his life."
You are Loved.
Watch This Video of Kenia meeting and helping Don Joel:
See Also: Elderly Woman Could Not Afford To Cut Her Grass, So These Kind Men Told Her They Would Regularly Mow For Free