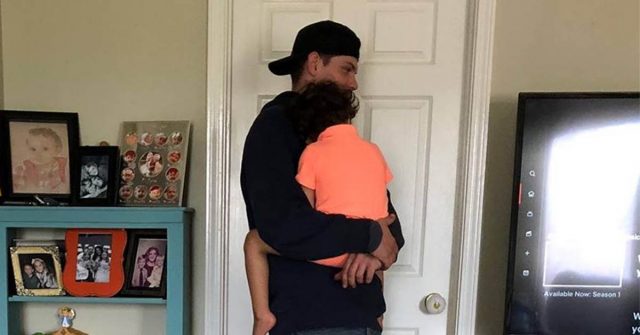 When a mother's blind 3-year-old was crying and motioned to the man installing internet for a hug, the kind man picked him up and lovingly held him for more than 45 minutes.
Jessica Donnahoo was scheduled to have internet installed in her home in South Carolina, but both of her children were not having the best of days and were crying. Jessica's 3-year-old son, Sailor, was born with two rare brain defects which left him blind, and he understandably has difficulty communicating his needs. Yet the kindness of a man who came by to install the internet brightened all of their days.
"Dear Spectrum Internet," Jessica wrote in a post online. "Today your technician Robert came to our home to upgrade our internet and help us start up TV streaming. He walked into a mess. My son, Sailor, is three years old. He was born with two rare brain defects and he is blind."
"He is unable to communicate his needs, and today has been rough for him. He has been crying all morning. I've been trying to soothe him while also meeting the needs of my two year old daughter, cleaning, washing dishes, and doing laundry while my husband works. It's just been a tough day."
Robert Kinney showed up to install her internet and walked in to find Jessica and her children all having a rough day. After hearing his voice, little Sailor walked over to him and motioned to be picked up.
"When Robert walked in and started talking, Sailor ran to him and reached up. Robert didn't seem bothered at all and, instead, held my son off and on for the whole 45 minutes he was in our home. He snuggled him close while I folded laundry. It was a huge relief to this tired momma."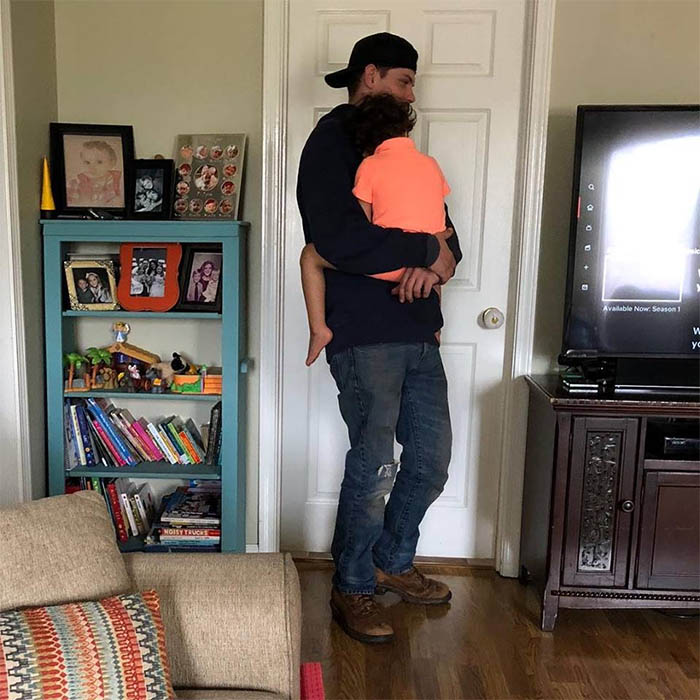 While installing the internet, Robert held Sailor and comforted him as he fell asleep in his arms. Jessica's heart was deeply grateful.
"Robert could have walked in, rushed, and left, but instead he saw a need greater than internet and met it. That's beyond customer service- it's humanity at its best. Robert deserves a raise… a promotion… something! He's an asset to your company and I will never forget his kindness. Sincerely, Jessica"



Many hearts online have appreciated Robert's kindness.
"Children seem to have an amazing sense of who is a good person to go to. So glad Robert was sent to you today. I do hope his boss recognizes what a treasure he is," wrote Sharon T.
"What an uplifting story! And a great reminder of the good we can do in our sphere of influence!" commented Nancy N.
"We need more people like you Robert. Thanks so much for being kind and generous to this little boy and helping his mom out ?♥️❤️" wrote Rhonda M.
"Another good soul doing God's work in the world," wrote Margaret S.
"When we deal with extraordinary challenges with our children, kind people bring us the greatest of joy. It is something that money can't buy. I hope you keep coming across many more kind Angel's who lift your spirits high by treating your child with kindness, and acceptance," wrote Ranju R.
You are Loved.
Subscribe for free to Understanding Compassion on YouTube and help us make the world a kinder place.
Related Stories:
Kind Man Befriends And Lays On Ground Next To 5-Yr-Old With Autism To Help Calm Him And His Mother
After Insurance Wouldn't Cover A Walker, Kind Employees Built 2-Yr-Old Boy One For Free
11-Yr-Old Girl Meets The Bone Marrow Donor Who Saved Her Life
View this post on Instagram