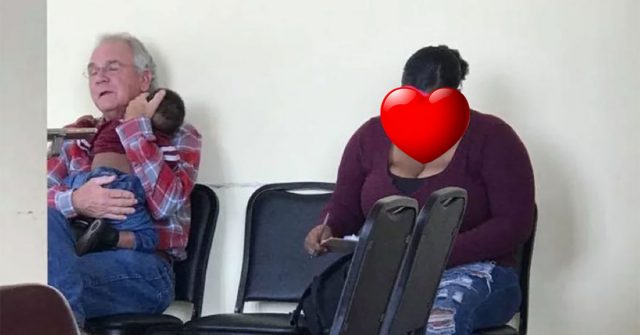 When a kind man noticed a woman trying to hold her sleeping baby while doing paperwork, he walked across the room and offered to help take care of her little one for her.
Natasha Wilson was at her doctor's office when she noticed a woman walk in with her sleeping baby. She needed to fill out some paperwork, and as she sat down with her child in one arm and the paperwork in another, she looked unsure of what to do. A man sitting across the room noticed this, so he walked over and kindly offered to help her.
"I was in the waiting room at the doctor's office today and this lady walked in with her sleeping baby!" Natasha shared in a post online. "They handed her paperwork to do and as she was sitting there trying to figure out how to hold her sleeping baby while filling out the paperwork, this man, from across the room, asks her if she would like for him to hold her baby while she did her paperwork!!"
The mother happily agreed, and the kind man held and rocked the baby as if it was his own.
"She smiled and said that would be wonderful!! This man went over there and rocked and loved on that baby like he was his!! My heart melted!!!"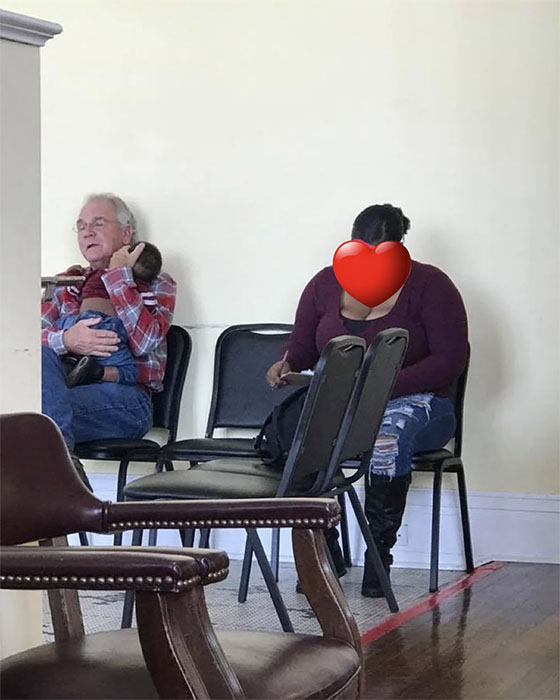 Natasha reflected on the fact that, while racism still very much exists in our society, that she witnessed an older white man lovingly come to help a black woman who he didn't know, and it gave her heart hope.
"Racism is still very real in our society today BUT THIS MAN GAVE ME HOPE and a sweet memory I'll never forget!" Natasha wrote. "If you know this man tell him what an amazing person he is!!"
Thousands of hearts online appreciated the older gentleman's kindness.
"Compassion and love should never have color placed upon it and this man showed it 💕💕💕💕" commented Debi G.
"This is just so heart warming!!! God sends Angels when we need them," wrote TerriLynn S.
"My dad would have done that also. He couldn't pass a baby or child without stopping to speak to them," shared Jeanie K.
"Human being to human being. This is what God intended us to be. This is heartwarming. Love this," wrote Eileen P.
You are Loved.
View this post on Instagram
Related Compassion:
Kind Man Installing Internet Lovingly Holds Woman's Blind And Crying 3-Yr-Old For 45 Minutes
Kind Woman Held One Of Struggling Mother's Twins Who Was Told She Couldn't Hold Two Babies On Flight
Kind Stranger Let Worried 96-Yr-Old Woman Hold His Arm During Flight, Held Bag, Stayed With Until She Met Family