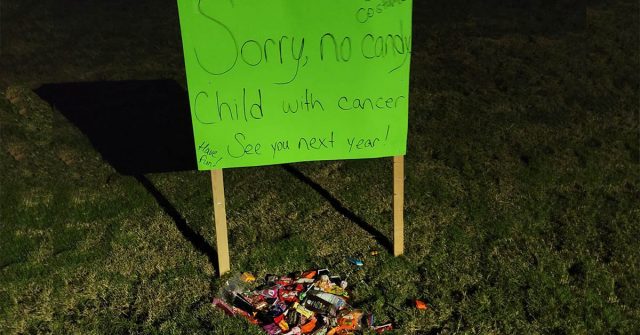 When trick-or-treaters read a front yard sign explaining that a house could not offer candy because their child was battling cancer, dozens of the children took candy out of their own bags and left it for the child who couldn't go out.
Courtney Thomas's child was battling cancer and was unable to go out or be around other children who were trick-or-treating, so they decided to put a sign in their house's front yard in Atlanta to let trick-or-treaters know that they didn't have any candy for them.
The sign read;
"Cool Costume! Sorry, no candy. Child with cancer. Have fun! See you next year!"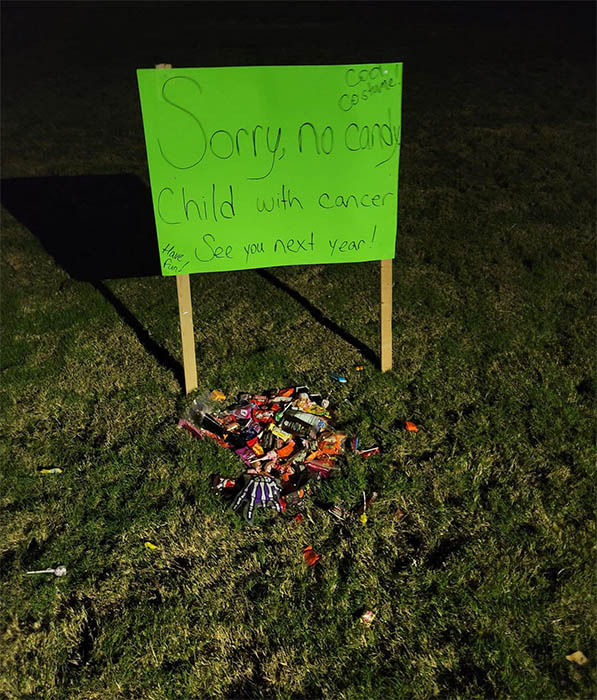 As the family watched their doorbell camera to see everyone's costumes, they noticed that children were stopping at their sign and putting their own candy next to it.
"I can't stop crying ❤️???❤️," Courtney wrote in a post online. "If anyone thought there was no hope in our kids and teens you're wrong. The SOLE purpose of us putting this sign in our yard today was so kids wouldn't run to our door and be disappointed (our neighborhood usually gets 300-400 kids). I looked on our doorbell camera tonight and saw that kids had been stopping at the sign. T.j. Thomas and I just went outside and found this ???"
When they went outside and looked at the sign, they found a large pile of candy under it. Other children had given some of their best candy to their child.
"The picture doesn't do it justice, it's a LOT and the good stuff even ?" Courtney wrote.
"Seriously… If the parents of anyone who did this sees this, PLEASE tell them how much it means to us and our kiddos. On the best candy night of the year kids freely and generously shared with strangers and showed so much love and kindness. So amazing ❤️"
Hundreds of thousands of hearts online appreciated the kindness of the trick-or-treaters and shared words of encouragement for the Thomas family. Courtney was deeply grateful.
"WOW at the responses and shares ❤️ Thank you to everyone for your kind words and prayers!" Courtney later wrote. "We serve a mighty and faithful God and we hold tight to the promise of Romans 8:28, "And we know that for those who love God all things work together for good, for those who are called according to his purpose." Romans 8:28 ESV"
"Childhood cancer is something we wish no family ever had to endure, but there is so much love, hope, and support! If anyone feels led to support financially, this is the link to donate directly to Children's Healthcare of Atlanta Aflac Cancer & Blood Disorders Center."
You are Loved.
View this post on Instagram
Related Compassion:
An Anonymous Spider-Man Is Feeding The Homeless At Night, Showing Us That Everyone Can Be A Hero
A Child Asked A Kind Old Man At The Store If He Was Santa; He Said Yes, Then Brought Her Some Candy Canes And $10 To Buy Them
Kind Students Surprised Colorblind Teacher With Gift: Glasses That Let Him See Colors For The First Time