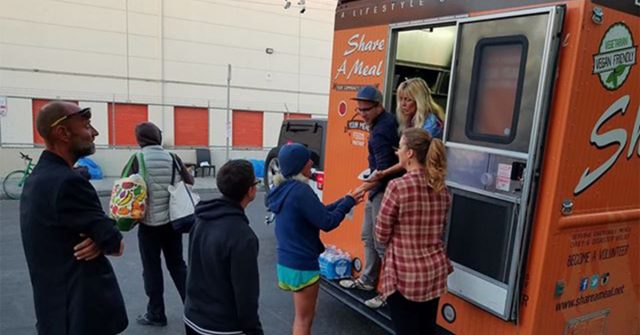 For many of those who need love the most, this food truck of compassion is a beacon of hope.
The Share A Meal food truck, run by nonprofit Khalsa Peace Corps, provides free hot burritos to thousands upon thousands of homeless people in and around Los Angeles five days a week. Volunteers make anywhere from 150 to 250 burritos per night and then drive around giving them to the hungry.




Khalsa Peace Corps founders Ravi and Jacquelin Singh began their beautifully kind program in 2009, starting from a simple desire to serve the community.
"We came up with the idea to have mobile kitchens so we could get to where the need is, to where homeless people are," Ravi said.
"One of the reactions is usually, 'is this stuff really meant for us?'" Jacquelin added. "Because they didn't believe there would be a food truck just for them. We just wanted to serve them with dignity."
There are many people in need in Los Angeles. The city reported having roughly 28,000 homeless people surviving on the streets in 2016.
"Sometimes they don't have the simplest thing: something to eat. That's something every person should have access to," one volunteer said.
The Share A Meal truck goes out each weekday night, Monday through Friday, to the many areas of Los Angeles where homeless people spend most of their time.
The numbers of volunteers vary each night, but there's always a few wonderful people showing up to help hand out food, socks, blankets and toiletries for the homeless.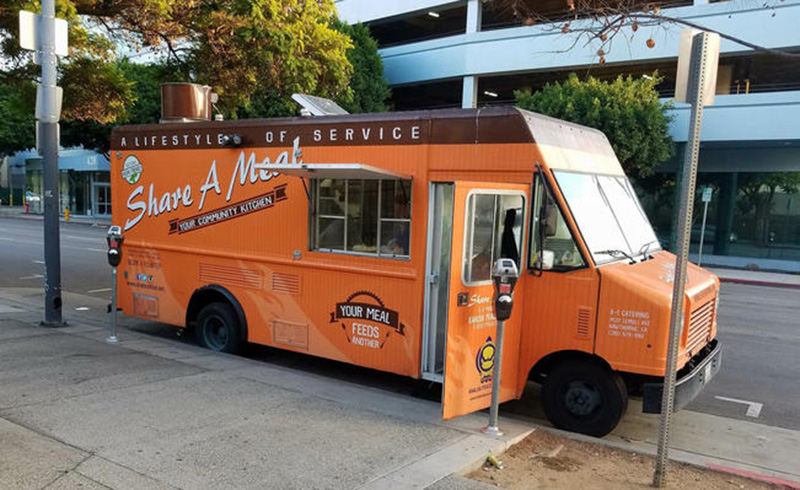 "The burritos are a way of saying we're here, we're helping, we're trying to support you," volunteer Alejandro Garcia said. "To let the homeless community know they're not forgotten."




Share A Meal first started raising its funds by operating as a normal food truck by day, and then using profits to give out free food by night. But now the truck of compassion is only used to deliver free food. The Share A Meal truck is funded with donations to the Khalsa Peace Corps, and also continues to be funded by the founders Ravi and Jacquelin, using their own money when donations can't cover expenses.
"It's all about bringing awareness," Alejandro says. "Hopefully this will inspire more people to do similar things, or to come join us in our cause."
To volunteer or donate to the wonderful Share-A-Meal truck, please visit http://www.shareameal.net/
With so many people in desperate need, it's beautiful to see compassionate people doing what they can to make a real difference in the lives of others. If you've had an idea for a while that you believe can share love with and really help the homeless or another group of vulnerable people, consider giving it a go, regardless of how small it starts as. Your passion and loving heart for what you do can brighten the days of those living in dire poverty, and can also inspire others in your community to fall in love with your mission and come to help you.
"Not all of us can do great things, but we can do small things with great love." ~Mother Teresa
You are Loved.
See Also: Man Turns Old Truck Into Mobile Shower For Homeless People To Get Clean, Warm And Keep Their Dignity