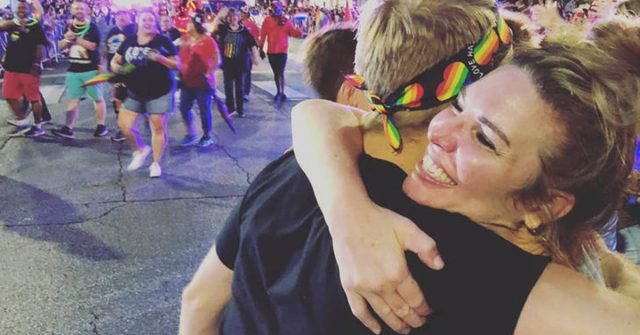 When a pride parade was held in Austin, Texas, a group of kind moms and dads decided to show up and show their love by giving heartfelt parental hugs to LGBTQ+ kids whose parents had rejected them.
In the LGBTQ+ community, there are numerous children who have been disowned by their families, friends and churches after they 'came out' and expressed their identities to their parents. They were left abandoned and alone after sharing their natural, honest feelings; an experience that is so very difficult to cope with.



Studies have shown that due to stigma and discrimination, LGBTQ+ youth are more than four times more likely to experience depression and attempt suicide. So when a pride parade came to Austin, Texas, author and blogger Jen Hatmaker and her church, went together to give out loving parental hugs to the many LGBTQ+ kids who have been rejected by those closest to them.
"My beloved little church went downtown to the #AustinPrideParade and gave out Free Mom Hugs, Free Dad Hugs, Free Grana Hugs, and Free Pastor Hugs like it was our paying jobs." Jen explained. "And when I say hugs, I mean THE KIND A MAMA GIVES HER BELOVED KID."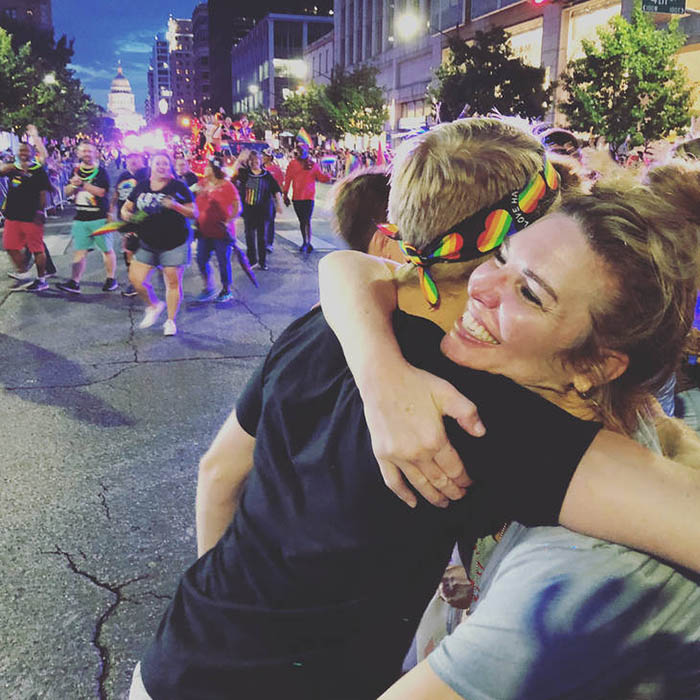 For the entire parade, Jen shared that their arms were "never empty" as they embraced our LGBTQ+ brothers and sisters with the love and acceptance they needed to receive from a parent.
"Our arms were never empty. We 'happy hugged' a ton of folks, but dozens of times, I'd spot someone in the parade look our way, squint at our shirts and posters, and RACE into our arms."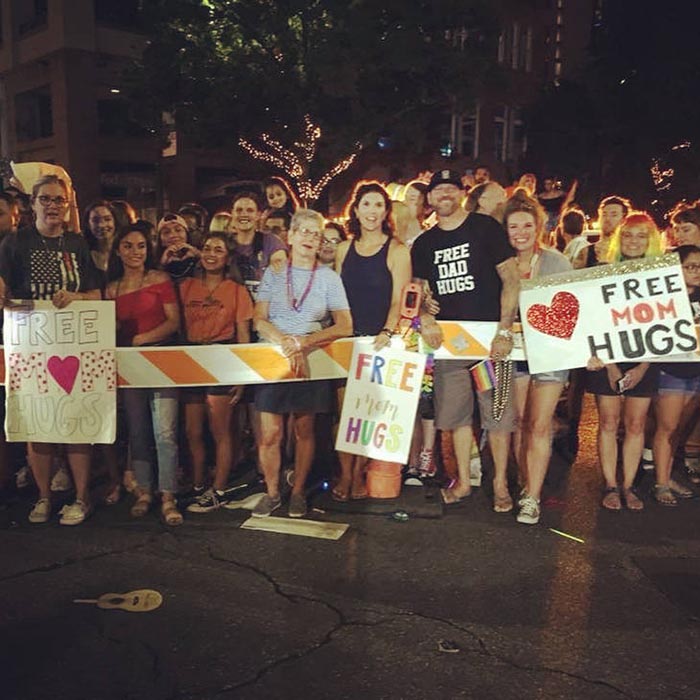 "These were the dear hearts who said:
"I miss this."
"My mom doesn't love me anymore."
"My Dad hasn't spoken to me in three years."
"Please just one more hug."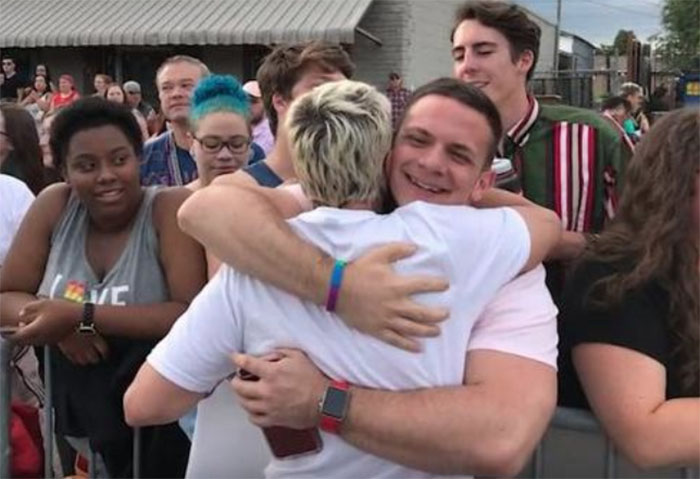 Even the church's pastor came to the event to give out hugs and to show love, which was deeply emotional and appreciated by the LGBTQ+ youth who have been rejected by their churches.
"You can only imagine what "Pastor Hugs" did to folks," Jen explained. "So we told them over and over that they were impossibly loved and needed and precious. And we hugged until our arms fell off. This is what we are doing here, what we are here for."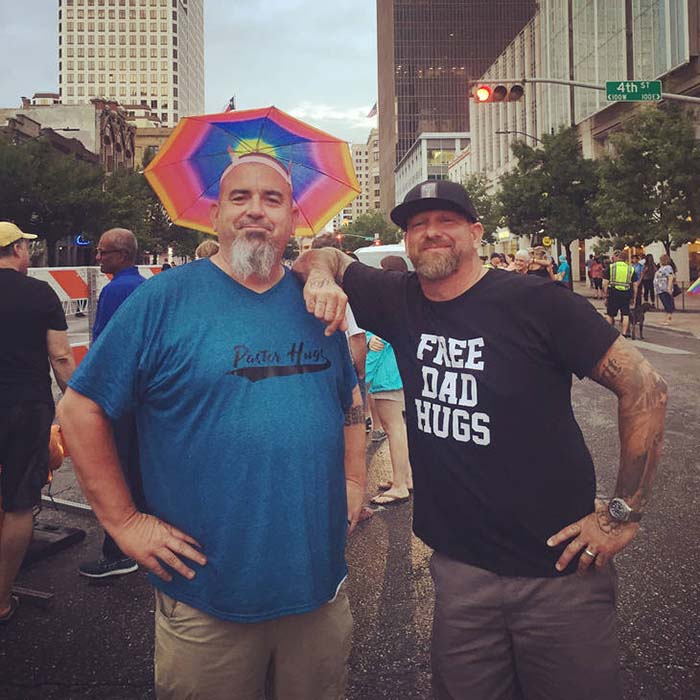 At the end of the event, Jen took a selfie of herself which revealed a mixture of glitter, sweat and tears.




"The last pic is what you look like at the end of Pride covered in glitter, sweat, and more than a few tears."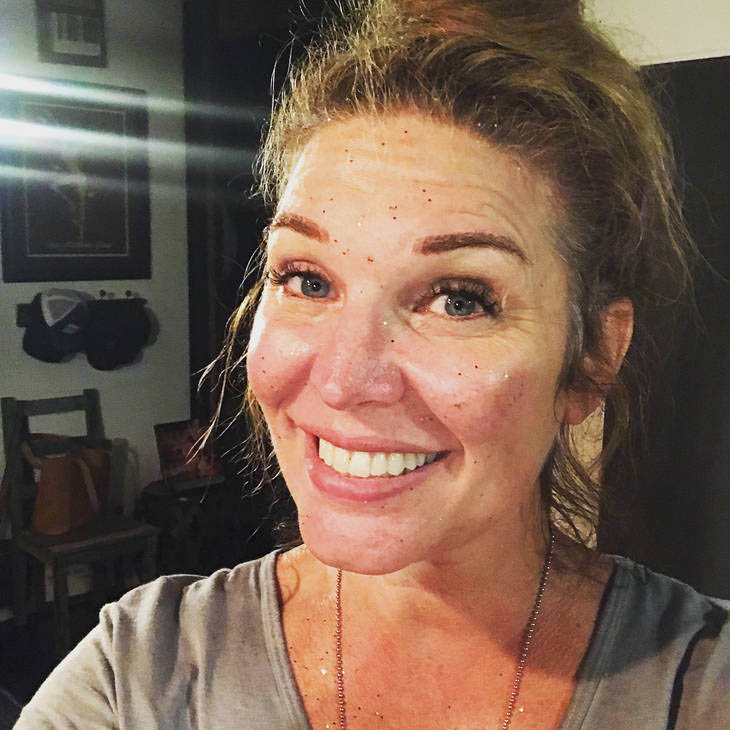 Their beautiful idea to provide loving parental hugs was organized by Free Mom Hugs; a group of affirming parents and allies who love the LGBTQ+ community unconditionally. They are dedicated to educating families, church, and civic leaders, encouraging them to not only affirm the LGBTQ+ community, but to celebrate them; one hug at a time.
"Thanks to Sara Cunningham and the @freemomhugs tribe for the wonderful inspiration," Jen wrote.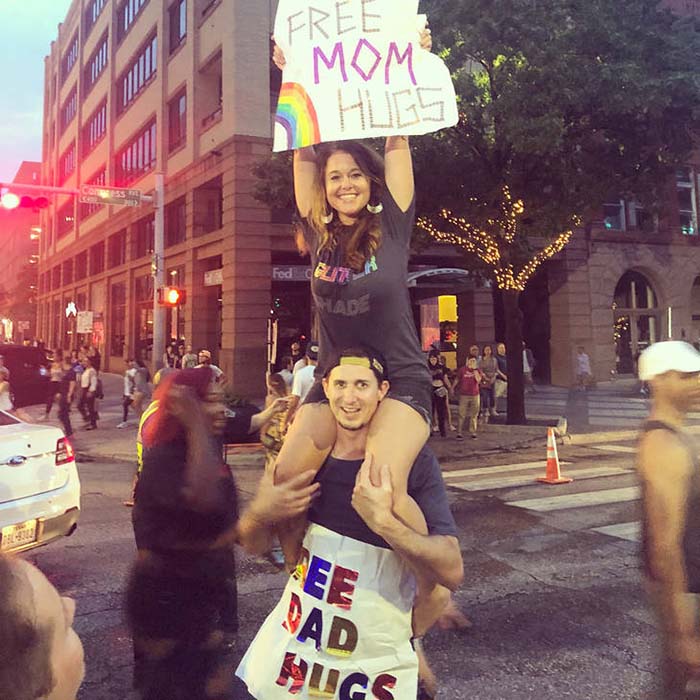 Tens of thousands of people online were moved to tears after seeing the unconditional love that was shown:
"I think this is how love looks like. I'm so grateful for what you're doing guys. I was reading about this and was almost crying. Thanks for doing such thing. I think our heavenly Father is so proud of you," wrote one person.



"This makes me so happy, for the "kids" and just because it's so loving ❤️❤️❤️❤️❤️❤️❤️❤️❤️ " said Rose O.
"That is ministry done right. God is Great!" said another.
Seeing children who have faced such difficult discrimination being embraced with unconditional parental love is so deeply beautiful. We can only imagine how much it means to them.
Learn more about the beautiful non-profit Free Mom Hugs here and in the following 2-minute video:
You are Loved.
See Also: Danny And Ron Have Saved More Than 11,000 Abused, Abandoned And Unadoptable Dogs