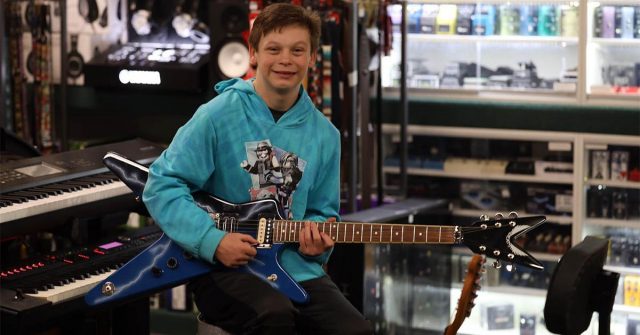 When a kind stranger learned that a young man with Williams syndrome regularly came into a music store to play a specific guitar, he anonymously bought the guitar as a gift for the young man.
Fallon, a young man with Williams syndrome, would regularly come into J.B. Hart Music Co. in Grand Junction, Colorado, with a request to play "the Pantera guitar". The guitar he loves is the Dean Dimebag Darrell ML Guitar, which was the model used by the guitarist of the heavy metal band Pantera. Fallon was obviously a big fan, because he not only knew the guitar that the band used, but when he played, he also knew some of their song's guitar riffs.
"This is Fallon," J.B. Hart Music Co. shared in a post online. "Over the last couple of years, he would visit the store from Montrose. His request each time was to play the "Pantera" guitar, meaning the Dean Dimebag Darrell ML Guitar. We were shocked he knew some Dimebag riffs. Fallon is impacted by Williams Syndrome and has an excellent knowledge and a love for music. His dream was to own this guitar."
On one of his regular visit to the store, his playing caught the ear of a customer nearby. The anonymous customer later returned to the store, purchased the $800 guitar, and asked an employee to give it to Fallon as a gift the next time he came in.
"Eight months ago, when he was in the store playing it, another customer took notice of Fallon. It moved this customer so much he returned to the store later, purchased the guitar, and asked us to give the guitar to Fallon anonymously the next time we saw him."
It turned out that Fallon and his family had stopped into the store right before they moved from Colorado to Texas, and eight months went by when the store didn't have a chance to see Fallon. But on a visit back home, he stopped by the store to enjoy a few moments playing his favorite guitar.
"However, we didn't see Fallon until today. We tried finding him to no avail. Today, his family came in the store, and we learned they had moved to Texas and returned this week for a visit. It was a wonderful experience to gift Fallon his dream guitar as a gift from a kind stranger. His mom burst into tears, and Fallon beamed with excitement. It was a special moment. There are still good people in this world."
"Here are a few photos, a couple showing off his dive bomb face. (He is really proud of that face)."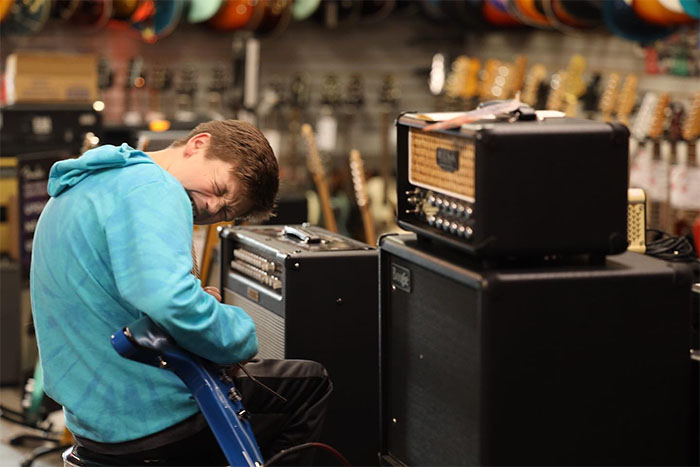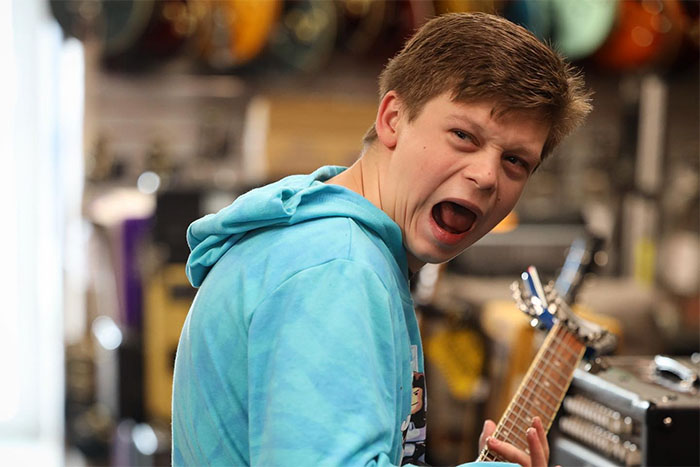 Thousands of hearts online were moved by the kindness of the stranger for Fallon.
"Wholesome story I needed this morning ❤️🙏🏻" wrote Conor P.
"Thank you so much for sharing this touching story. Williams Syndrome has a global family who all love and support each other so when one of our own gets any sort of recognition like this it feels like we all do in a way. We're all so proud of our musical kiddos. My son is only 2 and already has better rhythm than I do! The look on Fallon's face as he plays melts my heart. I can feel his joy from here!!!" commented Kathryn M.
"Great act of kindness from a stranger… makes my heart smile," wrote Tim B.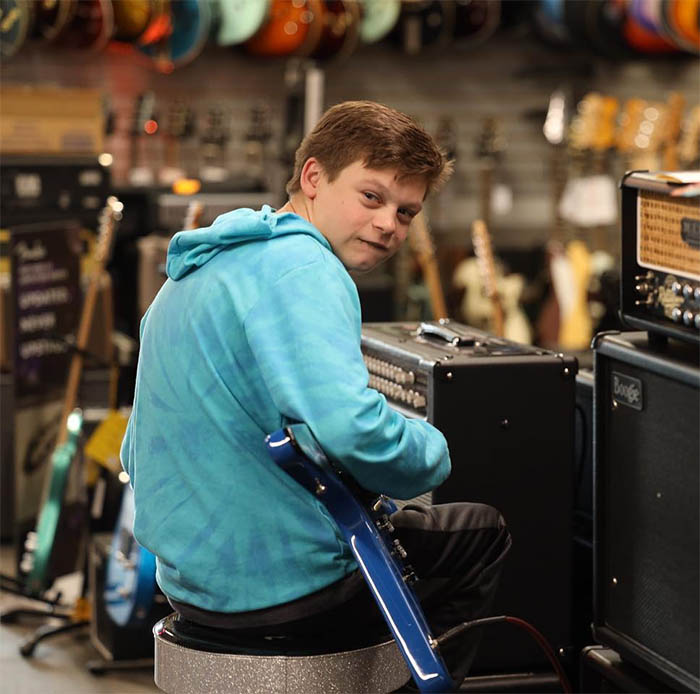 "I remember a story where Dime saw a dad in a music store that couldn't afford a guitar for his son. He bought the guitar anonymously so it would appear to the son that his dad had bought him the guitar. He would love this…" shared Dave K.
"Oh my goodness. 😭 Happy tears this morning reading this. I was one of Fallon's teachers for many years, from 1st – 5th grade. He is an amazing young man, and his love for music has always been strong. I remember, in 1st grade, he used to come into my classroom and would do his work so that he could sing and dance with his friends to the song "Hey Baby." He knew every word! I have no doubt that Fallon and his mom were both over the moon about this gift. What an incredibly kind gesture!❤️" commented Jessy M.
The band Pantera also heard about the kind stranger's gift, and they also put together a "rocking care package" for Fallon.
"What an amazing story. Enjoy your new Dimebag Darrell guitar, Fallon," the band Pantera wrote online.
Watch this video of Fallon getting his brand new guitar:
You are Loved.
Related Compassion:
Kind Young Woman Raises $1,000 For Street Violinist Playing To Help His Mom With Rent
Gentle Homeless Man's Beautiful Piano Solo Inspired Crowdfunded $40k Rehab And Record Deal
Young Girl Froze On Stage During Talent Show But Overcame When Her Loving Mother Began Singing With Her
Beautiful Moment As 88-Year-Old Father Reunites With His 53-Year-Old Son With Down Syndrome