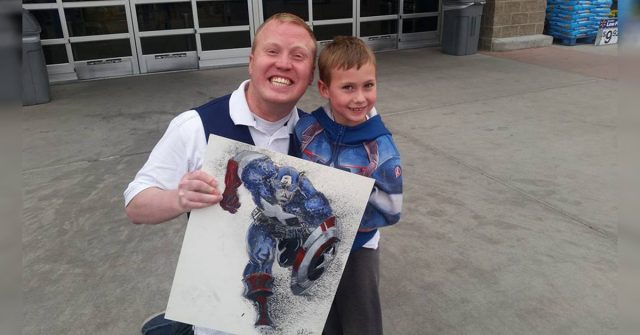 Glenn Stucki is a Walmart greeter with a beautiful motto; "Change the world with love."
For more than seven years Glenn has been making people, especially young children, smile and feel loved. When Glenn was just 12-years-old, he had a jet ski accident which left him with a brain injury.
"That was really hard," Glenn said. "After my accident, I was so afraid of everyone. I was worried about people judging me because I walked with a limp and I was worried what they were saying about me."
He was hospitalized and in a coma for several weeks, and his first memory after waking up was that he was smiling.
"It put me in a coma for a long, long time. I couldn't talk, I couldn't move, I thought it was in a dream."
"It was hard to cope with the situation, but it felt like a bad dream. I remember when I was young and had a bad dream, I would go to my parents room and my dad would tell me if I went back to sleep, it would be a good dream. So, I decided to make this a good dream," Glenn said.
During his lengthy recovery, he began painting to pass the time, and people realized he was incredibly good at it. "You really can make no mistakes when you're painting," Glenn said.
Glenn was mostly unknown to the world until recently, when his act of kindness for a scared child named Ryker was shared online by Ryker's Mother, Sara Shepard, in the following post:
"I want to share an awesome experience that Ryker and I had. About 2 weeks ago, Ryker had a dentist appointment. He HATES the dentist. He was very scared and nervous. I took him to Walmart to pick out a lego set, to help bribe him and encourage him."
"While we were there we saw Glenn the greeter at Walmart. Glenn was asking Ryker about his new lego set. Ryker explained he was going to the dentist and was really scared, so I bought him a new lego set."
"Glenn got really excited, because his dad is a dentist. He told Ryker not to be afraid and asked if he could paint Ryker a picture. He told me 'I know I have disabilities in life, but when I paint I don't have any disabilities.' "
"We went and picked up the painting tonight. As you can see he is an amazing artist. He did this to make a little boys day better. He told Ryker with sincerity that he loved him. He made my whole day too! Thank you Glenn the greeter at Walmart, you are an amazing example of love! He also has the best smile!"
Glenn had painted Ryker an incredible picture of Captain America, as Ryker was wearing his Captain America sweatshirt.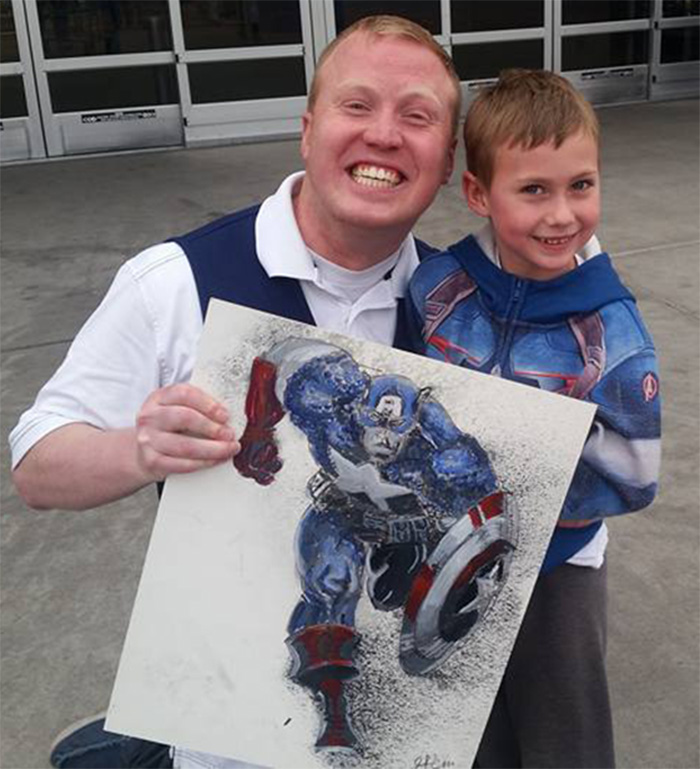 "To me, that Glenn would actually do that for us, strangers, that he would do that, it meant a lot," said Sara.
Glenn has painted hundreds of paintings, all of which he gives away for free to children.
"I'm not really motivated out of money," Glenn said. "I paint because I love people."
The CEO of Walmart recently invited Glenn to a corporate event, where he shared his story on stage. Glenn was also encouraged to start a charity foundation; Change4Love, where he brings his wonderful paintings and bright smile to children in hospitals, giving them all away for free. Glenn believes that many of the children have experienced trauma or are going through difficult times, and are in need of as much encouragement and hope as possible.
"It's so cool to see their faces. It makes me feel good. My motto is change the world with the love," Glenn said.
Glenn's compassionate heart shows us just how beautiful life can be when we make loving others our life's mission.
You are Loved.
See Glenn in the following news interview here:
See Also: This Kind Employee Slowly And Patiently Helped Walk A Blind Man Through The Entire Store