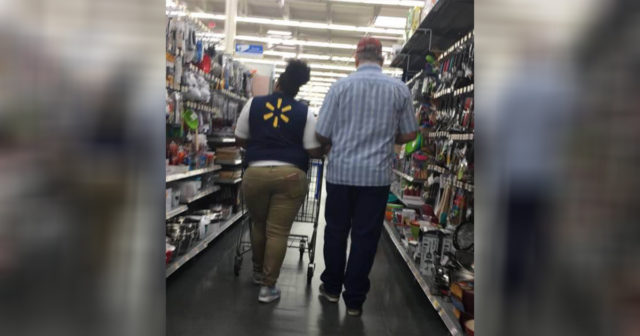 One day while shopping, Meghann Shaw happened to witness something that warmed her heart. She was walking through the aisles of a store, when she saw an employee silently and slowly walking an older blind man and helping him get the items he needed.
Her heart was moved, and she shared the beautiful experience online in this post:




"I've been trying to place the right words into this post for a little while now. Yesterday afternoon, I had to go to Biloxi Walmart to pick up a prescription. While in there I noticed a store associate and an elderly blind man walking hand in hand."
"She escorted him throughout the store. With all the hate in the world she gave love. Without the man seeing her, she showed him pure compassion and love. Be the change you wish to see in the world." ❤
"I was amazed. The first thing that came to my mind was how sweet it was," Meghann later told InsideEdition.com in an interview. "They were walking hand-in-hand."
'Be the change you wish to see in the world' is a famous quote by the compassionate Mahatma Gandhi, and it is also a great lesson for what we must do when we want to see more love taking place in our beautiful world.
When we wish for more love and kindness, let's be the change by ourselves showing love and kindness to the people we encounter each and every day. One by one, act of kindness by act of kindness, we can truly change the world for the better, and together, we can be the change.
You are Loved.
See Also: While Thinking His Students Were Simply Dressing Him In A Costume, Their Glasses Let Him See Colors For The First Time (Watch His Reaction)
If you have a story of an act of kindness or compassion that has touched your heart, please share it with us here and help inspire others to see how beautiful the world truly is. Showing Kindness Is Growing Kindness.