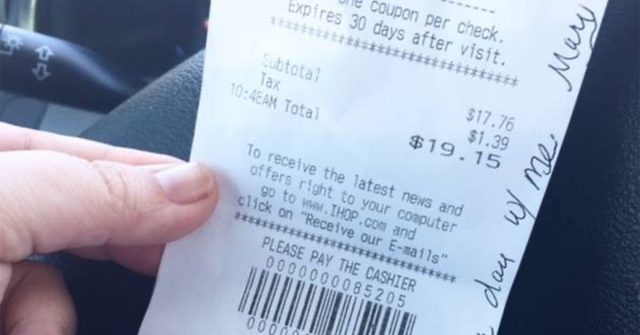 When a kind woman saw a young mother and her daughter enjoying their pancakes together at a restaurant, she paid for their meal and left a thank you note on their receipt.
Suzanne Maughan was eating breakfast with her daughter Hayley at an IHOP when an older woman was seated at the table next to them.
"My precious girl and I went to breakfast this morning and after sitting down, a lady was seated at the table right next to us," Suzanne shared in a post online with Love What Matters.
The older woman seemed to appreciate seeing Suzanne eat with her daughter, and she shared many smiles with them.
"She was by herself and kept looking over and smiling at us. When our food came, I began to cut up Hayley's pancakes when the lady leaned over and said to her, 'You must have the best mom in the whole world. Never forget how amazing she is.'"
She learned that the woman's name was Mary, and that she had a 49-year-old daughter of her own.
"She then told me she had a daughter who is now 49 and lives all the way in Baltimore. She told us her name is Mary and we gave her our names. Throughout the meal, we would have little conversations, but mostly, she seemed to just be observing my relationship with my daughter and smiling at us."
Mary left before they had finished, and when Suzanne went to pay for her meal, she found that it had already been paid for by Mary.
"When we went up front to pay for our food, Mary had already left but waiting for us was the news she had paid for our food and left us a sweet note on the receipt: 'Thank you for sharing your mother day and daughter day with me. Mary.'"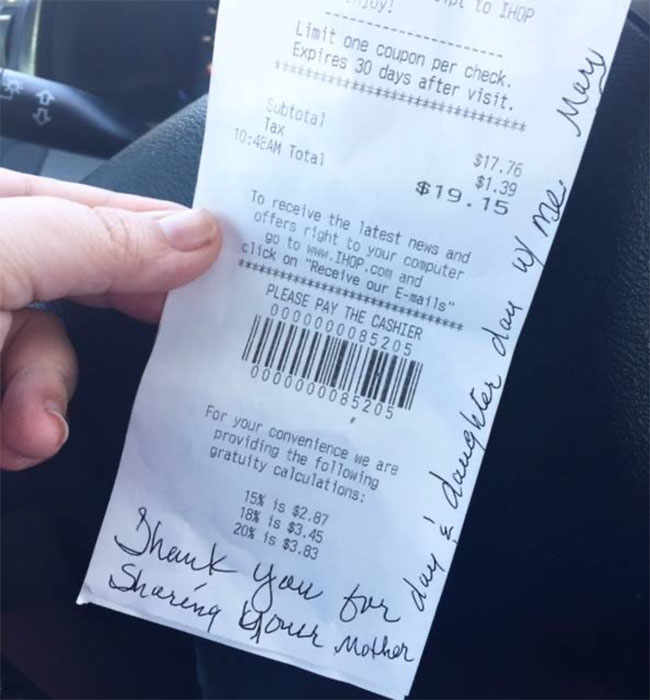 Suzanne was deeply touched by her kindness.
"Mary doesn't know I'm a single mother of two. She doesn't know how difficult this week has been for me. She doesn't know my anxieties and insecurities and how much I pray to not feel so lonely. But God knows. And today, Mary listened to that prompting and was able to be our angel, to remind us how loved we are. So thank you, Mary. You have made such a difference in my life with your kindness."
We often forget how many opportunities exist for meaningful acts of kindness all around us each and every day. If you see someone who could use a smile, consider sharing some of your love with them, just as Mary did for Suzanne and little Hayley.
You are Loved.
View this post on Instagram
Related Compassion:
Kind 5-Year-Old Said Hello To Homeless Man And Bought His Meal At Waffle House
Loving Dad Meets 38-Yr-Old Daughter At Her Work To Salt Her Walkway So She Won't Slip On Ice
Kind Young Man Saved Half Of His Dinner At Restaurant To Give To Homeless Person Sitting Outside