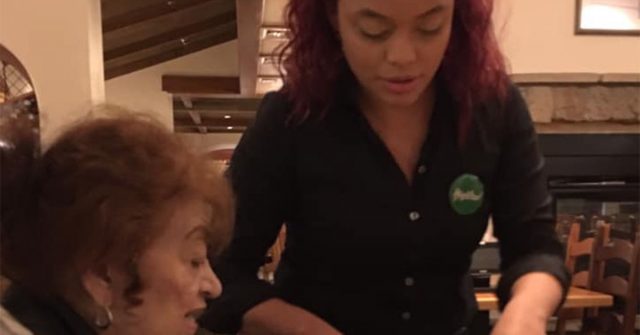 When a 79-year-old woman needed a little help, a kind waitress took her time and prepared her steak into small, bite-sized pieces for her.
Yolanda Palacios went out to eat at the Olive Garden with her family in Laredo, Texas, and her "79-years-young" mother joined them.
"So last night we went to go eat at Olive Garden. My mother who is 79 years young decided to sit at the corner of the table where she felt more comfortable and open space if she needed to get up during dinner," Yolanda shared in a post online.
Their meals arrived, and as Yolanda was speaking with her son, she noticed that at the end of the table, the waitress was cutting the steak for her mother into small pieces for her.
"Our orders arrived and I was speaking with my 15 year old who was in front of me, when I turn to the left of me to check on my mother, and to my surprise I see our server Susie cutting my mom's steak."
Her heart was touched that their busy waitress, Susie, took her time to gently make her mother's meal easier to eat.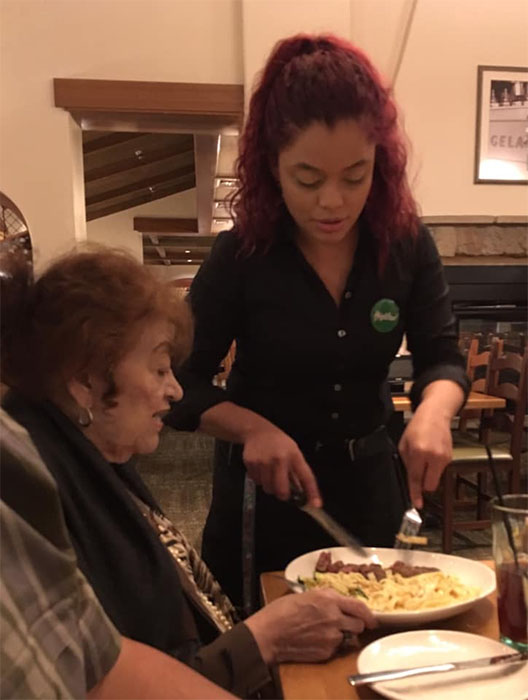 "I was in total awe. I immediately thanked her and her response was, "No problem I don't mind, I have grandparents and I know how it is at times." My heart overflowed with gratitude and my eyes filled with tears as she kept asking my mom "is this ok? Let me cut this one up more for you." She stood there cutting the meat into smaller pieces for a good 3 minutes."
"My mom would turn to look at me smiling as I would smile back at her. I made sure her manager knew exactly what she had done, I expressed my gratitude towards her and told him that this kind of heart that she has full of caring & compassion is not taught by employers. That she should be commended and be acknowledged for going a step further in her service which now a days is lacking in many establishments. Please help me in sharing and making this go viral. Susie deserves the recognition!"
You are Loved.
View this post on Instagram
Related Compassion:
Kind Waitress Tips Customers $100 After Hearing About Their Situation
This Kind Waiter Randomly Sat Down And Helped A Disabled Woman Eat Her Meal
18-Year-Old Waitress' Random Act Of Kindness Leads To An Unexpected $16,000 Scholarship