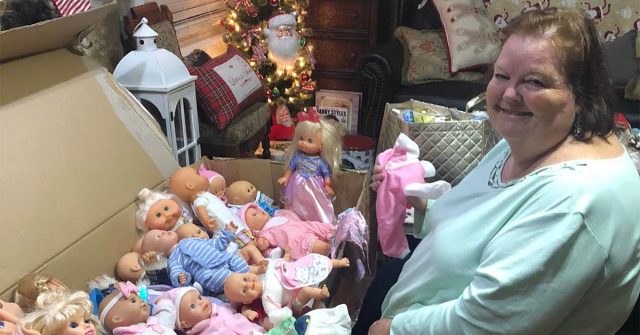 A kind woman collects and sews handmade clothes for hundreds of dolls each year, and then gives them all to children in need.
Michelle Brannon found that her mother in law, known as Mama Faye, spends countless hours each year collecting baby dolls of all kinds. She carefully cleans them and sews beautiful clothes for each one, making them brand new.
"My mother in law spends countless hours throughout the year buying and collecting baby dolls of all kinds," Michelle shared in a post online. "She cleans them and sews new clothes for them all. Then she carefully makes them all a wardrobe, with purses and shoes to match every occasion."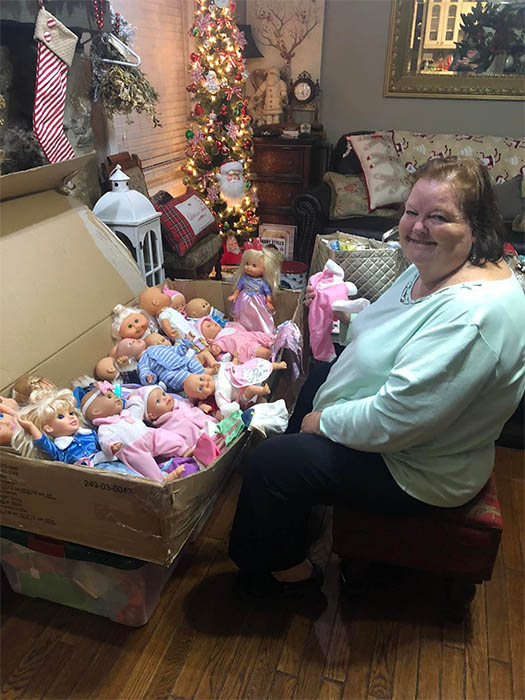 Each year during Christmas, Mama Faye's kind heart then finds children in need and gives them each a lovely new gift.
"At Christmas, her heart's desire is to gift each one to a little girl in need. If you know someone please reach out to me. We have carefully prepared over 200 dolls this year and need to place them in the arms of a child. No questions asked. We really need to find children to bless because it BLESSED her heart so much!"
Michelle's post quickly went viral, and hearts from around the world offered their support, appreciation and gratitude for Mama Faye's kindness.
"I cannot believe the amount of support and requests we have had for one of MaMa Faye's Babies," Michelle wrote. "Currently we have filled all 200 requests for a doll for this year. We plan to distribute these precious babies on Saturday at 10:00am in LEWISBURG."
Michelle shared that Mama Faye had experienced loss early in life, but now she has a "nation of baby girls she can bless with her sewing and giving."
"A little note of testimony: Faye lost her first set of twins at birth years ago. She had one son later in Life (my precious husband). She always thought she would have a girl but life threw another curve. She had a stroke leaving her left side paralyzed. It never stopped her from living her best life in giving to others. She had to leave her occupation as a nurse and depend on disability. Oh how the LORD has blessed her with these precious talents. Now she has a nation of baby girls she can bless with her sewing and giving. We hope to continue to bless many children in the up coming years. If you have any supplies such as gently used baby dolls, clothes, materials etc you would like to contribute to this ministry just let me know. We are a family through community and the love of Jesus Christ."
Many hearts from around the world appreciated Mama Faye's kindness and let her and Michelle know of possible children who could use a gift. Mama Faye was also able to donate hundreds of gift bags with new dolls in them to a children's orphanage.
"We just delivered over 200 gift bags to Boys and Girls to East TN children's orphanage which she does every year," Michelle wrote.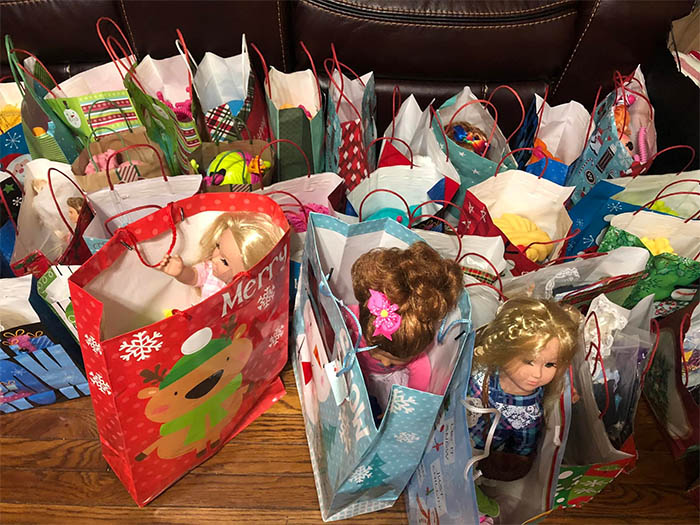 "I love you & Ms Faye so much! ❤️" commented one grateful heart.
"Faye has the sweetest heart! ❤️ her so much! Thanks for all you have done too Michelle. Give her a hug for me," wrote another.
"Will you add 3 for me! I have three little girls that I know…" someone asked. "Yes maam," Michelle replied.
You are Loved.
View this post on Instagram
See Also:
Kind Teens Overheard 3-Yr-Old's Wishlist At Store Then Returned With Her Favorite Doll As A Gift
Kind Cashier Spent 20 Minutes Opening Toy Display To Give Last Toy To Boy With Autism
2-Year-Old Couldn't Walk On His Own, So A Kind High School Robotics Team Built Him A Customized Toy Car