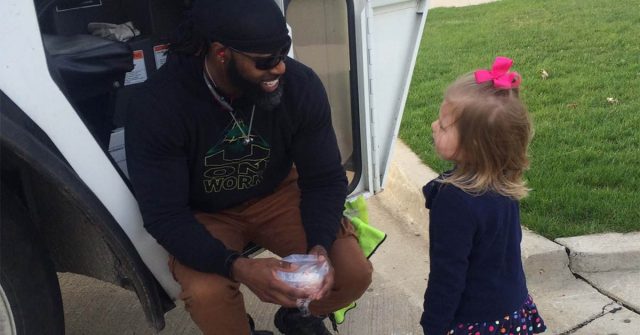 A weekly smile and wave turned into the sweetest interaction between a 3-year-old girl and her favorite bin collector.
3-year-old Brooklyn Andracke has been waving to her favorite bin collector, Delvar Dopson, in Bloomington, Indiana, for about a year.
"Thursdays are by far her favorite day… garbage day," Brooklyn's mother, Traci Andracke shared. "For about a year now, she has anxiously awaited the garbage truck's arrival at our house."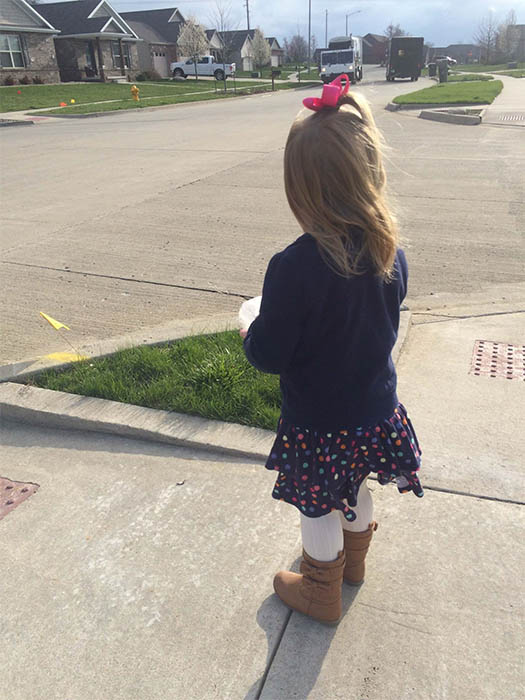 "It started with waving from the window, then we had to try and be outside to wave, and when we missed the truck driving by the house, I'd drive around the neighborhood to find the garbage truck and wave… on our way out the door in the mornings. Every Thursday… my heart is full when I see the joy that our amazing garbage man brings Brooklyn when he honks and waves at her with a BIG smile."
"Smiling and waving is part of a regular 3-year-old's day, and then to get it back from a guy that she thinks is pretty cool, it sends her over the moon!"
Brooklyn had just turned 3-years-old and baked some homemade muffins with her mom to celebrate. She decided that she also wanted to share one with her hero who drove by the neighborhood each Thursday.
"And today, we finally got to meet him!!!" Traci said. "Brooklyn and I wrapped up one of her birthday cupcakes and waited for him. When he came down our street, she ran to the corner. We were waving like usual and I motioned for him to come over by us. He pulled over, got out and gave us his BIG smile. Brooklyn was instantly speechless as she handed him the cupcake. I explained to him that he makes our day every Thursday, and we really appreciate the honking and waving, and how special of a day it is for us."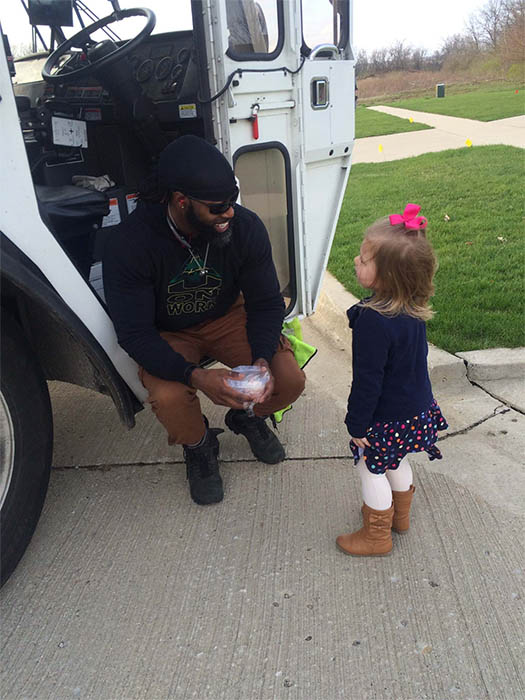 It turns out that this day happened to be Devlar's birthday, and that Brooklyn's muffin was the only gift he received, so it was very appreciated. Devlar said he also arranges his schedule each week to make sure he gets to wave at sweet little Brooklyn.
"To our surprise, it just so happened that the Thursday she picked was his birthday! He said it was the only gift he received. The smiles on both of their faces were priceless."
"Then… (melt my heart)… he explained that he looks forward to seeing us every Thursday as well. He said that he has a meeting every Thursday morning and always tries to get out of there in a hurry so that he can make sure to see us every week. He said he doesn't have any kids of his own, but he mentors several children and just loves them."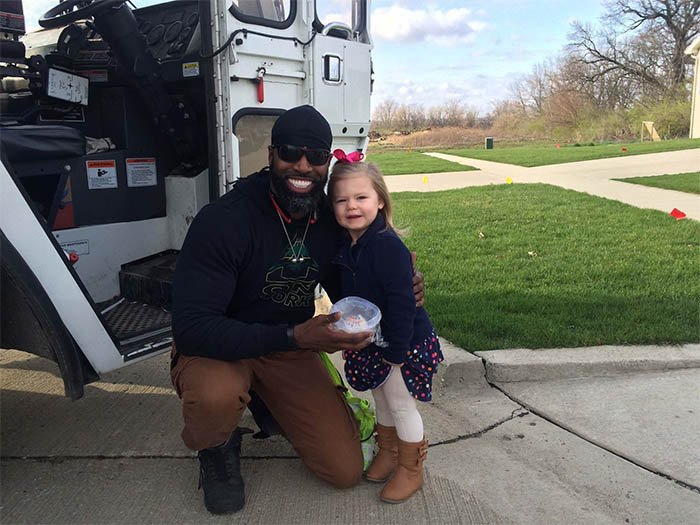 Being able to meet Devlar delighted Brooklyn.
"After he left, we continued onto daycare. Brooklyn was unusually quiet in the backseat. I asked her if she was okay, and she said "Mommy, I'm so happy."'



Traci's heart was full of gratitude for Devlar's kindness.
"THANK YOU!!!" she wrote in a post online. "Thank you for the joy that you bring Brooklyn every Thursday morning, for making her birthday special, and for making my heart happy. It may be a little thing that you do, but it means so much to us! Thanks, Delvar, for your kindness and your service to the City! ?"
The following Thursday, Devlar showed up for his weekly smile and wave, and this time he came bearing gifts.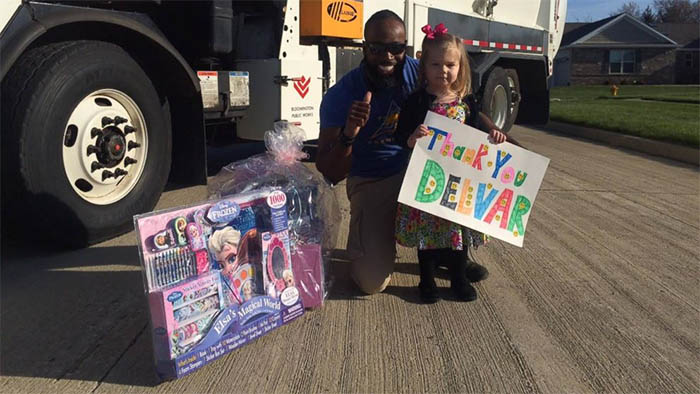 Thousands online have appreciated their sweet encounter.
"He is our garbage man too! I wrote a letter to the city about the great work he does! He goes above and beyond for my family. He brings our cans to us since my husband is disabled!" wrote Staci W.
"That is so awesome! God bless this family and the city worker with a big heart! It's the little things in life that make it worth living ?" commented Cammie S.
"My grandkids used to set up breakfast outside on a picnic table and wait for their garbage man every week!" wrote Carolyn W.
"I'd rather hear 100 stories like this every day ~ it's so much better than watching the news or some of the outrageous reality shows that our TV's have been flooded with. Personal interest stories like this one really generate the most "feel good" hormones. Delvar, it's really amazing that this little girl thinks you are the bee's knees!! And I'm guessing she is right on the money! Your story has made it's way down to Clermont, FL (just outside of Orlando). Keep up the good work. And to the City of Bloomington – sounds like from all of the comments on this story, that you have a team of really great guys and gals working for you. Employee recognition does so much for the individual being recognized and it's good for the city. This is a win-win situation all the way around. Next time Delvar is eligible for a raise, I'd say one is in order!" shared Jan B.
You are Loved.
Related Stories:
Kind Sanitation Worker Returns Bin To Side Of House Each Week For Elderly Woman With Limited Mobility
Kind City Worker Went Through Mountain Of Trash To Find Lady's Accidentally Thrown Out Wedding Ring
Trash Collectors Surprise Sweet Woman With A 100th Birthday Cake, Leaving Her Crying Tears Of Joy
Subscribe for free to Understanding Compassion on YouTube and help us make the world a kinder place.
View this post on Instagram