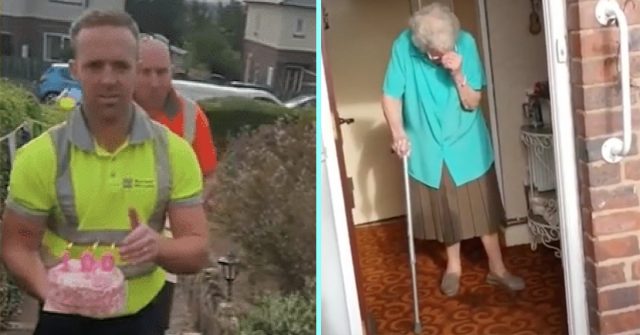 When Dorothy Ballard, also known as Mercy, turned one hundred years old, she wasn't expecting much of a birthday party. But on her special day a group of trash collectors who regularly pick up for her decided to surprise her with a happy 100th birthday cake, and she was moved to tears.
A video of the act of kindness first appeared on Reddit, showing trash collector Ben Bird walking up a path to Mercy's front door in the United Kingdom. He's carrying a pink birthday cake with three lit candles which read "1 0 0".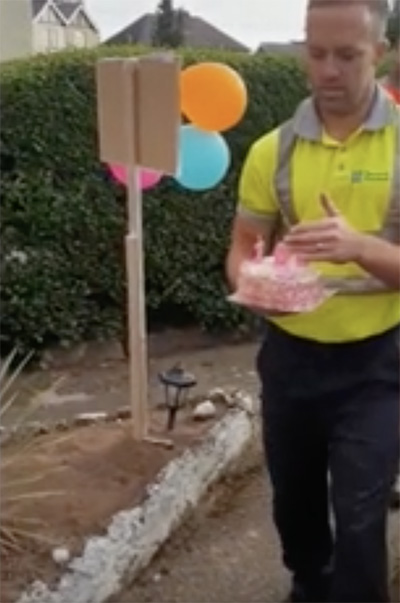 Ben has been helping pick up Mercy's garbage for eight years, and during his weekly visits, she regularly opens her door and tells him, "Thank you." The two of them began a heartwarming and unlikely friendship, and every Thursday at 8:00am, they share a bit of time together. They talk about many things, and Ben loves to talk about his baby with Mercy.
"I've been doing Mercy's bins for about eight years now and it just started with her opening the door and saying 'Thank you' really, and it's gone from there," Ben explains.
"He talks about the family, he tells me about his little kids and then the one day, when his wife had the baby, a little girl, and he said to me, 'We're going to call her Daisy.' And I said, 'Oh how wonderful, do you know that was my Mother's name?'" Mercy said.
We just stand and chat about Mercy's life, I just find it really interesting," Ben said.
When Mercy was close but unsure if she would reach the age of one hundred, Ben told her that when she did, he would show up on her doorstep with a birthday cake. They both kept their ends of the bargain, and on her birthday Ben and two of his friends arrived with a beautiful birthday cake.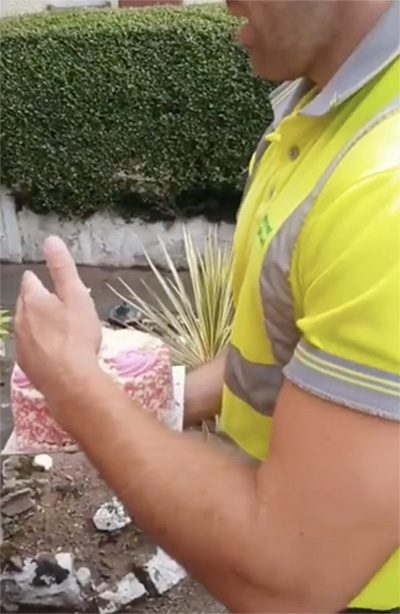 When Mercy first answered the door, she was visibly emotional seeing Ben with her birthday cake. They began to sing happy birthday to her, and also asked her if she was "alright."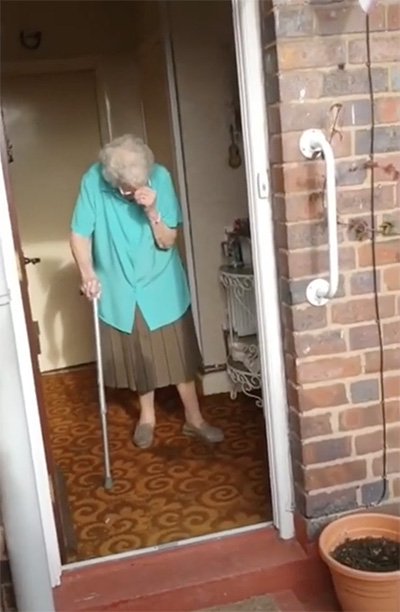 Mercy lifted her head and revealed a big smile, and she came to blow out her candles.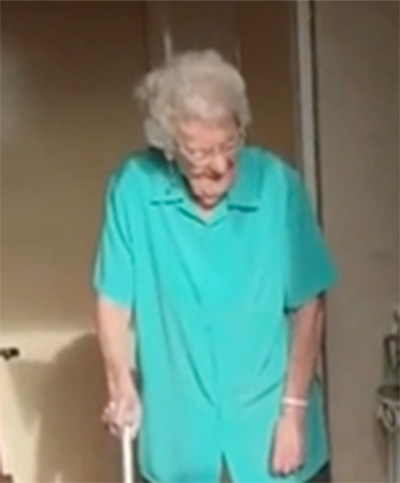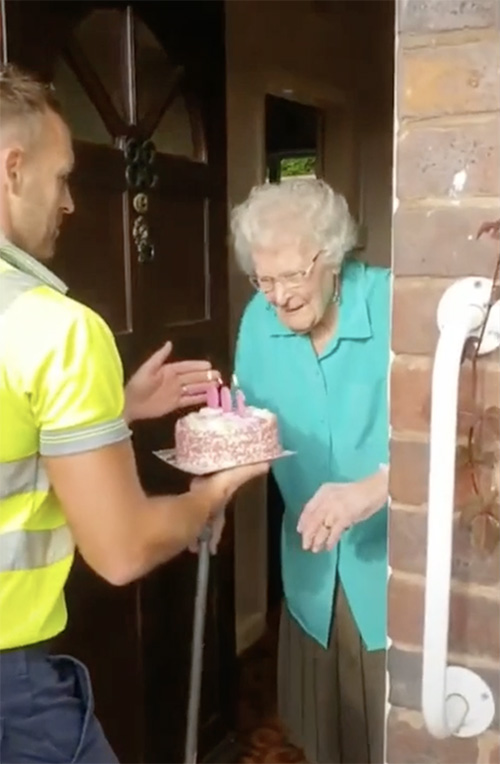 Ben encouraged her to make a wish, and she did, and everyone cheered for her.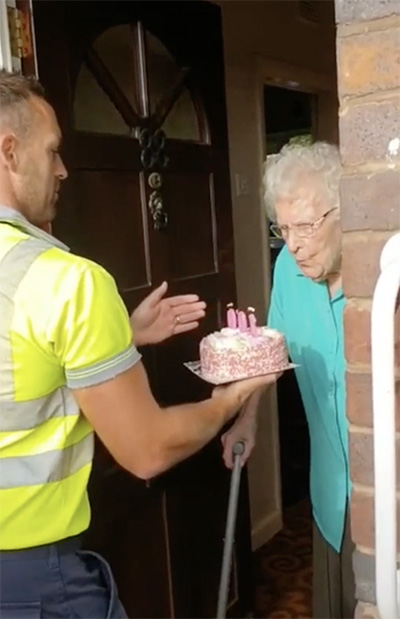 Mercy's granddaughter Katy posted the video online, and thanked Ben for his kindness.
"I messaged him to thank him, that he made her day," Katy said. "We all feel very blessed to have her, she has a great sense of humor and is loved by so many. We treasure every moment."
Ben helped make Mercy's birthday full of love and one to remember. If you have an elderly neighbor, consider going a little out of your way to help them with everyday things which may be easy for you to do, but difficult for them. Helping them carry out their trash, pulling a few weeds, or mowing their lawn can be a great service. It's important to remember that many of our elderly neighbors have difficulty getting out the house to socialize, so even just sharing a couple kind words each week can bring much needed warmth to their lives and to their hearts.
Watch the video below to see Ben bringing Mercy her 100th birthday cake, You are Loved.
Bin collectors surprise one of their favorite customers on her 100th birthday❤️ from HumansBeingBros
The following clip shows an interview with Mercy and Ben:
Mercy and Ben are friendship goals! ? pic.twitter.com/khZjUCh60G

— This Morning (@thismorning) August 13, 2019
See Also: Harry Potter Author J.K. Rowling Is One Of The First To Fall Off Of Forbes Billionaire List Because Of Charitable Giving