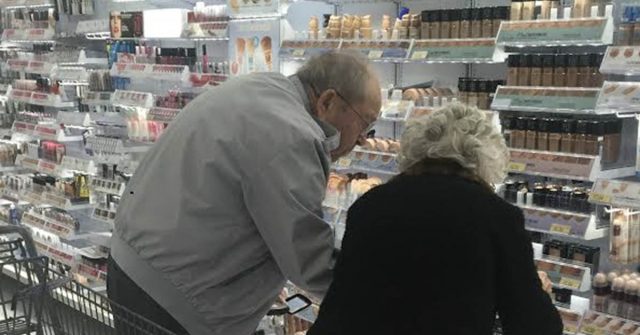 When an elderly woman with difficulty seeing was worried about finding the right shade of makeup, her husband lovingly comforted her and helped her choose the right one.
A shopper in the makeup section of a store in Joplin, Missouri, overheard a heartwarming conversation between an elderly husband, Al, and his wife, Eula. Al is 94, and he helps his 92 year old wife with various day to day activities, as her glaucoma makes it difficult for her to see.
"This husband was helping his wife choose a makeup that matched her skin tone," the shopper shared in a post with Love What Matters.
As Eula worried about making sure that her makeup was the right one, her husband took his time to carefully choose one that matched her skin tone, and he tenderly comforted her the whole time.
"She was so concerned about finding the right one, and he was so unbelievably helpful. She was having a "girl" moment, in a panic struggling to find the right one. He calmed her down, helped her find her color and kissed her on the forehead. It was such a simple way to show how big his love was for her. A perfect reminder that our bodies grow old but our love doesn't have to."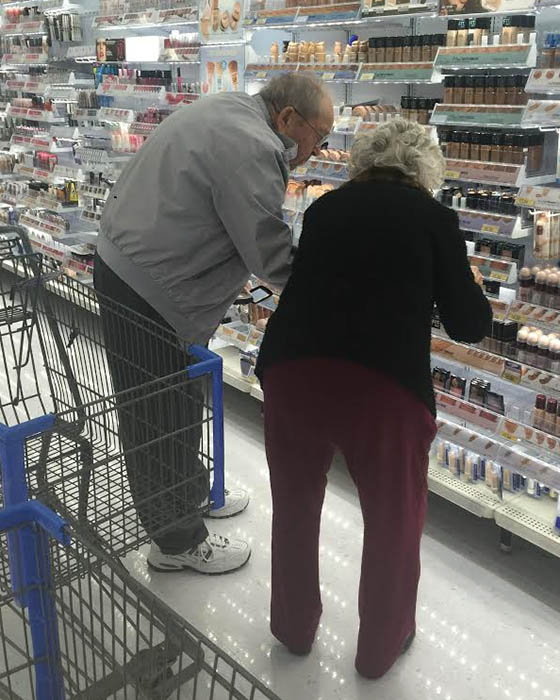 Eula's great-granddaughter, Alexus Barnes, explained that fashion is quite important to her great-grandma, and that having difficulty seeing has made certain things a challenge.
"Her outfits have to match, so that's why her struggle with glaucoma has been hard," Alexus said.
Al and Eula married in 2010 after Eula's first husband passed, and Eula's children deeply appreciate how much Al helps and is always there for her.
"Al's the nicest man you'll ever meet," Eula's oldest son, Richard Spencer, said. "He helps her with anything and everything."
Thousands of hearts online have appreciated the tender care Al showed to his wife in the grocery store.
"Reminds me of my parents. They have been married for almost 70 years. They both are a little unsteady when they walk, but they hold on to each other, and they are both stronger," commented P.K.
"I'm 21 and my husband and I just got married last July. I'm in a wheelchair because I was born with spina bifida… so it's impossible for me to put my own hair up. My mother used to help me before I met my husband, but one day I missed her before she went to work and I started crying because I was supposed to go out that night, but I couldn't do my hair and I looked a mess. My husband, who is as best as I can describe a "real man's man" if that makes any sense, brushed out my hair and pulled it into a ponytail as best he could and put a little gloss on my lips and kissed my forehead and told me it wasn't much but it was all he could do, and I didn't need anything else because I was beautiful enough without doing any of it. He helped me get my coat on and walked beside me and stayed with me at the event I was attending, even though I knew it wasn't something he was interested in. I can't lie, I'm incredibly lucky. Growing up with a disability and never getting asked out I never believed I'd be married. I'm blessed," shared Katie S.
"When my grandmother was in a palliative care room at the hospital, I took my 92 yr old grandfather to see her. Before he entered her room, he stopped and combed his hair, so he would look good for her. I later found out that as soon as she knew he was coming, she asked my mother for some perfume and made sure her hair looked nice. After 60 yrs of marriage and a grim prognosis, they still wanted to look good for each other! They have both since passed away. I learned so much from them! I miss them terribly, but I have so many good memories of the love they had for each other!" commented Jessi C.
You are Loved.
Related Compassion:
Photo of 96-Yr-Old Husband Feeding Wife With Alzheimer's Proves Life-Long Love Exists
Loving Husband Spends 2 Years Planting Thousands Of Flowers For His Blind Wife To Smell To Get Her Out Of Depression
Loving 99-Year-Old Husband Walks 6 Miles Every Day To Visit His Wife In The Hospital (True Love Exists)
View this post on Instagram