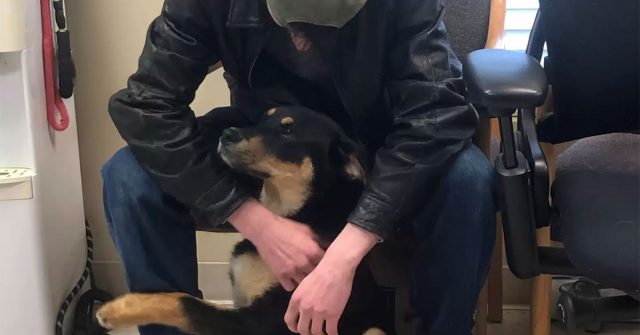 When a community learned that a homeless 17-year-old, who was living under a bridge, had brought his beloved dog to an animal shelter, they found both him and his pup a loving home where they could stay together.
Kris Robinson, the acting director of the Senatobia-Tate County Animal Shelter in Tate County, Mississippi, was sitting in her front office when she saw a young man and his young dog walk up to their front door. The puppy stayed close by the boy while they were walking, and she patiently sat down outside while he entered the shelter.
"I was just sitting up here in the office and had just finished some cleaning and saw a young man walking across the field with what looked like a dog in tow," Kris explained. "He told the dog to stay outside, and she just sat down. He came in and said, 'I'm wondering if you could take my dog.'"
Kris told the young man that while she wanted to help, that their shelter was currently full. He then shared with her his current situation; that he was 17-years-old, homeless, living under a bridge, and that he couldn't afford to take care of his beloved dog.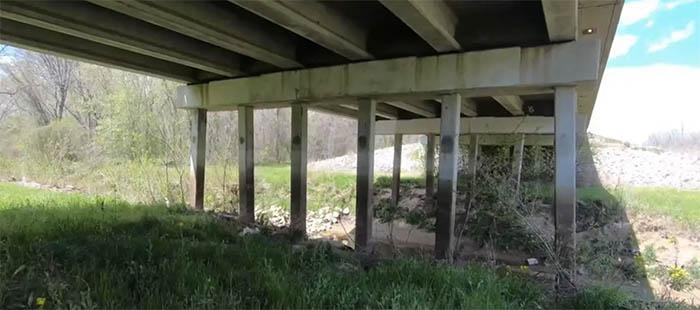 "His head kinda dropped, and he said, 'I don't have a place to live. I live under a bridge right now, and I just can't afford to take care of her… When I leave to go and try to find work, I hope that she stays and so far she's been there when I come back, but I'm just worried about her.'"
Kris also noticed how attached the young man's dog, named Jada, was to him. She would cling to his leg and wouldn't leave his side.
"She really clung to him, he was kind of stepping around, and she was clinging to his leg. She'd get real close to him and sit down. She was scared."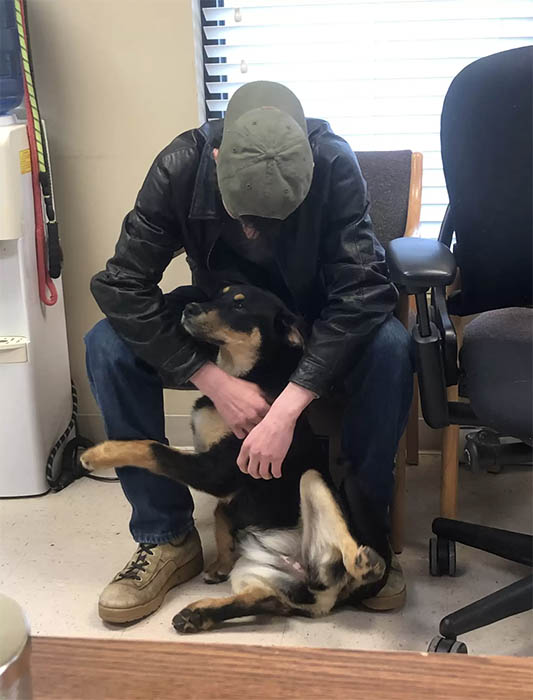 Kris agreed to help Jada given the young man's situation. He filled out a form, left a small bag of dog food with her, and as he walked away, Kris could see him wiping the tears from his face. As he left, Jada jumped onto a chair and looked out the window for the young boy.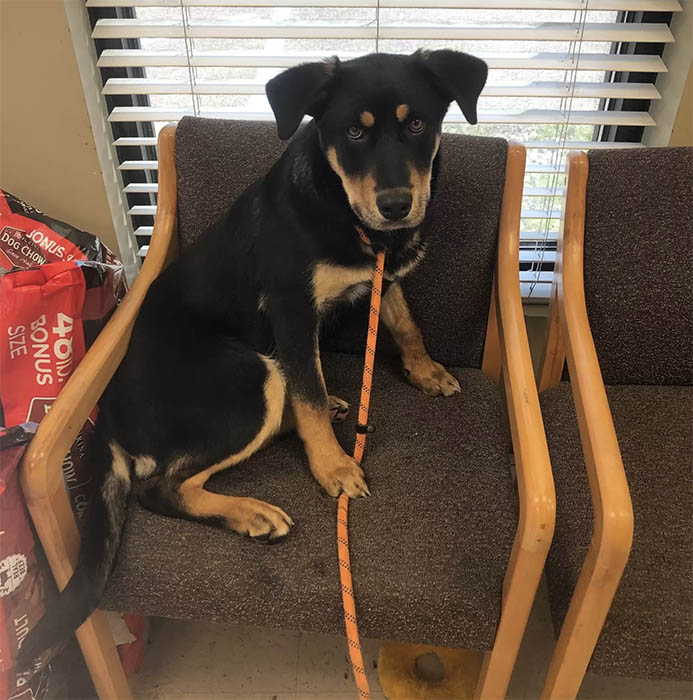 "She climbed up on one of the chairs and looked out the window," Kris said. "I went in the back to do some cleaning and when I checked on her, I saw her just laying there with her food."
Later that day Kris reflected on the young man's situation; that while being only 17, and being homeless, that he didn't ask for a single thing for himself. That his only priority was to take care of Jada. Kris' heart was moved, not only by the young man's difficult situation, but by his impressive character. She decided to share Jada's and the young man's story on the shelter's Facebook page, in the hopes of finding some support for them both.
"This is where she laid after her owner surrendered her today with her plastic bag of dog food and a blanket," the post said. "She is devastated 😢 I can't be mad at her owner though. He is 17, says he lives under a bridge in Tate county. He WALKED her all the way to the shelter and asked us to please take her because he can't afford to keep her. She's about 4 months old and she kept herself pinned to his legs while he was here. We are full but how could we not take her in 💔"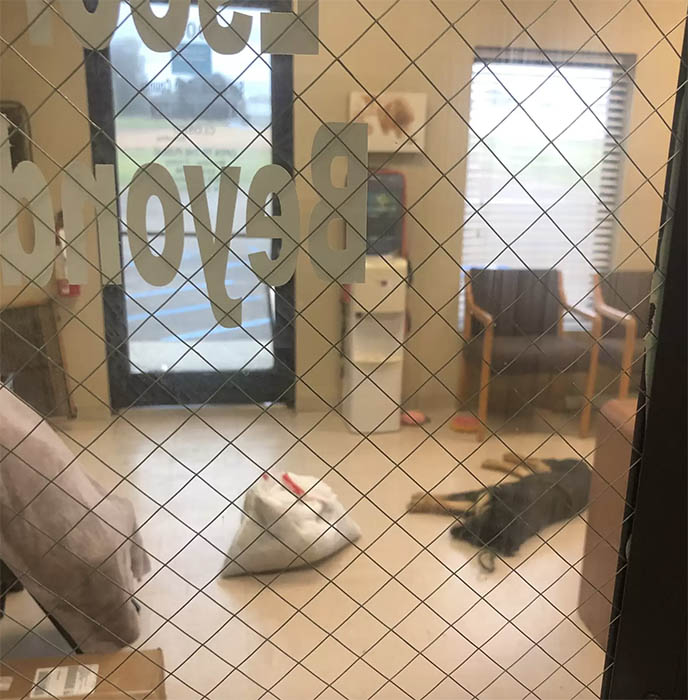 "I wanted to point out what this kid did and his character," Kris said. "He didn't ask for anything for himself — he just wanted to make sure that [Jada] was okay. For this young man to just be 17 and down on his luck, and no matter what problems he's facing, he still took the time to walk her over her and make sure somebody was going to take care of her, I think that says a lot about his character."
Many compassionate hearts online saw the shelter's post and reached out to see how they could help the young man and Jada. Kris also contacted a local family, and the family volunteered to house both the young man and Jada until he could get his life back on track.
Kris later found the young man, and asked him if he would be willing to accept the family's help.
"I had made contact with him and said, 'Look, these people want to help you,'" Kris said. "He said, 'What do you mean? Do they want to adopt her? Can I come see her first?' And I said, 'No, buddy, they want to help YOU.'"
While hesitant at first, the young man eventually agreed to accept their help, and his reunion with Jada was filled with love and joy.
"She ran up to him and jumped up on him," Kris said. "He was just loving on her, and had a big ol' smile on his face."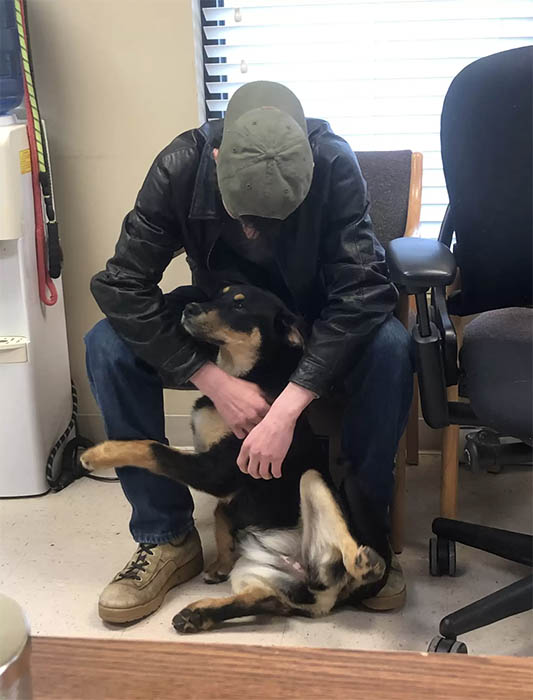 Kris updated her original post to let the community know that help had been found for the young man and his puppy Jada.
"The homeless teenager who brought this baby to the shelter to surrender her because he couldn't give her what she needs is getting the help he needs. He has a place to stay and will be soon getting his dog back."
"He's able to go to someone's house and be with them for a while while he gets his life back on track," Kris said.
The young man plans to finish high school, go to the dentist, and to also sign up for some local college courses.
"He's getting his high school stuff in order and then he's going to take some classes at a local city college, and go to the dentist — things he's never done," Kris said.
Watch this heartwarming interview with Kris and of Jada eating a few treats:
You are Loved.
See Also:
Kind Nurse Adopted Patient's Dog After Learning He Had To Give It Up Due To Long Hospital Stay
Animal Shelter Is Empty 'For The First Time In History' After Every Dog Is Adopted
Danny And Ron Have Saved More Than 11,000 Abused, Abandoned And Unadoptable Dogs