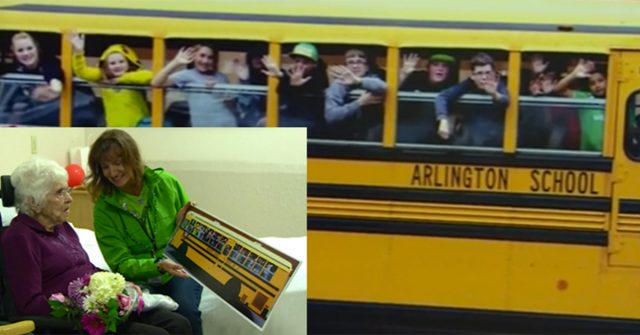 Each day the children on this school bus in Arlington, Washington received warm and loving waves from an elderly woman who would sit and wait for them to pass by her home. She became known as "the Grandma in the window," and the students as well as their bus driver, Carol Mitzelfeldt, all felt fondly for her.
For over five years, the 'Grandma in the window' had been waving every school day to the students. One day, the window was empty, and students were concerned about their loving Grandma.




"It was kind of heartbreaking because she was always there," Axtin Bandewerfhorst, a seventh-grader said.
The driver of the school bus, Carol, went to the Grandma's house to check on the woman, bringing a bouquet of flowers with her.
"I attached a note: 'To the grandma in the window, we're thinking of you. Love, the kids on bus 7 and bus driver, Carol,'" she said.
Carol then met the Grandma's husband, Dave, and found that the name of the sweet and loving Grandma is Louise Edlen, and that she had suffered a stroke that week and was being cared for at a local rehabilitation center.
Carol told the students on the bus what had happened, and the children wanted to do something kind for their loving 93-year-old Grandma in the window.
"The kids and I said too bad she can't have something to look at when she can't be at the window," Carol said. "So we decided to take a picture."




Together the students took a photo of themselves waving from the school bus, printed a large copy mounted on a foam board, and delivered it to their Grandma so that she would still be able to see them every day. The children also each signed the picture, and Louise (the sweet Grandma) could feel their love and it meant a lot to her.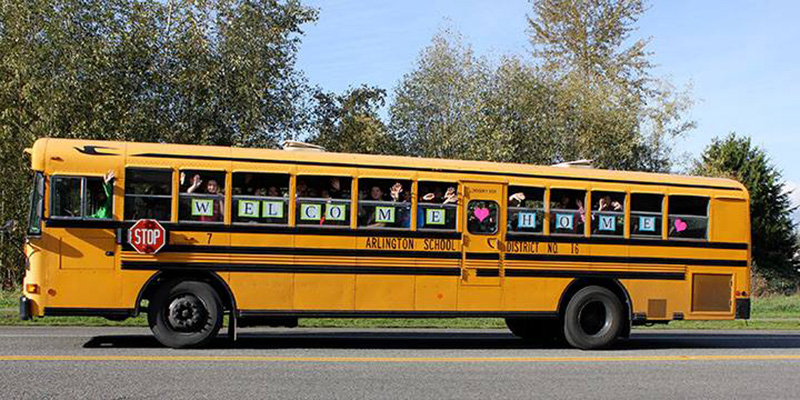 As Louise recovered, she returned home, and the next day the students wrote in large letters "WELCOME HOME" and held it up in the windows of the school bus for her to see as the children drove by, cheering and as the school bus honked its horn.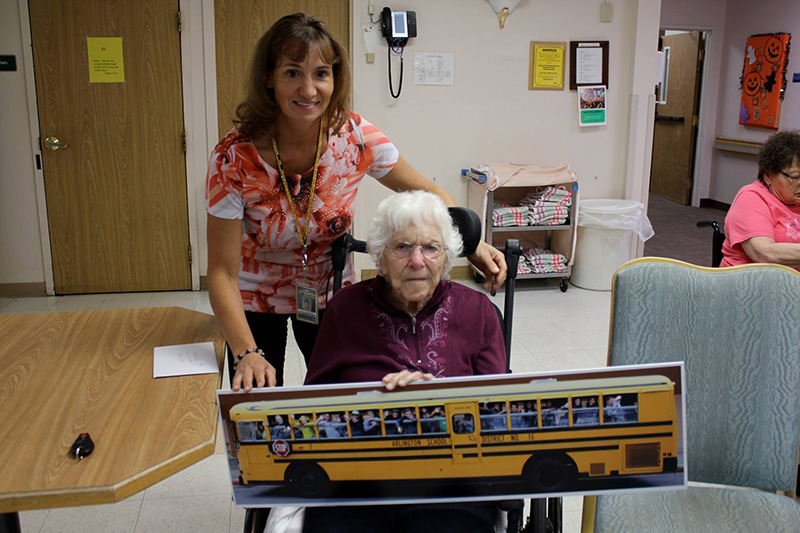 "I've told them, 'this could be your grandma or grandpa — or even you someday," Carol, the school bus driver said. "Always treat people with kindness, and always treat people with compassion."
Social isolation and loneliness can happen to older adults as they continue to age and become mostly confined to their homes. If you notice a sweet Grandma or Grandpa in your neighborhood who seems like they could use some company, consider doing something kind for them: helping to mow a lawn, shoveling some snow, taking out the trash, or even just sharing a smile, a few warm words, and some tea, can help to keep a heart warm for years.
You are Loved.
See Also: A Distressed Grandma Misdialed A Stranger But He Came To Help Anyway