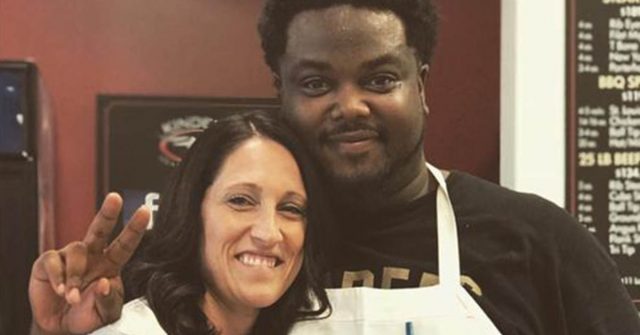 While having lunch after her sister's chemotherapy session, Joslyn Fenyes had a heartfelt encounter with a kind restaurant worker.
"Last Friday after my sister had her chemo treatment, we stopped at Kinders for a quick lunch.
And God sent this amazing Angel to us!" Joslyn wrote in a post online. "My sister sat outside, dazed, exhausted and ready for a nap. I went back inside to go pay for our food and got to talking to this gentleman who helped take our order."
She shared with the man at the register that her sister had just gone through an exhausting chemotherapy session.
"I shared with him about my sister just finishing chemo. He said God bless her, I said thank you, grabbed our food and headed outside. A few minutes later, I went back inside to get boxes for our food."



As she went back inside to get a few to-go boxes, the man at the register walked up to her and had something to say.
"He stopped me, looked me in my eyes and said:
"Mam, please tell your sister that I just stopped and prayed for her and God has her. She's going to be ok!" It honestly took my breath away."
"I believe God sent this man as an Angel to our family. To give us peace all weekend long knowing today would be the day we heard the best news ever!!"
The genuine thoughtfulness of this kind man touched Joslyn's heart. She later returned to the restaurant to find out who he was so that she could thank him.
"I went to Kinders 4 different times today trying to find him and figure out who he is! This you guys, is my new friend Byron Teasley."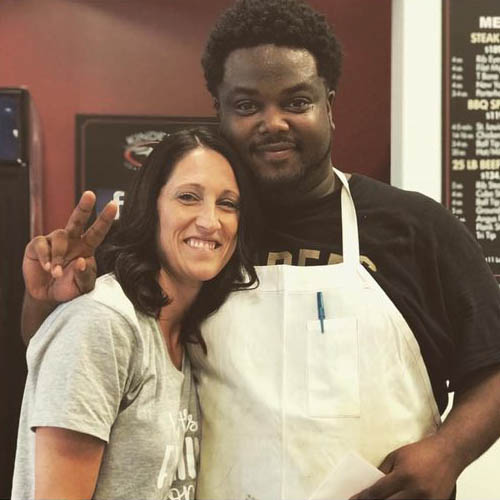 "I just had to go back in to thank him.
He grabbed my hands and cried with me.
Right there in the middle of his place of work.
He hugged me tight after we officially introduced ourselves and it's a moment I won't ever forget in my entire life!
He didn't have to share with me last week that he had prayed.
He didn't have to tell me the things he did.
But he did and my heart is so thankful!
He showed me that there are still good people in this world.
Love always wins.
Always.
And I thank Jesus for such a special moment I will hold in my heart forever??? "
Thousands online have thanked Byron for his gentle yet meaningful gesture of loving kindness.
"There are Angels among us! God Bless him and may your sister recover quickly and be healed!"
commented Sharon C.
"Bryon Teasley thank you for spreading your love of God and praying and loving your fellow man! I believe this man has been put into your life for a reason, as you go through this he will help you heal. You are blessed by a Angel ? of God's grace," wrote Trudy V.
"God bless you both. Sometimes earthly angels appear out of nowhere, to help us through our darkest times," wrote Linda M.
"Why we all need to stop and listen to each other. Love is the most important," commented Lynne D.
When someone is going through a challenging time, sharing a moment of heartfelt connection and compassion with them can lift their spirits and help give them the motivation they need to stay cheerful and to keep going. Thank you Byron, for gently yet boldly showing kindness to two strangers.
You are Loved.
See Also: Three Young Men Run From Gas Station To Assist Elderly Couple As Cop Stands In Awe Of Kindness
View this post on Instagram