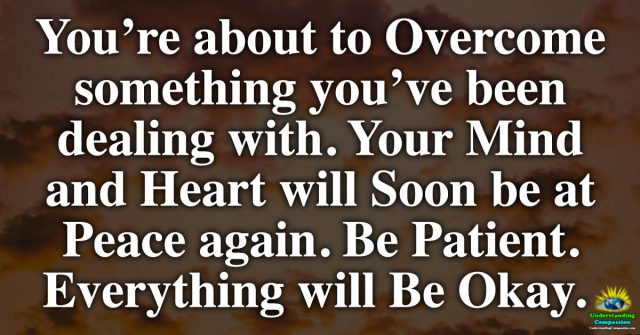 You're about to overcome something you've been dealing with. Your mind and heart will soon be at peace again. Be patient. Everything will be okay.
More Related Quotes:
"Never stop believing in hope because miracles happen every day."
"A grateful heart is a magnet for miracles."
"Never lose hope. Just when you think it's over, you're sent a miracle."
"Sometimes miracles are just good people with kind hearts."
"What seems to us bitter trials are often blessings in disguise."
~Oscar Wilde
"Having somewhere to go is Home. Having someone to love is Family. Having both is a Blessing."
"Life is a series of thousands of tiny miracles. Notice them."
"The pain will end. The tears will stop. The doors will open. A season of miracles and blessings is on the horizon. Don't give up."
"When you hold grudges, your hands aren't free to catch blessings."
"At the end of the day, I am thankful that my blessings are bigger than my problems."
"Miracles come in moments. Be ready and willing."
~Wayne Dyer
"Count your blessings, not your problems."
"Where there is great love there are always miracles."
~Willa Cather
"Miracles start to happen when you give as much energy to your dreams as you do to your fears."
~Richard Wilkins
"The thankful heart opens our eyes to a multitude of blessings that continually surround us."
~James E. Faust
"Concentrate on counting your blessings and you'll have little time to count anything else."
"When I started counting my blessings, my whole life turned around."
~Willie Nelson
You are Loved.
See Also: These Kind Neighbors Repaired And Painted The House Of A Lonely, Retired School Teacher For Free