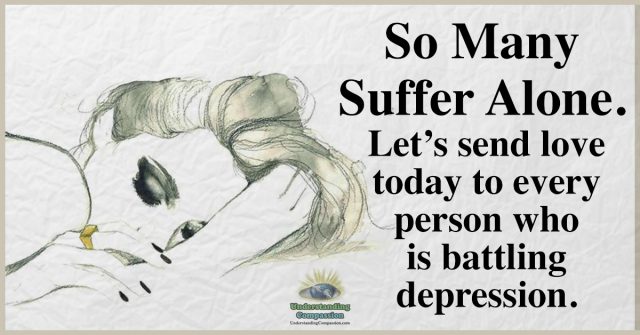 Anyone who has experienced depression knows how intense it can be. It's more than just a low mood, as it can also drain us of our motivation and hope. Depression can be very difficult to deal with on your own, and professionals recommend seeking out friends and support systems to help with handling the daily feelings that depression brings. Keeping the mind filled with positive and encouraging information can also help elevate feelings and provide hope for those struggling with depression.



Psychologist Selena C. Snow, PhD, says, "A depressed person has an opportunity to learn that they are not the only one suffering in silence as they gain support and empathy from others who understand the depths of their pain. And they benefit from the encouragement of peers to take small steps forward."
Here are 27 uplifting and positive quotes that can help you or someone you know with depression:
"The world is round, and the place which may seem like the end, may also be the beginning."
~Ivy Baker Priest
"Depression lies. It tells you you've always felt this way, and you always will. But you haven't, and you won't."
~Holly Cornell
"Never confuse a single defeat with a final defeat."
~F. Scott Fitzgerald
"Our greatest glory is not in never falling, but in rising every time we fall."
~Confucius
"You yourself, as much as anybody in the entire universe, deserve your love and affection."
~Buddha
"Self-love is total, unconditional acceptance of all aspects of one's self. It's "I am enough, just as I am." When we love ourselves, we completely accept all of our parts and ultimately, becoming willing to reveal them – without reservation or qualification. In other words, it is complete freedom of "being," which allows for self-expression without fear."
~Mimi Shannon
"Each person needs self-worth, self-love, self-acceptance and the freedom to be the unique and unrepeatable one that they are."
~John Bradshaw
"Each morning we are born again. What we do today is what matters most."
~Buddha
"I found that with depression, one of the most important things you could realize is that you're not alone."
~Dwayne Johnson
"The most beautiful people we have known are those who have known defeat, known suffering, known struggle, known loss, and have found their way out of the depths."
~Elisabeth Kubler-Ross
"Believe in yourself and all that you are. Know that there is something inside of you that is greater than any obstacle."
~Christian D. Larson
"Learn from yesterday, live for today, hope for tomorrow."
~Albert Einstein
"There is hope, even when your brain tells you there isn't."
~John Green
"If you want to conquer the anxiety of life, live in the moment, live in the breath."
~Amit Ray
"Life is 10% what you experience and 90% how you respond to it."
~Dorothy M. Niedermeyer
"Once we make our decision, all things will come to us. Auspicious signs are not a superstition, but a confirmation. They are a response."
~Deng Ming-Dao 
"And the day came when the risk it took to remain tight inside the bud was more painful than the risk it took to blossom."
~Anais Nin 
"Every blade of grass has its angel that bends over it and whispers, 'Grow, grow.'"
~The Talmud
"My only advice: stay aware, listen carefully, and yell for help if you need it."
~Judy Blume
"Action is the antidote to despair."
~Joan Baez
"Do not worry about tomorrow, for tomorrow will worry about itself."
~Jesus Christ
"The more you see and accept reality, the more you'll understand and love yourself."
~Maxime Lagace
"Those who have a 'why' to live, can bear with almost any 'how'."
~Viktor E. Frankl
"Keep walking through the storm.
Your rainbow is waiting on the other side."
~Heather Stillufsen
"No darkness lasts forever. And even there, there are stars."
~Ursula Le Guin
"Just in case no one told you today:
You're beautiful.
You're loved.
You're needed.
You're alive for a reason.
You're stronger than you think.
You're going to get through this.
I'm glad you're alive.
Don't give up!"
Always remember this if you're feeling depressed: you are not alone. Millions of very lovable people just like you are going dealing with depression at this very moment. We don't need to hide it due to fear of being judged because the people around us can understand.
Remember that you can beat depression. Seek out help from trained psychologists who have mastered numerous ways to help people cope with depression. Eat a balanced diet, get enough exercise and sleep, and spend time doing the things you love. Your joy can and will return.
There are so many people who want to see you feel good again and who want to see that beautiful smile shining on your face.
Don't give up. Keep going.
You are Loved.
See Also: Are You Depressed? Stephen Hawking has a Beautiful Message for You