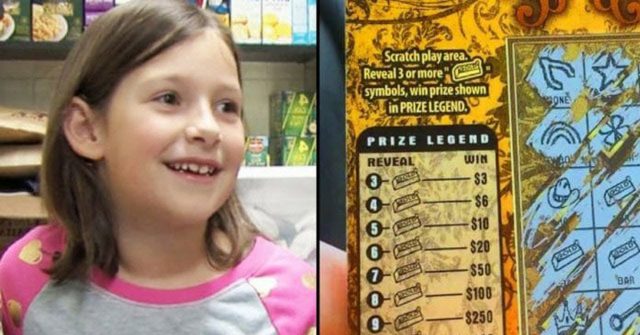 The purity and compassion shown through the hearts of children is one to behold, and Phoebe Brown's beautiful heart inspired the world with love.
While out with her Mom running some errands, she noticed a scratch 'n' sniff lottery ticket laying on the ground.
She decided to pick it up, and discovered that it was actually a winner and worth $100.
"I picked it up and then I looked at it, and I told my mom that it was a winner," Phoebe said.
Instead of looking to buy something for herself, she asked her Mom if she could donate it to her school's food drive for the homeless.
"That day a flyer came in from school, to bring in canned goods and nonperishable items, and she's like, 'Mom, mom, can we do that?'" Phoebe's mother said.
Her Mom agreed, and her Father then decided to match whatever amount his daughter decided to donate. Phoebe then went to the store, purchased $200 worth of canned goods, and donated them through her school. Phoebe's class managed to collect and donate 541 items of food to those in need, and her school recognized her class as having raised the most for the poor.
As a fun reward, Phoebe's gym teacher invited her and her classmates to shave his beard, a fun way to reward their kindness.
Phoebe's class is sure to remember how beautiful, fun and important it is to practice generosity and kindness towards those in need. Her selfless act of kindness reached far beyond that little paper lotto ticket she found laying in the street.
"A little thought and a little kindness are worth more than a great deal of money."
Watch this video of Phoebe and her school donating to the homeless:
You are Loved.