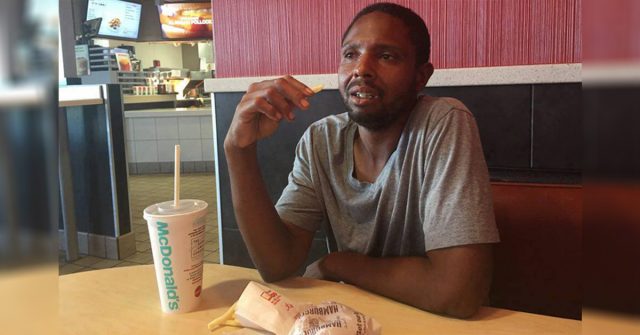 Summers can be quite hot in Arizona, as the average temperature tends to be over 100 degrees Fahrenheit. The heat raises pavement and asphalt temperatures between 40 to 60 degrees hotter than the air temperature, which makes pavement, streets and sidewalks hot enough to fry eggs in the summer.
It's too hot for people to walk barefoot on the street, and it's a stressful, difficult and often painful time for our homeless brothers and sisters. When Jon Linton was in his car waiting at a stoplight, he saw one homeless man cross the scorching street barefoot, and then run towards a small puddle of water to cool down his burning feet. Jon's heart was moved in this moment, and he decided to do something to help:



"Today, while at a stoplight, I watched a man walk across 6 lanes of traffic through an intersection's crosswalk. Summertime temperatures in Phoenix can reach upwards of 115 degrees, and the asphalt can get as hot as 170 degrees. So, when someone is crossing a street, absent shoes or socks, it's cause for alarm.
My heart sank as I observed the man quickly make his way to a puddle of water and cool his feet! I did a U-turn and pulled into the hotel's parking lot where he was now sitting under a shaded awning. I introduced myself and said' 'Hey man, you haven't any shoes! Can I help?' In a faint voice he replied, 'I've been homeless for almost 2 years. My shoes gave out on me.' I pleaded with David to stay in this spot while I drove to a Goodwill just blocks away.
Fifteen minutes later I returned with a pair of shoes, shorts, socks and a fresh shirt. Thankfully, David was still there! I mentioned that he might use the McDonald's next door to freshen up and change.
We walked into the fast-food spot to find that its bathroom required a key for entrance. I asked David to hold tight and went to acquire a key from the front counter. The manager on duty suggests she could not provide a key but would unlock the door – we proceeded to the bathroom.
With a sharp and ugly tone, the McDonald's employee firmly states, 'This is a restroom for customer's only. Grab your belongings and leave. Now!" David was visibly shaken by these terse remarks! How could someone be so heartless? Before she could say another word, I replied, 'This man is a paying customer and we will be ordering something to eat after he uses the restroom. Please open the door!' This woman was unaware that David and I had entered the establishment together. She opened the door and without a word returned to the register.
I must confess, my lower self wanted to shame this woman for being so cruel but I held my tongue. As David changed, I ordered a meal! I did, however, make it a point to let this seemingly uncaring soul know that the man she asked to leave had been walking the streets barefoot and hadn't eaten since yesterday.
David came out from the bathroom after washing up and sat down. Before we began to eat, I couldn't help but to ask if this type of thing had happened before? To my dismay David would say, 'I wish I could tell you this was the first time!' He went on to thank me over-and-over, and with more than one "God bless you" I might add!



I should acknowledge that while sitting at that stoplight my Monday problems suddenly became very, very small. Further, it is my great hope that a woman serving food tomorrow – and for many tomorrow's to follow – might be mindful that, the inhumanity of man is our greatest wrongdoing."
Story courtesy of Jon Linton.
While many get sunburns, headaches, feel lightheaded, exhausted and dizzy just from being out in 115 degree heat for less than 30 minutes, it's difficult to imagine what it feels like for someone without a home, or someone even without shoes to be living in the constant heat for an entire summer.
Jon's beautiful heart really related to and had compassion for what Kevin was going through as his feet were burning while crossing the street. He took the time to show Kevin that he is loved; he asked him if he could help, he spent a few minutes and a few dollars buying him new shoes, new clothes and some lunch, and Kevin was so grateful for all of it.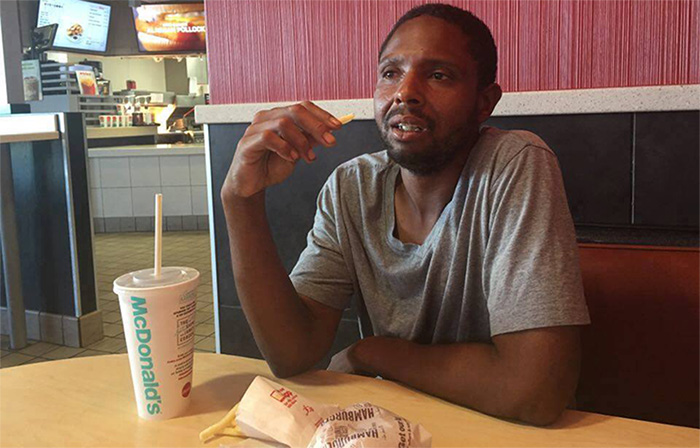 If you see a struggling homeless person this week, take a second to imagine what life must be like for them in that moment; without judgment as to how or why they got to rock bottom, and listen to the gentle whisper in your heart that reaches out to say, 'I see you, I love you.' If you can spare a minute to help show them some love and to do what you can for them, you've truly done a wonderful thing like Jon and helped to make this world a kinder and more beautiful place.
You are Loved.
See Also: 'Do you mind if I sit with you?' How A Kind Man Showed Love To A Homeless Man Who Ordered $1 Worth Of Food And Sat Alone