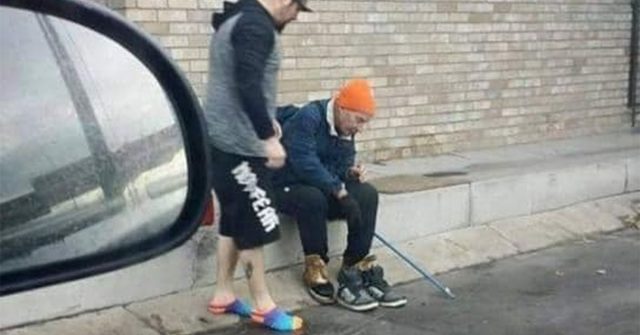 When a young man saw a homeless person's toes sticking out the ends of his shoes, he took off his own pair and gave them to him.
Jennifer Deibert was running errands with her husband, when his random act of kindness for a homeless man reminded her why she loved him so much.
"I fell in love with my husband a little more today…"Jennifer wrote in a post online. "I think I'm wearing off on him with all my random acts of kindness…" 
The couple saw a homeless man walking by a business, and they noticed that his toes were sticking out the front of his shoes. It appeared that his shoes were much too small for his feet, but in order to use them, the homeless man had removed the front and top off of the shoes in order to be able to use them. This left the front of his feet exposed to the cold.
"We saw a homeless man walking around today with the ends of his shoes cut out so they'd fit. Can you imagine how cold his poor feet were??"
Feeling compassion for the homeless man, Jennifer's husband got out of their car, walked over to the homeless man and gave him his own shoes.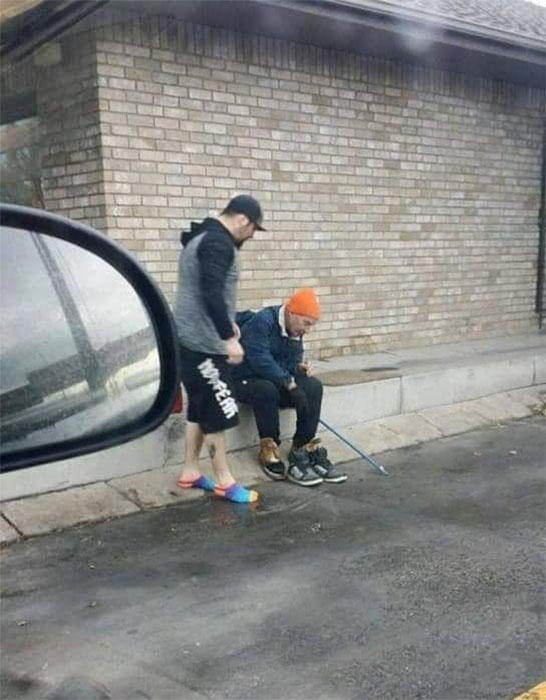 "What does my husband do? He takes his own shoes off and gives them to the man with a couple bucks to get a warm meal… I'm a firm believer in karma and my husband is starting to think the same way… I'm proud to call him mine."
Thousands of gentle hearts online have appreciated her husband's kindness.
"So much love shown. God bless you and your husband and GOD BLESS THIS MAN TO GET BACK WHERE HE NEEDS TO BE IN LIFE," wrote Betty L.
"You two are amazing. Thank you for your husband's kindness and thank you for supporting him," commented Rina C.
"This is why I still live in this world with hope in my heart. Blessings on you and your husband. Clearly you're leading by example, and it's working," shared Jennifer P.
You are Loved.
View this post on Instagram
Kind Man Saw Shoeless Homeless Man Cleaning The Floor For Others: Gave Him His Own Nikes
This Kind Man Lovingly Gave His Shoes To A Struggling Homeless Man On The Bus, Then Walked Home Barefoot
Kind Child Sees Soles Falling Off Of Classmate's Old Shoes So He Gave Him His Brand New LeBron 13s