When a young man attending a conference won a free buffet ticket in Las Vegas, he decided to use it by taking a grateful homeless man out to eat.
The kind young man, known as Stenotrophomonas on reddit, is a post-graduate student and was in Las Vegas for a conference with his friends. While staying at the Excalibur hotel, due to a mixup, he was gifted a free voucher for two to the casino's buffet.
He ended up staying a day later than his friends after the conference, and rather than going to the buffet to eat alone, the kind young man invited Todd, a homeless man he met near the casino.
Todd, who has been homeless for more than 30 years in Las Vegas, had recently been in the hospital where he had to undergo physical and speech therapy on his way towards recovery from an injury.
"It was only 3 years ago, but he was in the hospital for months," Stenotrophomonas said. "He had to do PT and speech therapy to get back to normal."
When invited to share a free meal at the casino's buffet, Todd gratefully accepted.
"Won a free casino buffet for 2 in Las Vegas, so I took Todd, a homeless man," the young man said.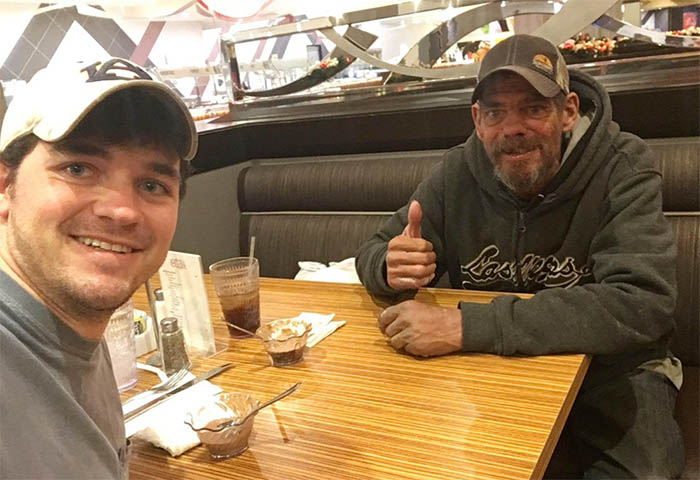 The two new friends ate their fill of roast beef, fried shrimp, and Todd's favorite, mashed potatoes with butter.
Thousands of hearts online have appreciated the young man's kindness for Todd.
"What a wonderful thing to do," commented Ann W.
"There are wonderful people in this world…" wrote Tricia L.
"The smile on Todd's face says it all. Showing love to the homeless is a beautiful experience," shared John A.
You are Loved.
View this post on Instagram
Related Compassion:
Kind Man Brought Local Homeless Man To His First Football Game After Living In City For 43 Years
Compassionate College Student's Act Of Kindness Saves A Homeless Man's Life
Kind Young Man Gives Haircuts, Clothes And Warm Meals To The Homeless He Meets On The Streets