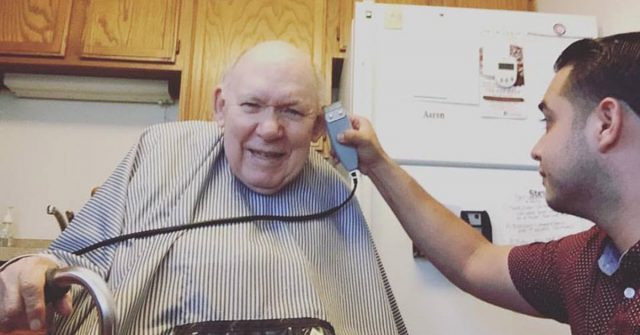 Taking care of what were once simple tasks can become increasingly difficult as we age; especially for someone suffering from Parkinson's disease.
When Ron began having trouble leaving his house to get his regular haircut, his kind barber Jonathan Lopez told him that he would instead drive two hours each month to his home to make sure he got his regular trim.
"Everyone meet Ron," Jonathan wrote in a viral Facebook post. "He has been my client for about 1 year now. I visit him about every 3 weeks to cut his hair. Since Ron has Parkinson's Disease, it's very hard for him to leave his apartment."
Jonathan shared just how much of a blessing his conversations with Ron have been; that he has taught him to value life, his loved ones, and to appreciate what he has.




"Every time I'm there, I find so much joy that I made his day better with a simple cut and visit. We have great conversations, and most importantly he shows me that I must always value what I have. Also, to work hard and to take care of others even in small ways."
Jonathan discovered that his friendship with Ron is worth more than money.
"Life isn't just about "me" like the world portrays. Yes it takes me about 2 hrs every time I go see him and I'm sure I could make more money staying at the shop, but my joy is making Ron's day better and learning from his experience. A true blessing to have a friendship with someone of this age. His experience and knowledge will most definitely never go forgotten."
Through their many visits, Jonathan learned that Ron is a bit of an unknown celebrity as well.
"By the way, Ron was a book designer. Most of you have probably read or used one of the books he designed. The famous World Book Encyclopedia. Whenever you see one of those, Ron here designed it."
Jonathan explained that when we are kind to and help others, that our blessings never stop.
"Remember, make a small difference in someone's life, and your blessings will never stop. Thank you for the great times Ron."
Many have been inspired and moved by Jonathan's simple yet beautiful act of kindness and shared their thoughts online:
"You're more than a hairdresser you're a compassionate Friend. You bring sunshine where there are clouds," Rose F. commented.
""Thanks, Ron!" I got grounded to my room for about 3 weeks when I was 8 years old (c. 1970), and the only thing I was allowed was our set of World Book Encyclopedias. No toys, etc., just the encyclopedias. I think I memorized the whole set, which put me on course for being a stellar student (and better behaved) in Jr High & High School," Michael P. shared.
"I have Parkinson's as well. The most frustrating thing about this disease is how little things like eating, getting changed, shaving slows you down. Most people don't really understand… you obviously do. Keep up the good work," Dave G. commented.
"Working at an ENT office, most of our patients are elderly. For a lot of them, coming in to the office is the only human contact they may have all day, week, or even month. Talking to them and hearing their stories is by far my favorite part of the job. Thank you for what you do for this lovely gentleman!" Julie C. replied.
"This is what it's all about. You're amazing and the joy and compassion you bring is life changing, not only for Ron, but for you and your journey as well. Thank you for sharing ❤️" Loredana M. commented.
Jonathan's consistent acts of kindness for Ron teach us how beautiful it can be when we go a little out of our way to help, care for, and show compassion to those in our older generation who are struggling.
You are Loved.
See Also: He Donated His $4M Apartment Complex To Give Free Housing To Recovering Single Mothers