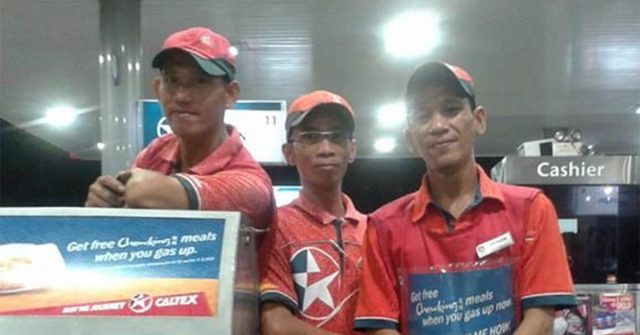 When a woman did not have enough to cover a highway toll payment in order to get home during a typhoon, three kind gas attendants gave her the extra cash they each had on hand so that she could make it back safely.
Mei Pop was driving home as a typhoon was approaching on the South Luzon Expressway in Laguna, Phillipines, and as she was on her way, she realized that she did not have enough cash with her to cover the highway tolls for her exit.
"While I was preoccupied by so many things and SL Expressway was almost zero visibility because of the typhoon, I forgot that I had to make a pit stop to get cash from an ATM at a gas station just before my exit at Southwoods," Mei shared in a post on Facebook. "That's after making a mental note that I had to do it since I only had [a few] bucks on me and I needed more to pay the toll fee. Rattled, I decided to go to the next and last gas station southbound, which was two exits away from where I was, only to find out from the gasoline boys, after briefly telling them about my problem, that no ATM machines were available there."
Mei parked her car and realized that she had no way to pay the toll in order to get home, so she tried calling her husband to see if there was a way he could come and help her. Yet as she was trying to get a hold of him, one of the employees at the gas station walked over and knocked on her window.
"So I parked the car as panic was rapidly setting in and tried to contact my husband. At that point, one of the gasoline boys came up to me. Upon rolling the window down, I saw that he was handing over a few bucks and said that he and the others chipped in in order to help me and that they were hoping that the money was enough for me to take the next exit and look for an ATM machine."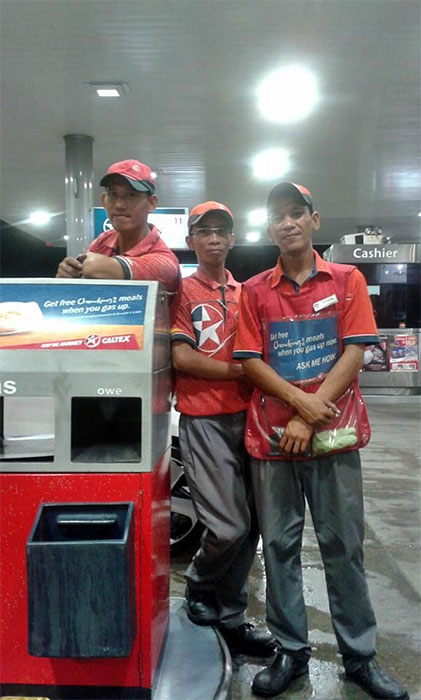 Mei was deeply moved by their kindness.
"I was so moved by their kindness, knowing that the money could've easily been a big portion of their very limited allowance for the night. Tearing up, I told him that I will get cash and bring their money back right away. To which he responded with, "Don't, we just want to help you."
"I didn't know what else to say. I felt like thank you will never be enough for the kind of compassion they extended towards a stranger like me."
"After finally being able to get money, I went back to Caltex as promised. They didn't want the money back but I insisted. I tried to offer a little extra too but they said that they helped me without expecting anything in return. I was simply floored at how amazing these people are! Thank you again, Shaun, Joel, Orly and Rendel! All of you are living testaments that there indeed is hope for humankind. There should be more people like you! I can never thank you enough. Ever. #payitforward #amazingpeople"
The next time you're getting gas, consider doing something kind for someone around you, like the Caltex employees did for Mei. It could be something as simple as sharing a smile, helping to squeegee the windshield of an elderly person, or to even ask a person next to you if you could treat them to their tank of gas as a random act of kindness. It will certainly fill their heart, and it will likely fill yours as well.
You are Loved.
Related Compassion:
Kind Employee Gently Walked Elderly Woman To Her Car And Pumped Her Gas In The Rain
Kind Stranger Secretly Paid For Older Man's Gas After His Card Wouldn't Work At Register
Post by @understanding_compassion

View on Threads