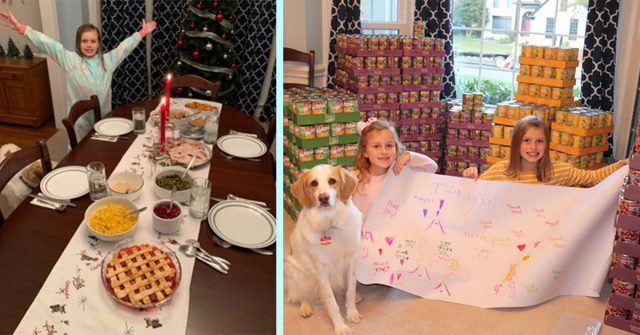 When Lisa Fischer first suggested to her daughter, Alex, that they prepare a box of food to give to the homeless for Thanksgiving, her response was, "one box is not enough, let's do ten."
Alex was just 7-years-old at the time, and her mom suggested that to make ten boxes of food, that she should start a fundraiser.
"And so we were like, 'Ten is a lot. Why don't you see if you can raise some of the money to help pay for that food,'" Lisa said. "Just so that she could get an idea that food costs money, that it's not just a given for everybody."
Alex agreed, and with the help of her little sister, Caroline, she was able to open a lemonade stand to raise donations.




"I was in second grade and decided we should sell lemonade," Alex explained. "And we ended up going bigger with some other stuff like brownies and cookies."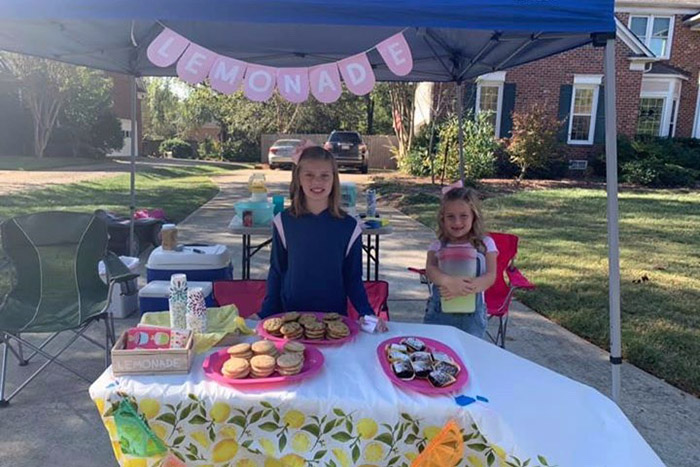 The boxes of food are donated to the Charlotte Rescue Mission; a beautiful Christian charity which provides a 120-day housing and treatment program for men and women who suffer from substance abuse problems and are predominantly homeless. Recovering homeless addicts are able to have a safe place to stay, and are given therapy and counseling by trained professionals who work with them on the core issues of their substance addiction.
After being able to lovingly donate Thanksgiving meals to the homeless that first year, Alex and her family began to really appreciate the joy of giving.
"I think everybody should have a Thanksgiving meal with their families," Alex said. "A lot of people in Charlotte don't have Thanksgiving meals." 
Now fast-forward two years later, and Alex has begun setting her donation goals to over 100 boxes each year. This year she was able to herself incredibly donate 108 delicious Thanksgiving meals for the homeless, thanks to her hard work and fundraising efforts.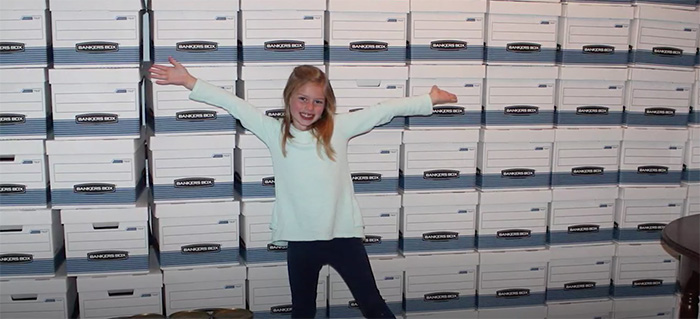 This year was also the first time that their front yard lemonade and bake sale sold out.



Lisa said that she never expected their original family service project idea to grow the way that it has.
"Every year it continues to grow," Lisa said. "But it's awesome and it's neat to see. It gets bigger and bigger." 
Lisa hopes that her daughters will continue to show love and compassion for those in need as they grow older.
"It's kind of humbling to see how many people want to help them and be a part of this, and we're really excited to see where they go with this," she said.
The Fischer's decided to cook a meal using the same contents of which they are donating in the Thanksgiving boxes in order to let the girls see the great value in what they were giving to others. From turkey, to stuffing, corn, green beans and cranberry sauce, it's a meal that anyone is sure to enjoy.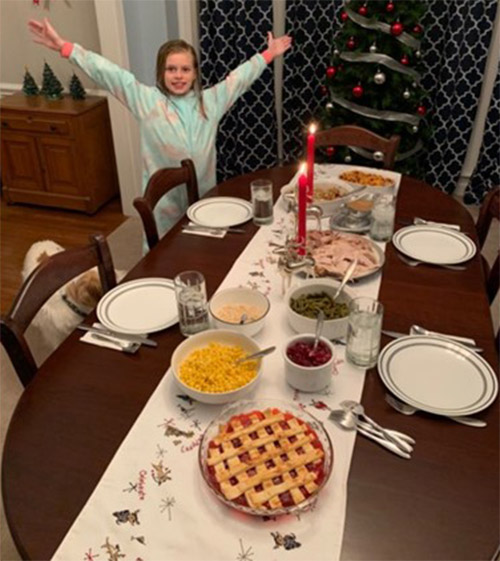 Each Box contains:
a 15 lbs frozen turkey
green beans
whole kernel corn
cut sweet yams
cranberry sauce
stove top stuffing mix
turkey or brown gravy mix
boil-n-bag rice,
4 count dry pie crust mix
cherry or apple pie filling
disposable baking pan for pie  
The Charlotte Rescue Mission tries to provide more than 3,000 Thanksgiving meals each year during their annual Thanksgiving Turkey and Food Box Drive.
"Every year agencies come to us and ask us to help with this big food drive," Rachel DiBattista, Communications & Marketing Specialist for the Charlotte Rescue Mission said. "We're the central location for collecting the Thanksgiving food and frozen turkeys and help distribute them to families that need a Thanksgiving meal."



Generous donors online also began donating to Alex's Thanksgiving fundraiser and Lisa wrote the following thank-you note on their GoFundMe page:
"We want to give a huge, heartfelt thank you to everyone who has helped Alex and Caroline meet and absolutely crush their goal of feeding 50 families in need this Thanksgiving. Their hard work from their lemonade stands and bake sales has earned them $1,142 which puts them just shy of $5,000 with your generous donations! They will be able to provide Charlotte Rescue Mission with meals for 200 local families this Thanksgiving! Words cannot describe how grateful our hearts are for all the support our girls have been given. As you can see, they've started their shopping and we'll be ready to start packing boxes in the next few days. It's HUGE job but we're very excited to see all their hard work come to fruition.
From the absolute bottom of our hearts, thank you.
Love,
The Fischers"
Involving our children in charity work is one of the best ways to help them grow into compassionate and caring adults. Not only is Alex providing more than 200 families with a delicious warm meal for Thanksgiving, but she has learned the true meaning of what the holidays are for.
You are Loved.
See Also: This Thanksgiving Help Feed The Hungry By Playing The UN's Free Online Trivia Game