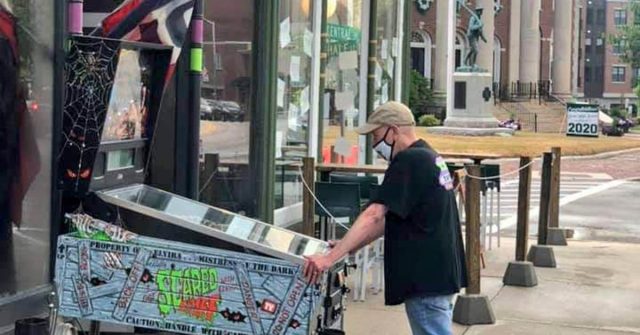 Kenny Bourbeau is a 70-year-old who grew up playing pinball.
He regularly plays at Tokens Taproom in Dover, New Hampshire, but during the pandemic he's been unable to make his regular visits. He is a heart patient, and that combined with his age puts him in the high risk category of being exposed to the coronavirus.
Knowing that their pinball loving regular wanted to get some games in but was not confident about being indoors, they went ahead and moved a pinball machine outside in the fresh air so that he can play without having to worry about the virus.




"We understand if some of you aren't ready to come out yet," Token's Taproom said in a post online. "but we will be here for you when you are! Shout out to our good friend Kenny doing some curbside pinball!"
Kenny's niece, Rose Bourbeau, saw the post online and left them a thank you:
"Kenny the gentleman in this photo is my uncle and he's one of the best. There's another 1 who is right up there with him. Any how I just wanted to pop over and personally [say] thank you to everyone at this store for putting this machine outside so he can play… he loves pinball and if I know him, he's very happy to play and see everyone. Thank you from the bottom of my heart."
Others were also touched by the thoughtfulness of the arcade staff.
"This is awesome and a class act Josh…I'm sure you made Kenny's day! Nice job!" commented Jim F.
"Good and caring people are out there. THANK YOU." wrote Mary R.
"Love this!" said Nicole E.
"There is still kindness in this world." wrote Elena G.
Thank you Tokens for your kindness and thoughtfulness. You're not only helping to keep Kenny safe, but your sweet gesture has inspired many hearts around the world.
You are Loved.
Watch This Video Of A Kind Student Who Gave 3 Bags Of Clothes To A Bullied Classmate Who Wore The Same Outfit To School Each Day:
Subscribe for free to Understanding Compassion on Youtube and help us make the world a kinder place.
See Also: Trash Collectors Surprise Sweet Woman With A 100th Birthday Cake, Leaving Her Crying Tears Of Joy