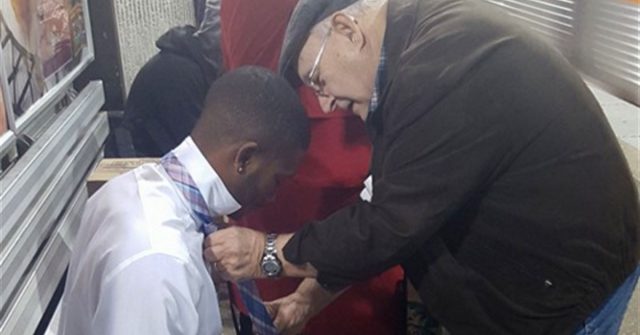 When a young man was struggling to tie his tie while waiting for a train, a kind elderly couple showed up just in time to help him.
Redd Desmond Thomas was also waiting for a train at Atlanta's Lindbergh Center when he saw an older woman start talking to a young man who was having trouble figuring out how to put his tie on.
"The young guy sitting down was struggling with his tie," Redd shared in a post online. "The woman in the red coat noticed, and asked 'Do you know how to tie it properly?' The young guy said 'No ma'am.'"




The woman told her husband to come and help the young man learn how to tie his tie. While this experience is one usually taught from father to son, not everyone has had a father to teach them.
"She taps her husband and says 'Come to this side [her right side; he was standing on her left side] and teach this young man how to tie his tie.' The older gentleman moved without hesitation [almost a reflex response] and gave him a step-by-step tutorial."
The older man not only helped him tie his tie, but he had the young man repeat the steps himself so he could be sure that he had learned how to.
"Then – afterward – the elder gentleman watched the young gentleman repeat the steps and show him that he had it. I was some distance away (but close enough to hear the exchange), and got even closer to snap this candid photo of the tutorial in progress before hopping on the train. I LOVE THIS!"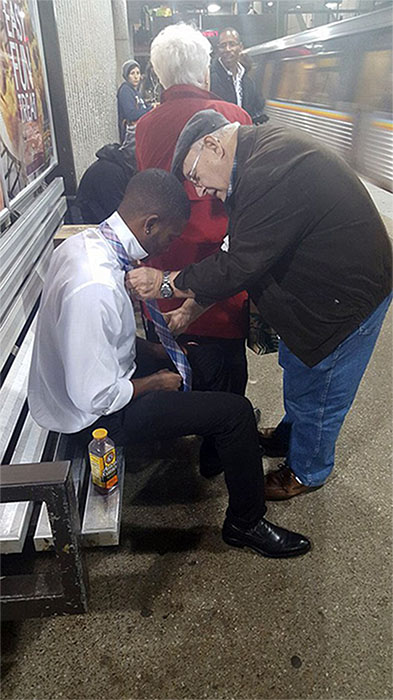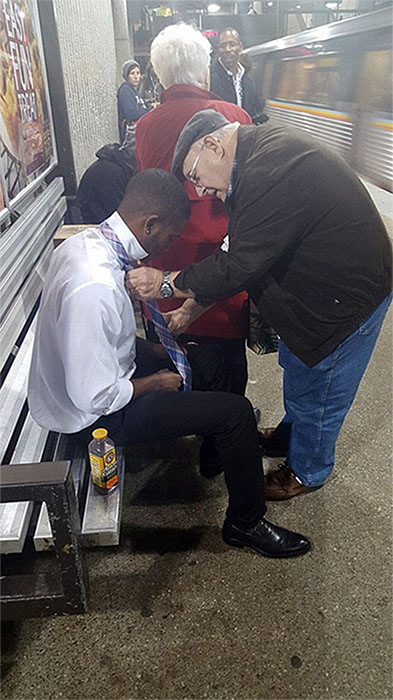 While a seemingly brief moment in time, this heartwarming act of kindness and love has been treasured by millions around the world.
"I absolutely love this! It's the small things that make the biggest impact. Finally, some positivity!" one appreciative heart shared.
"Imagine how many lives we can touch and differences we all could make if we just sacrificed a few minutes of our time for someone in need," commented another.
"This is how humans should treat each other. Well done," one man wrote.
Thanks to the kindness of the older couple, this young man was able to show up to where he was going looking sharp and feeling wonderful.
You are Loved.
Please share kindness with others: when we share stories and examples of compassion and kindness, we inspire and encourage others to be kind and compassionate in their daily lives, making the world a better place for everyone.
See Also: Kind Stranger Gave His First-Class Seat To An 88-Yr-Old Woman Who Had Never Flown First Before