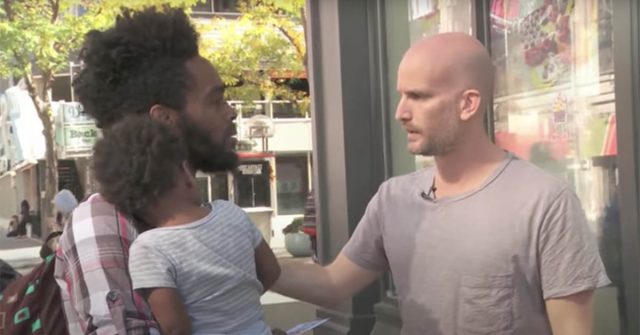 When a single father found himself homeless after moving to a new city, a random encounter with a kind stranger helped him get his life back on track.
James Moss had just moved to Denver from New York with his 2-year-old son in hopes of making a better life for the two of them. James had lined up a job and a place to live, but his living arrangements had fallen through, and he found himself staying on the streets and in a homeless shelter.
A British writer and TV host, Leon Logothetis, had just come to Denver while on a tour where he sought to promote random acts of kindness. He traveled and spoke with random people he encountered while walking around with the hope of encouraging them to be kind to others. After one of these chance encounters, Leon met James. He learned a little about James' situation, and was impressed with how he was able to maintain a positive attitude in the midst of such a struggle of recently becoming homeless.
"I guarantee in a month's time, I'll make anything that I need to happen, happen," James said. "You have to be brought down to your humblest point, so you can appreciate other things that are waiting for you."




James shared that his son helps motivate him to keep a positive mindset, and that he maintains a sense of joy and peace through prayer and meditation.
After their friendly chat, Leon told James that he wanted to give him $1,000 to help him and his son. James was moved to tears.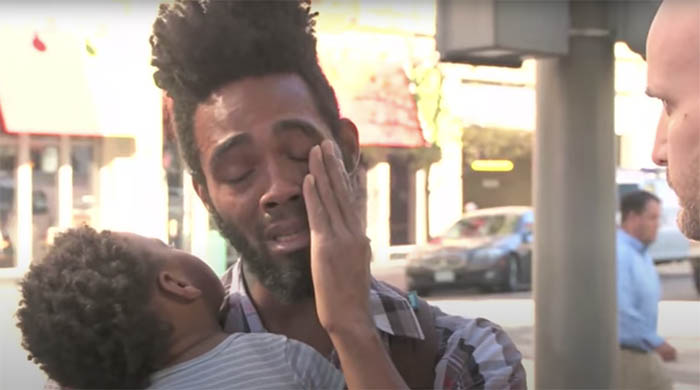 On the spur of the moment, Leon also decided that he wanted to put James and his son in a hotel for the next seven days to make sure that they had a nice place to stay.
"Man you gotta be freakin kidding me man…. thank you so much man… I appreciate it man…" James told Leon as he hugged him.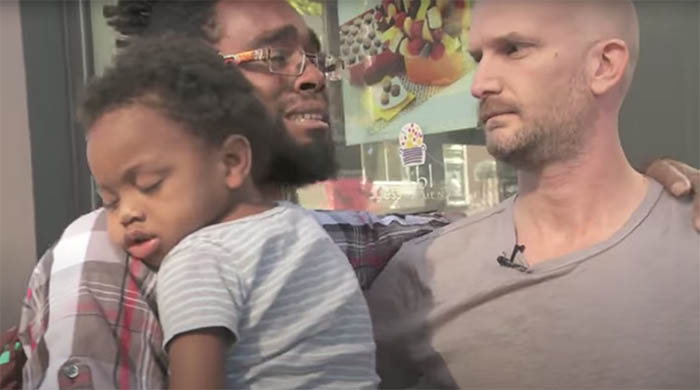 Many hearts online appreciated Leon's kindness for James and his son, and they also wanted to help. Kayla Heskett started a GoFundMe for James with the following note:
"James is an extraordinary father and man. Let's make this [happen] for him and his son and show him some love and that there are still good people left in this world."
With the help of kind hearts from around the globe, they were able to raise $56,560 to help James and his son get back on their feet and begin a new, peaceful life.



James was connected with a host family that let him stay with them after his hotel, and he was able to purchase a car. James said he plans to pay it forward by helping continue this blessing of kindness in his community.
"Just thought I'd post a quick update," Kayla shared. "Thank you everyone for your donations and interest in James. He and his son are doing great, they have gotten a vehicle and are doing great things for the community by giving back. Thank you to the host family that they are staying with until they find what they need."
James was deeply grateful to everyone who had helped and shown love to him and his son.
"I love you all, you're like family to me now," he shared in a video thank you note. "I never thought that an act of kindness like that would spark a huge chain reaction. I am so thankful, so grateful."
Watch this video of Leon meeting James for the first time:
You are Loved.
Subscribe for free to Understanding Compassion on YouTube and help us make the world a kinder place.
Related Stories:
Kind Young Woman Raises $1,000 For Street Violinist Playing To Help His Mom With Rent
Kind Woman Buys Warm Meal For Grateful Homeless Lady Who Was Asking Diners For Leftovers
Homeless Man Helped Distraught Stranded Girl Find A 24Hr Cafe After She Missed The Last Train
Kind Homeless Man Gave His Last £3 So College Student Could Get Home; She After Raised £46,000 For Him
View this post on Instagram