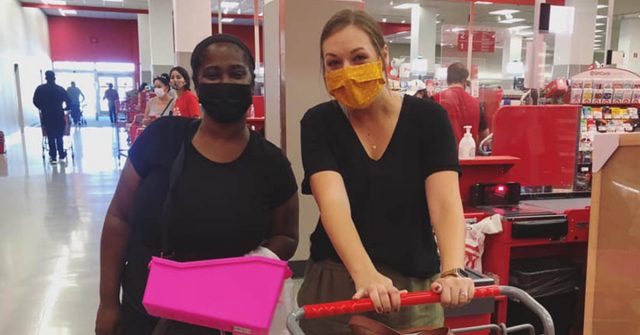 When teacher Rachel Borsgard came in to shop for school supplies at a Target in Mission Valley, CA, the kindness of a stranger left her in tears of gratitude.
Rachel is in her first year of teaching third grade in San Diego, California, and she strives to do her best to provide the love and education that her students need. Yet like most of us when we're starting something new, she spends a lot of time worrying if she's doing it right.
Rachel received a beautifully timed note from a darling student this week which encouraged her spirit.
"Miss .B She was a exsulent tetchr." the note reads.
The sweet note touched Rachel's heart.
"The timing of this note could not have been any better," Rachel said in a post online. "Earlier this week, I broke down. You guys, teaching is REAL. I lay in bed most nights thinking about my kids and worrying about if I'm giving them the love and education they deserve. It is so easy to fall into doubt and comparison as a first year teacher. And then, you guys, they give me notes like this. I am an exsulent tetchr."




Rachel needed some school supplies for her class, so she made her way to several different Targets in Mission Valley in order to find everything that her class needed. While she was in line to pay, a stranger randomly approached her.
"Let me introduce you to my new friend, Nikki. ✨" Rachel wrote in a post online. "Today I made runs to three different Targets to get supplies for my classroom, and ended up at the Target in Mission Valley. I filled up my cart to the point of almost overflowing, and then went to go check out. As I was getting ready to grab my wallet out of my purse, a woman comes up behind me and asks if I'm a teacher. I jokingly respond, 'Yes, can you tell?'"
After learning that Rachel was a teacher, the kind stranger then told her that she would be paying for her entire bill.
"She then says THAT SHE'LL PAY FOR ME. I immediately begin to sob and tell her it's too much money. She just shakes her head and sticks her credit card in the machine. The cashier beams and says, "See? There are still beautiful things happening in this world." I asked Nikki if I could hug her [and] if we could take a picture, and here it is."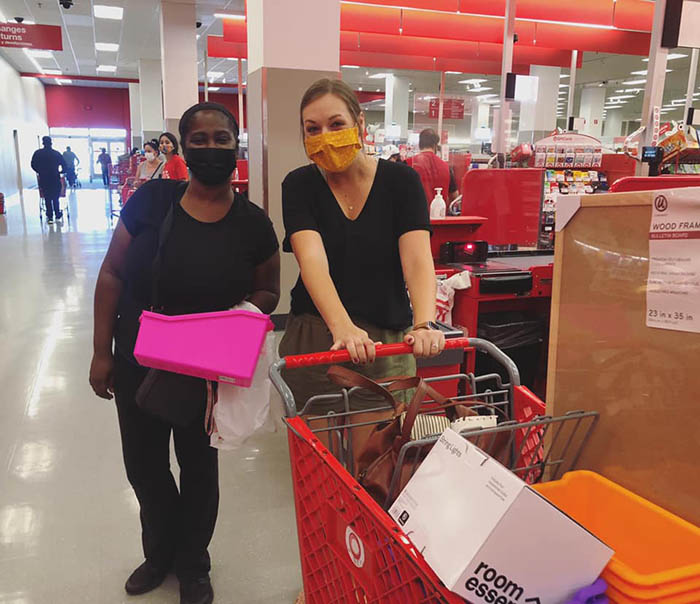 For Rachel, this random act of kindness inspired her at a time when she needed it, and she will remember Nikki's kindness each time she is using these supplies to teach her students.
"So that's how I met my sweet, kind, generous new friend Nikki. I will literally think about her every single day as I look around my classroom at all the things she purchased for me and my students. Excuse me while I continue to sob."
Many hearts online have shared their appreciation for Nicki's kindness.
"What an incredible blessing!!" commented Laura S.
"God is so Amazing!" wrote Monica D.
"Tears… There is still some good in the world." shared Kristi S.
"Amazing!! I wish all media would host a "Kindness ONLY Day!!" These stories never get old.???❤️" wrote Angie C.
"And what a great example to your students about gratitude, kindness, and watching for ways to be a blessing to others," wrote Susie A.
"Teachers are absolute heroes. My family is full of them, and I never miss a chance to say how proud of them I am. My mom just retired after over 50 years of teaching. She loves the kids and that's what she still misses. I remember going on so many shopping trips with her as a kid so all her class could have what they needed. She never complained about that. Most teachers have wish lists for their classrooms, and I love to check off as many items as I can. Teachers make the world a little more possible for kids that maybe don't get encouragement from any other place, and that's priceless. Love a teacher, they will pay it forward 100x." wrote Heidi M.
We never know exactly what others are going through, and how important our kindness in that moment can be. When we see an opportunity, let's remember to always be kind.
You are Loved.
See Also: Kenyan Village Science Teacher Gives 80% Of His Income To Help Poor Students, Wins $1M Global Teacher Award