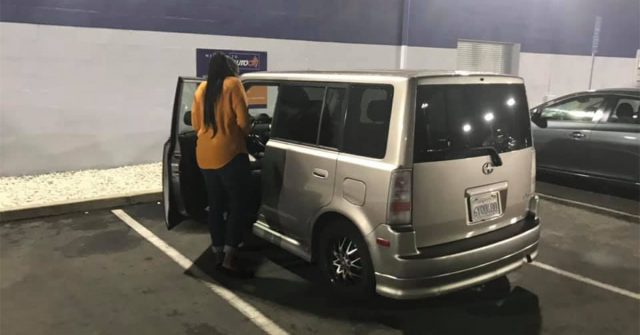 When a kind stranger in a car dealership overheard that a woman was unable to afford the down payment for a used vehicle, he gave her his trade in car for free.
Kayla Cooper, a nursing student at San Diego City College, works two jobs in order to send herself to school. For anyone who has taken a full-time course load at school, they know that finding the time and motivation to have one job on the side, let alone two, can be a difficult struggle.
Kayla works as a cashier at 7-Eleven and at Ace parking lot in San Diego. She had been borrowing a car from friends in order to get to work, but it would not be available after a few weeks, so in order to keep her job at the parking lot she needed to buy a car.
"I use my [borrowed] car to work at Ace. That's the only reason I got the position, because I had a car," Kayla said.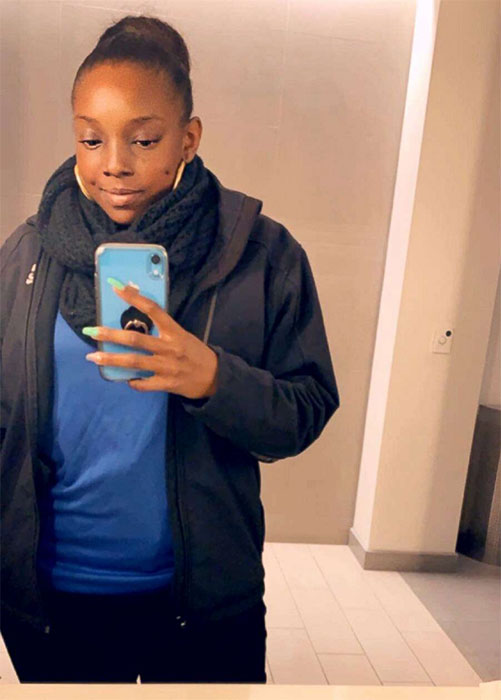 The nursing student walked into Auto City in El Cajon, California, hoping to purchase a cheap used car that would allow her to keep her second job. After looking over all of the cars available, Kayla found that she was unable to afford the down payment required. Realizing that she would likely lose the second job she needed to get by, Kayla's eyes filled with tears.
"I was feeling really upset," Kayla said.
Another customer at the dealership sitting at a table nearby, Dan Laguardia, overheard Kayla speaking with the sales representative, and he saw her distress. Dan had come into the dealership to trade in his 2005 Scion and to buy a new car.
"I heard Kayla at the next table, she sounded like she was upset," Dan said. "I really wasn't trying to be nosy, but I heard her sales guy say, 'Can somebody help you out? Do you have a family member or friend?' That's when I tuned into the conversation."
Dan overheard how the young student was working two jobs to put herself through school, and how she could not afford the car's down payment, but needed a vehicle to keep one of her jobs. As the salesman tried to comfort Kayla, she ended up leaving in tears, realizing that she wouldn't be able to keep her second job.
After she left, Dan asked the salesman if they found a way to help her. He said no, and also seemed a bit heartbroken for Kayla. Dan then asked the salesman to call her and to have her come back in; that he would be giving her his Scion that he was planning to trade in, for free.
Kayla came back in, and was in disbelief, but was also filled with heartfelt gratitude.
"She just couldn't believe it," Dan recalled. "She said, 'Can I give you a hug?' and I said, 'Of course.'"
"It's a whole car," Kayla said. "How can someone be so generous to give their car away?"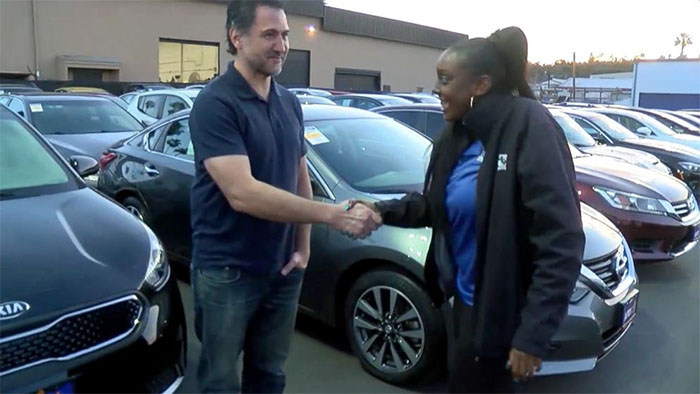 An employee at Auto City watched everything take place and shared a post online.
"So this happened tonight…" one of Auto City's employees, Seoul Fields, shared in a post online. "There was a gentleman buying a BMW trading in an older Scion XB. About the same time, [a] young girl comes in trying to purchase a Corolla. She's a struggling student working 2 jobs, but unfortunately wasn't able to finance a car. She broke down into tears as a salesperson was consoling her. We all felt really bad but there's not much you can do. She leaves, and the gentleman asks if we were able to help her. The salesperson says no, and is visibly upset about it. The guy says 'call your customer back. I'm giving her my trade in.' She comes back a few minutes later, he signs over the title and hands her the keys. While he sat in finance, she sat in the car crying…. God is good!"
Kayla hopes to one day be able to help someone else as much as Dan helped her. As she is going into the field of nursing, it's very likely that she will be paying his kindness forward many times over in the years to come.
"I'm still in shock about it because how could someone give it away without [asking for] anything in return?" Kayla said. "I just want to thank him. It's been the biggest blessing of my life. I hope and pray that someday I can do the same big gesture that he did."
Dan knew that giving the struggling student his car would give her "a bit of a jumpstart in life."
"If everybody did that for everybody else, we'd be in a much better place," he said.
You are Loved.
View this post on Instagram
Related Compassion:
Kind Couple Learned Waitress Walked 14 Miles To Work; Returned Later With Keys To Her New Car
Kind Students Bought Truck For Gentle Moving Older Janitor Who Walked To Work Each Day
Kind Young Woman Won A Car And Gave It To Her Coworker Who Was Biking To Work During Winter