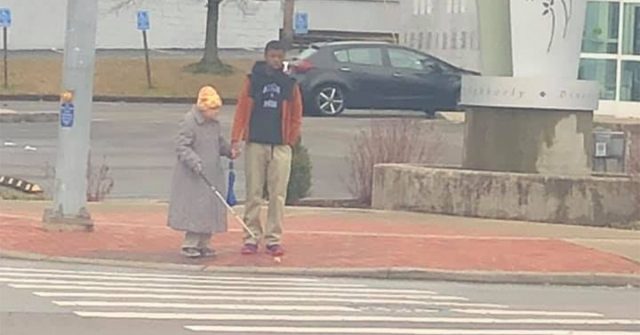 When a kind young man noticed an elderly blind woman struggling to cross a busy intersection, he gently held her hand and walked her safely across two streets.
Mike Garibay was in his car when he noticed a young man gently hold the hand of a blind woman, and then safely walk her across two busy streets.
"This young man held this blind woman's hand and helped her across Hamilton Avenue and then again across North Bend rd," Mike shared in a post online.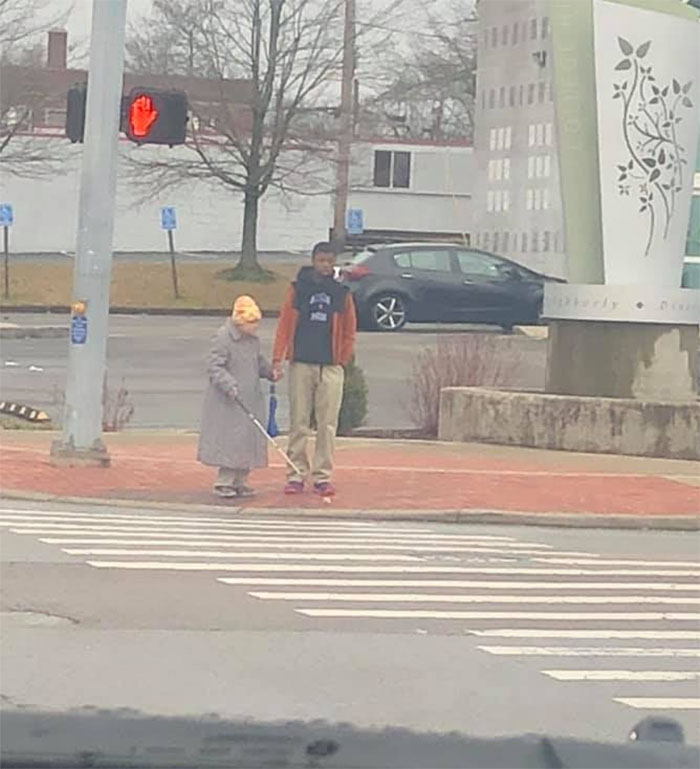 The young man, 15-year-old Dontarius Caldwell, was with his sister Dyamond at a bus stop waiting for their bus to come, when they both noticed an elderly woman with a walking stick struggling to cross a street.
"Dyamond was listening to music, then she looked over and I looked over to see what she was looking at," Dontarius said in an interview.
"I told Dontarius that I think she's blind, you should get up and go help her, and he got up and went to go help her cross the street two times while I waited for the bus to come," Dyamond said.
Dontarius walked over and asked the woman if he could help her, and she said yes.
"She said, 'Yes.' She gave me her hand and I held it," he said.
Seeing a young man gently hold the hand of a blind woman and walk her safely across the street deeply moved Mike as he was watching from his car.
"I have faith in humanity again!! Kudos young man," Mike shared.
Mike took a photo of Dontarius walking the blind woman across the street and shared it online, and Dontarius' high school saw the photo. They awarded the young man with a ceremonial key to the school for his random act of kindness in the community.
After seeing what her son had done, his mom was very proud.
"I'm just really proud and excited," she said. "He's always willing to help. He's such a good kid. I just love him so much..
You are Loved.
View this post on Instagram
Related Compassion:
Kind Bus Driver Stopped Bus To Help Walk A Blind Man Safely Through Street Construction
Kind Man Installing Internet Lovingly Holds Woman's Blind And Crying 3-Yr-Old For 45 Minutes
Kind Employee Slowly And Patiently Helped Walk A Blind Man Through Entire Store While Holding Hands