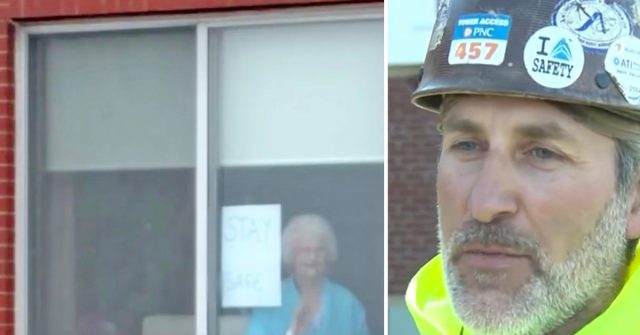 This is one of those stories that just makes you feel all warm and fuzzy inside. If you're having a not so good day, look no further for cheering up! This wonderful exchange between an 88-year-old hospital patient and an ironworker left strangers with opened hearts.
Gloria Porter of Connellsville, Pennsylvania, had a week to spend at the Excela Frick Hospital, and often spent her time looking out of her 3rd floor window and watching the steel and ironworkers construct the new front entrance of the hospital.
One of the days was quite cold and it began to snow, and Gloria became concerned for the safety of the workers. But at the same time, one of the ironworkers, Jeff Reick, was also concerned about the sweet Grandma he had seen watching them through her window.
"This one guy looked over at us and waved, so we waved back," Gloria said. "I looked down on the beam and he had written, 'Get well.'"

Gloria was moved by the thoughtfulness of this simple message. She had been thinking about how to take care of the workers, and little did she know that they had also been fondly thinking about her.
"I saw the lady at the window looking out. I thought it would be a kind gesture just to tell her to get well," Jeff said. "I didn't think much of it. I just tried to make someone feel a little better."
Yet it was Gloria's response that gave Jeff the butterflies, as her simple reply were words which he and his coworkers repeat to themselves, and even put stickers of on their helmets. She wrote, "Stay Safe" on a piece of paper and taped it up on her window.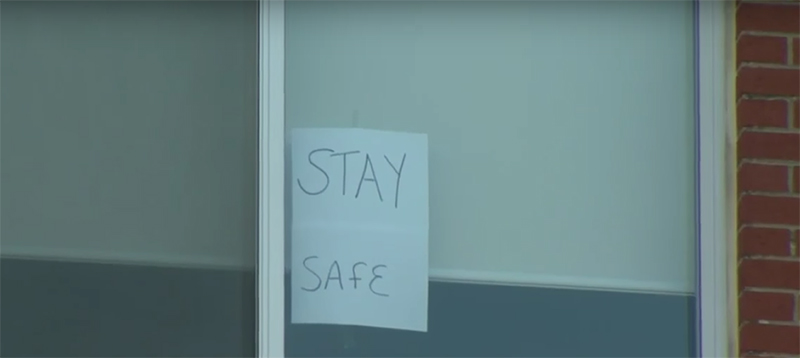 "That sign kind of crushed me. I don't know how she knew 'Stay safe,'" Jeff said. "It's kind of like ironworker lingo to stay safe. When I saw 'Stay safe,' in the window, I… said [to my coworkers], 'Did you see that?'"
Gloria's message what exactly what these kind workers needed to hear on that potentially dangerous and snowy day. Jeff loved Gloria's reply so he shared the story on Facebook, and even more kindness was to follow.
After reading about their sweet exchange online, a stranger came the same week to the construction site and delivered an envelop addressed to Jeff and his crew. Inside was enough money for lunch for everyone, bringing smiles all around as members of the community came to rally behind this gentle act of love.
"I just try to lead by example and be a good person. I just hope everybody would do things like that," Jeff said.
A kind exchange between two human beings can be filled with so much love that it inspires strangers to also be kind, and can ripple out for the whole world to see. Consider this week writing a small and simple message of love for a stranger, and you just might cause the ripple that helps make this world a better place.
Please SHARE this story with your family and friends on Facebook to spread this act of kindness!
You are Loved.
The following video from ABC news details their sweet exchange:
See Also: This Sweet 'Grandma In The Window' Waves To Kids Every Day, And They Returned The Love When She Needed It Most