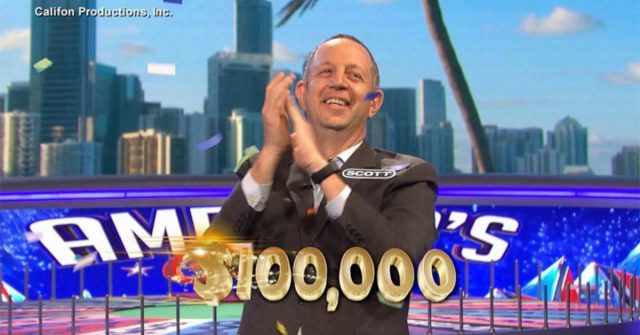 After winning the grand prize on Wheel of Fortune, Scott Kolbrenner decided that the best use of the money would be to donate it all to two of his favorite charities.
Scott solved the $100,000 grand prize puzzle of "Flowing white gown," which had the clue, "What are you wearing?"
His total winnings during the show were $145,000.
Scott talked with his wife before the show, and they both agreed that whatever he won, if anything, that they would donate it all to charity.
"It's been a dark time," Scott said. "When I went on the show, I was doing it for the fun of it, and I said to my wife, 'If I do OK here, anything that I get, let's give it to charity. We're very fortunate. Let's see if we can support some others who aren't as fortunate as we are."



His family was surprised to learn just how much he had won, and they were excited to support his passion for charitable giving.
"It was complete and utter shock for everybody in our lives, and they were elated about it," he said.
Scott, a life-long fan and watcher of Wheel of Fortune, will donate the $145,000 to two charities: Uplift Family Services and the Los Angeles Regional Food Bank.
Uplift Family Services is one of the largest, most comprehensive behavioral health treatment providers in California. Each year, they do whatever it takes to help more than 35,000 children and family members manage and recover from challenges stemming from prior trauma, such as severe neglect and abuse, and learn the essential life skills they need to be successful at home, at school, and in their community.
The Los Angeles Regional Food Bank serves more than 300,000 people every month, providing food to children, older adults and the homeless.
Scott's kind soul, when blessed with a fortune, decided to give it all to those in need, filling his heart with a reward of joy that will last forever.
You are Loved.
See Also: This Kind 13-Year-Old Girl Won A $70,000 SUV In A Raffle And Then Donated It To Charity
View this post on Instagram