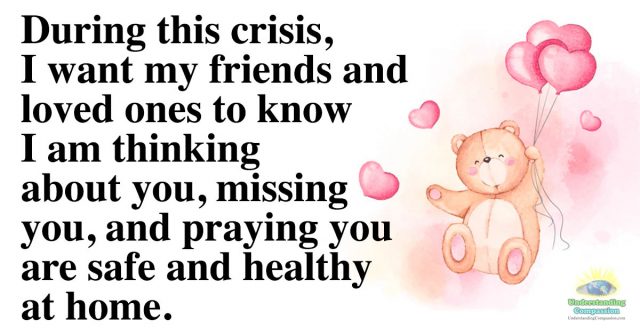 During this crisis, I want my friends and loved ones to know I am thinking about you, missing you, and praying you are safe and healthy at home.
More Related Quotes:
Please bring an end to the coronavirus and bless all the workers on the front line.

Please Go Out Of Your Way To
Be Extra Kind At The Grocery Store.
Those working are doing the best they can;
providing a great service for us at their risk.
They have no control over the items that
are sold out. Please respect their space and
honor social distancing for them, as well
as others waiting in life. It could literally
save a life.
Even though the world is chaotic right now, I have to thank God that I have a House, Food, Water, Warmth and Love. Thank You For Blessing Me.
To all the workers on the frontline of the coronavirus pandemic: Thank you for all you are doing.
What a year this week has been…
To all nurses and doctors: thank you for all you are doing to take care of people with the coronavirus, we admire you greatly.
Thank you to all janitors and custodial workers, cleaning and sanitizing the facilities that we all use.
Coronavirus prayer: I pray for healing for all those affected by this virus. We pray that all negative outcomes be resolved in your healing hands. Amen.
Prayers and thanks for nurses, doctors, and all the workers involved with the coronavirus. They need all the help they can get. Amen.
You are Loved.
See Also: Trash Collectors Surprise Sweet Woman With A 100th Birthday Cake, Leaving Her Crying Tears Of Joy