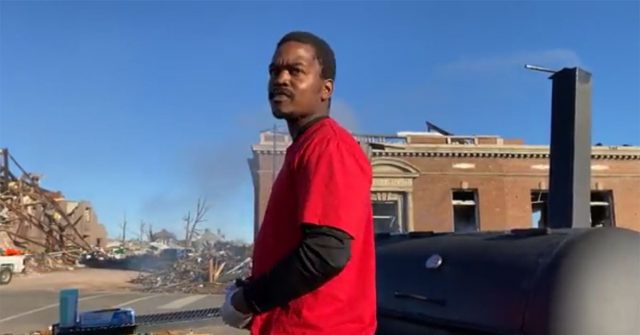 "I just figured I'd do what I can do," he said.
A kind man brought his own grill and a truckload of food to help feed people affected by the tornadoes that went through the midwest.
After seeing the heartbreaking situation in Kentucky, Jim Finch knew that the survivors had no electricity, no water, and no functioning restaurants to eat at. He decided that to do his part, he would load up his truck with food from the grocery store and drive to the hardest hit areas with his grill and make free food for the survivors in the area.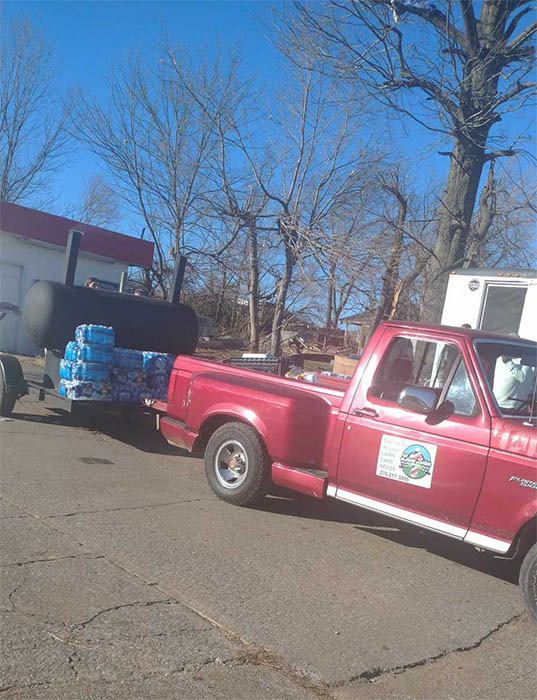 There was a church service in a parking lot next to a collapsed building, and Jim pulled up to help feed the people he saw gathered there. Victor Ordoñez was near the parking lot and saw a man with a large grill pull up, and learned that he was not associated with any organization, but had simply come there to help out of the kindness of his heart. He took a short video of Jim, asking him what he was planning to do with his grill.
"I know they don't have no electricity, so that means they don't have no electric, no restaurants, no running water, so I just figured I'd do what I can do, show up with some food and some water," Jim said.
Victor shared that Jim wore a smile for the whole time he was there.
"Jim wore a smile the whole morning," Victor said. "We laugh when I asked if he had a restaurant. He shook his head, "It just needed to be done."'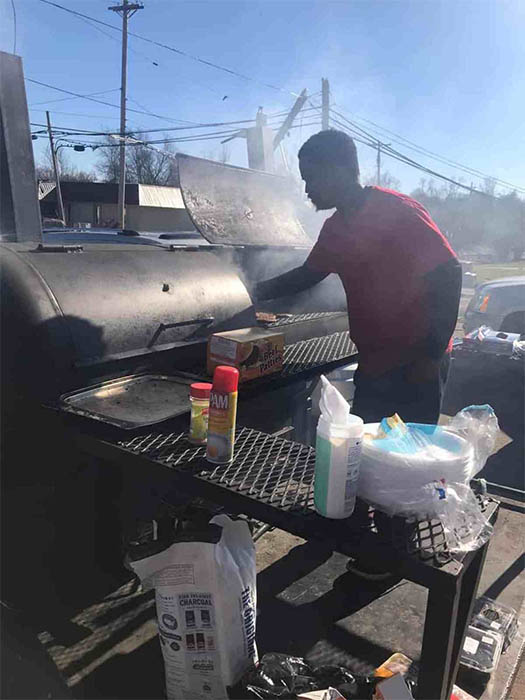 Jim brought a wonderful assortment of food that would be easy for someone to take with them and eat on the go.
"Hamburgers, chicken, I got sausage, eggs – just a little simple stuff that you can have and not have to worry about making a mess," Jim said when asked what he had brought. "You know, grab and go type of food."
During a very dark time, heavy with suffering, Jim Finch brought the light. The people he fed and thousands of others from around the world have appreciated his kindness.
"[The town was] horrific… Jim Finch brings light. I am sure the church service did too," one grateful heart wrote.
"What a blessing he is. He is warming hearts and bellies with his act of kindness," another commented.
"Such a kind human being. I am humbled by his generosity of spirit!" one person shared.
"Every once in a while there is a story that gives you back a little of your faith in humanity. Thank you Jim Finch," Steve wrote.
Watch this short video of Victor meeting Jim:
You are Loved.
This man drove half an hour with a grill and a truckload of food and parked right in the middle of #Mayfield, Kentucky. pic.twitter.com/xrVbrMdJ9S

— Victor Ordoñez (@TheOrdonezTimes) December 12, 2021
Related Stories:
Anonymous Man Brought His Own Grill And 300lbs Of Chicken To Cook For Overworked First Responders
This Share-A-Meal Food Truck Gives Out 250 Free Hot Burritos To The Homeless Each Night
HIGHWAY COMPASSION: 13 Semi Trucks Line Michigan Freeway To Save Man Contemplating Suicide