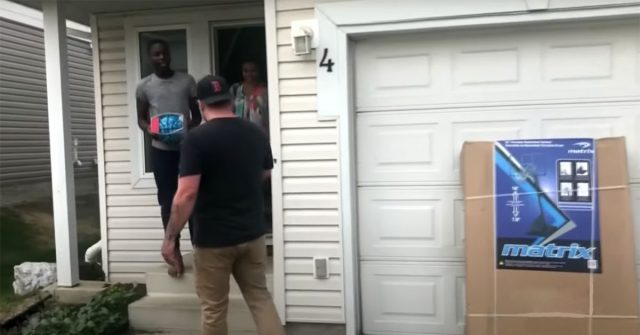 When a kind man noticed his 14-year-old neighbor spending hours each day dribbling a basketball, he asked his community for donations and helped get the young man a brand new basketball hoop.
Anthony Muobike is a 14-year-old who loves basketball and spends most of his time dribbling his basketball in his driveway in Edmonton, Canada. Anthony often practices dribbling for hours at a time, and he began to worry that the noise his basketball makes would possibly be bothering his neighbors.
"I'm just dribbling in my driveway," Anthony said. "I thought that whenever I dribble, it made a racket and people want to sleep or something like that."
But rather than being bothered by him dribbling his ball, Anthony's neighbor, Ian Ray, was noticing what a nice young man Anthony seemed to be. He would see him practicing for hours on end dribbling his basketball, and he thought that it would be nice if he had a hoop to practice with as well.
"He was just a kid who dribbled a basketball; all day, all night," Ian said. I know he can dribble the ball, I haven't seen him shoot the ball yet. I kind of figured it would be cool if he had a net."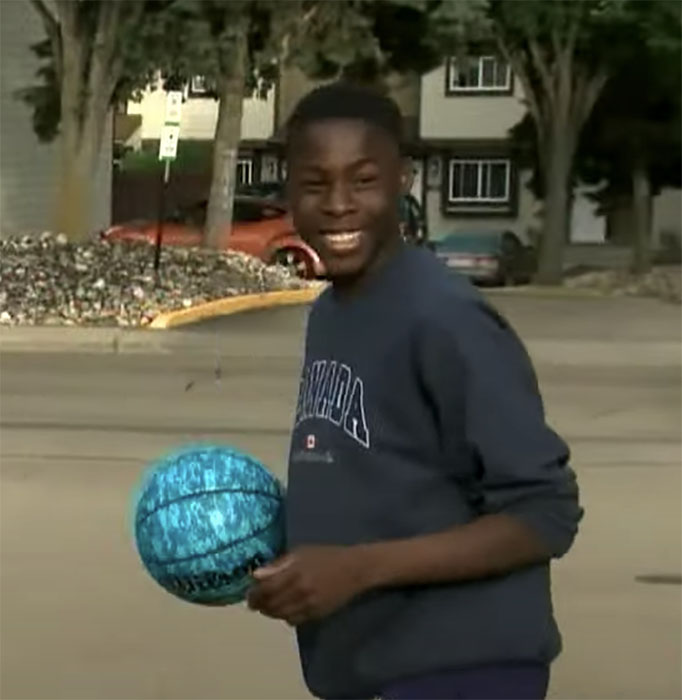 Even though Ian did not speak much with Anthony, he wanted to help, so he made an online post on an Edmonton Facebook page letting his community know how dedicated his nice young neighbor was. He asked if anyone in the area had a spare hoop to donate to the young man.
"This kid lives in our community and is outside every day dribbling his basketball," Ian wrote in a post online. "When he's not dribbling he's watching siblings or walking his dog. He is such a good kid and I would love if anyone had a basketball net they're not using or willing to part with so this kid had a hoop to shoot at. Thanks and have a great day fellow northsiders." 
The community responded, and kind hearts donated a total of $750. Canadian Tire read the post as well and donated a brand new driveway basketball hoop and new basketball. The donations were then used to purchase a $750 gift card to Sportchek, so that Anthony will have all of the basketball gear that he needs.
"I didn't expect it to blow up like it did but the north side is a pretty strong community and everyone is willing to chip in when they have to. It was really nice," Ian said.
Anthony was both surprised and overjoyed when Ian came by his home and presented him with his new basketball hoop. His kind neighbor, who he was worried that he might be annoying with his basketball noise, had in fact helped give him a new hoop and all of the gear he will need to succeed.
"Holy moly. I just see the net and it didn't even matter that it wasn't built yet, it was just in the box. I was like holy moly, that's crazy," Anthony said. "It does touch my heart. It actually just makes me feel happy inside. It just makes my mind blow. Like wow."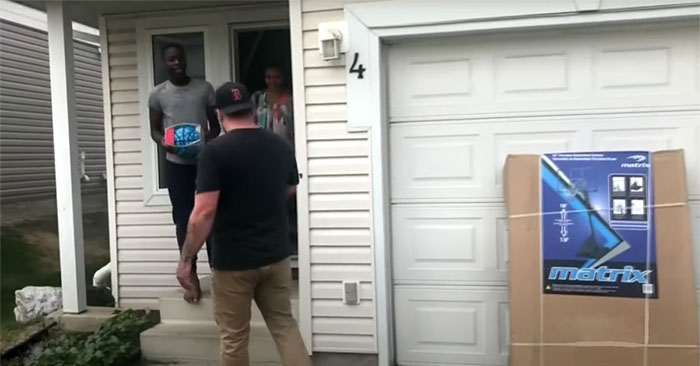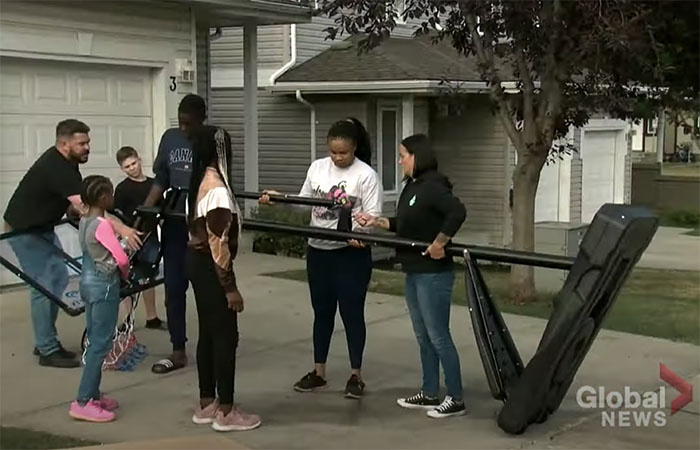 "I did not know that dribbling that ball, practicing at least maybe two or four hours a day, would actually have an influence."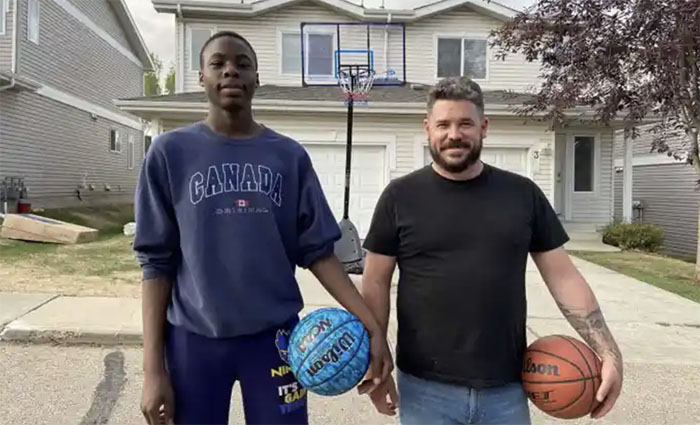 Even Anthony's favorite basketball player LeBron James heard about his story and how his community had come together to help him. Lebron shared Anthony's story on his Instagram, saying that it was "pure and beautiful."
"This is pure and beautiful," Lebron James wrote. "That community is amazing. Nobody can fulfill their dreams alone. Anthony keep working kid!! You have another fan in me."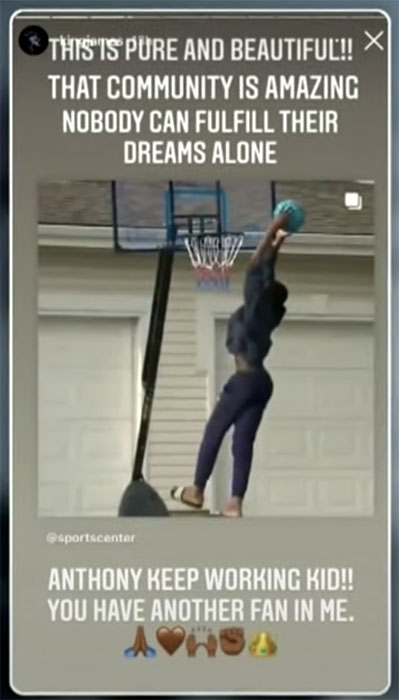 Anthony was deeply grateful for Ian's, his community's and Lebron's kindness. He wants to succeed and give back to the wonderful people in his community.
"Lebron's my inspiration. That's him right there. Lebron's the main reason why I started playing basketball," Anthony said.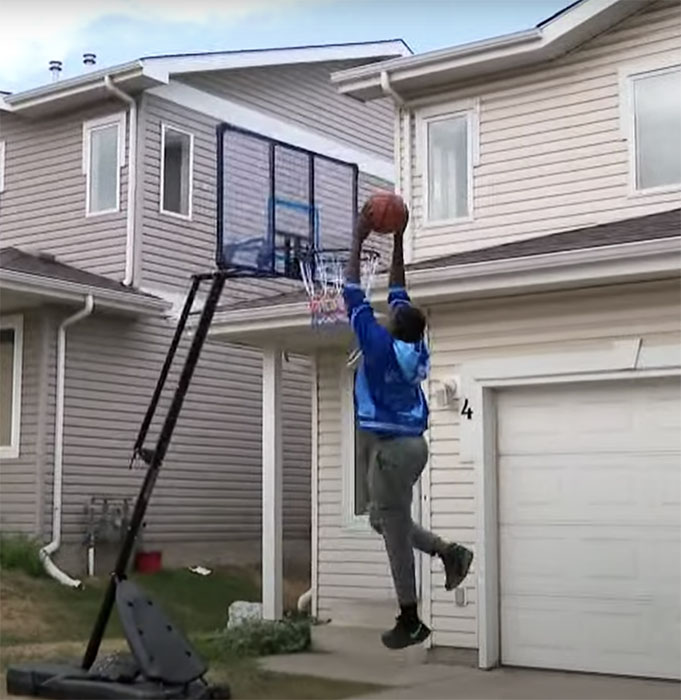 "I will succeed. I will be in the NBA [in] 2026, I'll be there, and then try to give back to those people, and I will make them all proud."
A recruiter from a private Toronto school has already reached out to Anthony and offered a program for him to join starting next year.
Anthony's mom was overwhelmed with joy and brought to tears.
"My heart is full of joy," she said. "I'm overwhelmed, I don't know what to say, all I can say is thank you so much."
Watch this beautiful video of Anthony receiving his new basketball hoop:
You are Loved.
Related Compassion:
Kind Young Woman Saw Boy's Sad Face After He Learned He Couldn't Afford Shoes, So She Bought Him A New $180 Pair
The Kind LeBron James Opened A School For Failing Students – Their Test Scores Today Are Incredible
Kind Neighbors Bought Every Item From Struggling Teen Selling Tamales To Enter Baseball Tournament