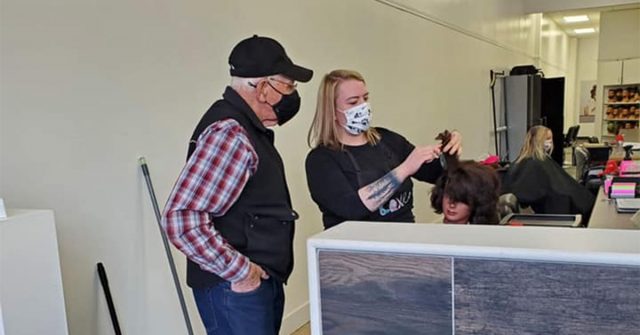 A loving elderly husband came by a beauty school and asked for tips on how to curl the hair of his wife, who was no longer able to curl her own hair.
The 79-year-old randomly stopped by Delmar College of Hair & Aesthetics in Alberta, Canada, and asked Carrie Hannah, the school's director, if she could show him a few tips in order to correctly help his wife curl her hair.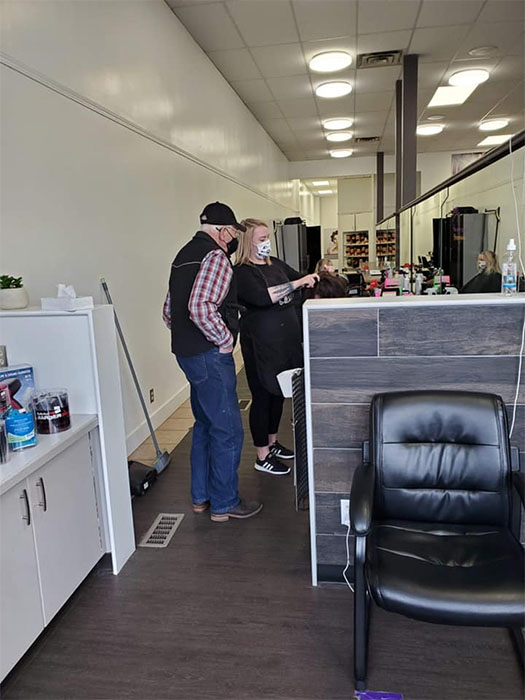 The kind stylists taught the older gentleman how to do volume curls on short hair, how to protect his wife's skin from any curling iron burns, and how to put mascara on her.
"This lovely gentleman came in today to learn how to curl his wife's hair," Britney of Hair Design By Britney shared in a post online. "His wife is unable to curl her own hair and often burns herself, so he stepped up to the plate and learned how to curl her hair. We had the pleasure of teaching him!"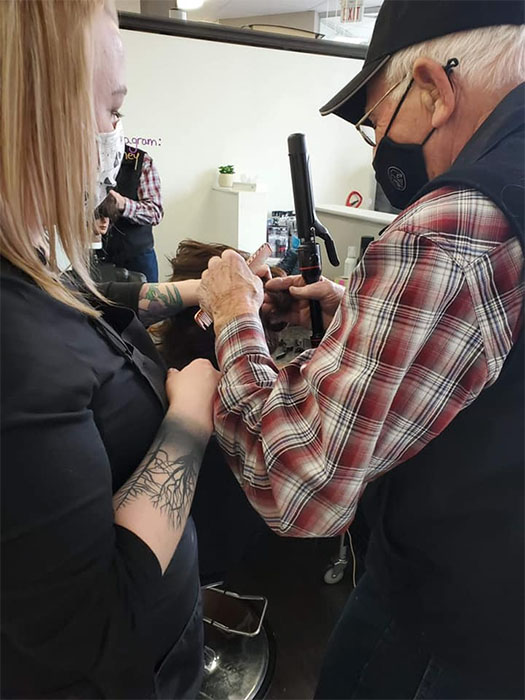 "We taught him how to do volume curls on short hair, how to protect her skin from being burned and we even taught him to put on her mascara."
The students were deeply touched by the love the 79-year-old man had for his wife.
"This gentleman warmed all of our hearts and it was a beautiful reminder that we need to stay positive and love each other," one of the students shared.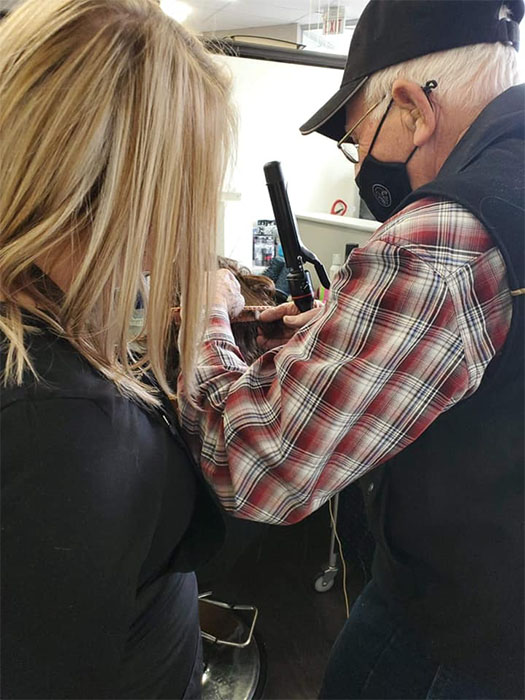 Hundreds of thousands of hearts online have been moved by the 79-year-old husband's love and care for his wife.
"This is what true love and commitment looks like. God bless you sir and I would bet your wife looks absolutely amazing. God bless you ladies in taking the time to show this gentleman," commented John D.
"This makes my heart so full. Thank you for helping him! What a lucky woman she is to have such an attentive husband," shared Kindra J.
"What a blessed woman! Her husband took their wedding vows to heart & has no problem truly expressing them," wrote Carol T.
"I have never been to your store, you are not even in my area, but this post tells me everything that I need to know about your business. You have a loving and caring environment where people feel comfortable coming to you. What an awesome experience and thank you so much for sharing it with us!" wrote Jenn H.
"My Dad did this kind of thing for my Mom who had Alzheimer's. He would get her dressed each day and put on her makeup and fix her hair. She had always looked classy before and he made sure she remained that way," shared Sarah C.
"True love, commitment, devotion to the person he loves. He is a gem and a true gentleman. Love this!" wrote Karen K.
"This has made my day. What a lovely story. What a wonderful husband he must be. Well done to you for teaching him," commented Jane H.
You are Loved.
View this post on Instagram
Related Compassion:
Loving Elderly Husband Gently Helped Wife With Limited Vision Find Makeup That Matched Her Skin Tone
Granddaughter Notices Her 85-Year-Old Grandfather Only Chooses Her Grandma's Favorite Things While Shopping
Photo of 96-Yr-Old Husband Feeding Wife With Alzheimer's Proves Life-Long Love Exists
Loving Husband Spends 2 Years Planting Thousands Of Flowers For His Blind Wife To Smell To Get Her Out Of Depression
Formerly Homeless Man Gives Homeless Man A Makeover And Offers To Help Him Recover His Life