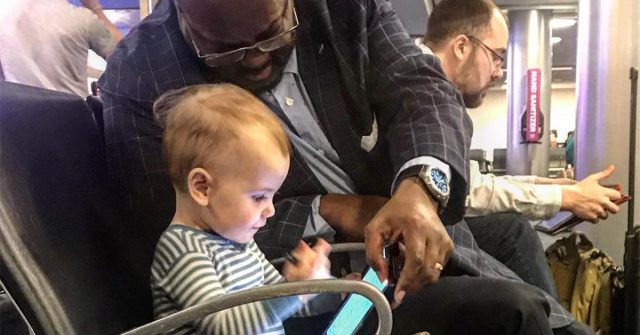 When 16-month-old Carter Jean was being her usual inquisitive self and said 'hi' to a businessman at the airport, he spent nearly an hour of his time saying hello, smiling with her, and kindly letting her draw on his iPad.
Carter Jean and her father, Kevin Armentrout, were waiting to board a flight at the airport when she noticed Joseph Wright sitting across from her, and she decided to say hi.
"Last night, while waiting to board our plane, Carter Jean was being her usual inquisitive self wanting to meet and say "hi" to everyone she could, until she walked up on this man," Kevin shared.
Joseph said hello back to Carter Jean, and after a few minutes of very cute communication, he asked her if she'd like to sit with him. Together they spent nearly an hour having a truly wonderful time.
"He reached out and asked if she wanted to sit with him. He pulled out his tablet and showed her how to draw with it, they watched cartoons together, and she offered him snacks. This wasn't a short little exchange, this was 45 minutes."
"There were a few moments she screamed and tried to get into his work calendar, but he couldn't care less."
"Watching them in that moment, I couldn't help but think, different genders, different skin colors, different generations, and the best of friends. This is the world I want for her."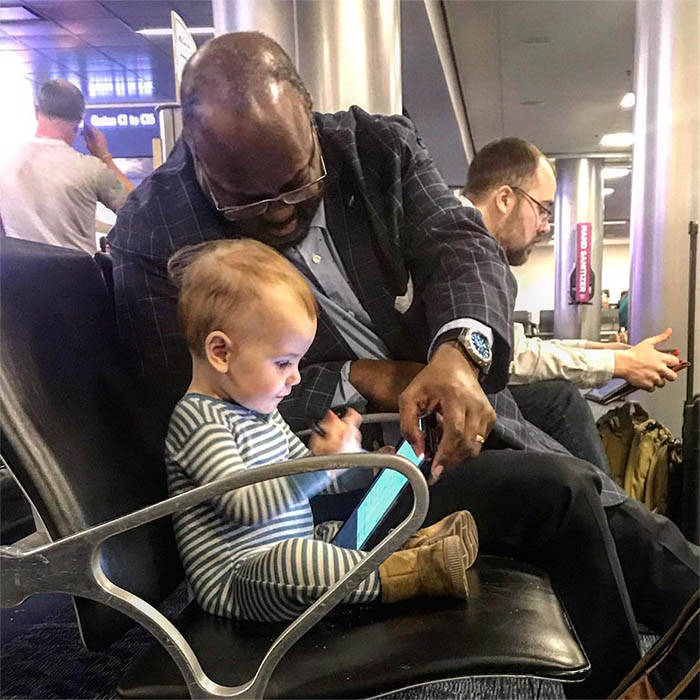 To Kevin, seeing the kindness shown by a black man towards his white daughter, during a time when racism and division has been the talk of the country, it deeply moved his heart.
"In a country that is continuously fed that it's so deeply divided by beliefs, I want her life to be filled with moments like this… not liberal or conservative republican or democrat, socialist or capitalist, just HUMAN."
"Joseph from Samsung in Oklahoma, if this should happen to find you, Thank you for showing my daughter what kindness and compassion looks like. Continue to shine your light in the world."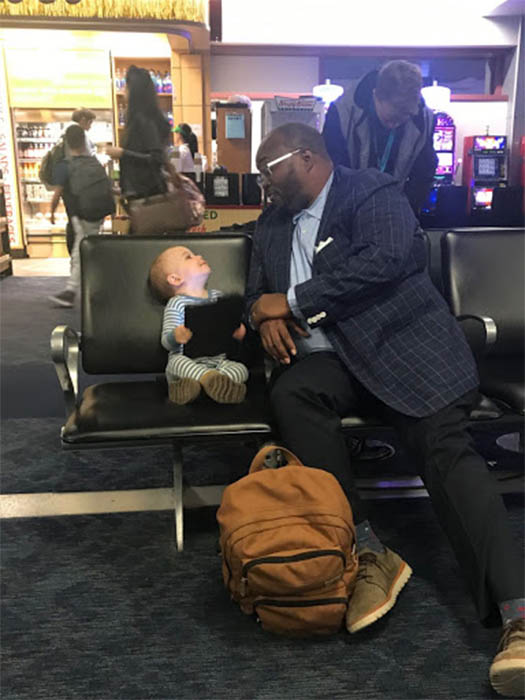 A few of Joseph's friends and coworkers saw Kevin's post and shared that this is just the type of kind person that Joseph is.
"I first met [Joseph] in school in 1976… this is exactly how he was then and throughout our years in school… beautiful human being then and now," wrote one friend.
"He's been that way as long as I've known him… truly a wonderful guy, this doesn't surprise me one bit!" shared another.



Hundreds of thousands of hearts online have appreciated Joseph's kindness.
"And once again, it takes a child to show the rest of us how its (life) done right….." wrote Barbara L.
"Over 40 years ago, I was traveling cross-country with my 10 day old daughter. She was very good, but holding a child for that long can be tiring. About 2 hours into the flight a gentleman came up to me and said "let me hold her for a bit so that you can relax and have something to eat" I was hesitant so he said "I am the father of 8 and grandfather of 2, I think you need a break." I will never forget the kindness of that gentleman! ❤️" shared Jo R.
"Kudos to this awesome gentleman. Under our skin we are all the same. But sad that so many people fail to realize that. It's not the skin color that is good or bad it's the person within!!!!" wrote Regina W.
"I took a screaming child from his Japanese mother on an international flight of 8 hours. Many passengers were irritated and she was besides herself with three children. He fell asleep in my arms and stayed there for 5 hours. I carried him off the plane and gave him back to her at customs. She was in tears with gratitude. Very humbling time for me and I was honoured that she let me help," wrote Roy B.
"This is the world we live in, we're just being told it's not. This is how most of us want it," wrote Julie S.
You are Loved.
See Also: Struggling Mother Helped 3 Times In One Day By Different Strangers At Airport
View this post on Instagram