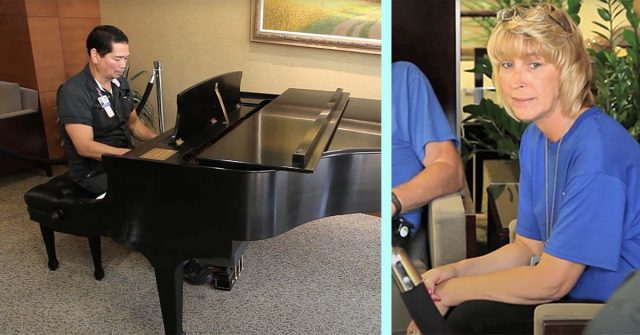 A kind janitor is using 14 minutes and 39 seconds of his 15 minute break each day to play the piano for and bring peace to worried patients and their family in a hospital lobby waiting room.
Rolando Maaba works as a janitor for Rockford Memorial Hospital in Rockford, Illinois. He happily cleans various areas of the hospital each day, and is known for always smiling to those he sees. He said that even if you're old, that smiling makes you young, especially when facing problems.
"Even if I have some problems, I'm still smiling because that's part of life," Rolando said.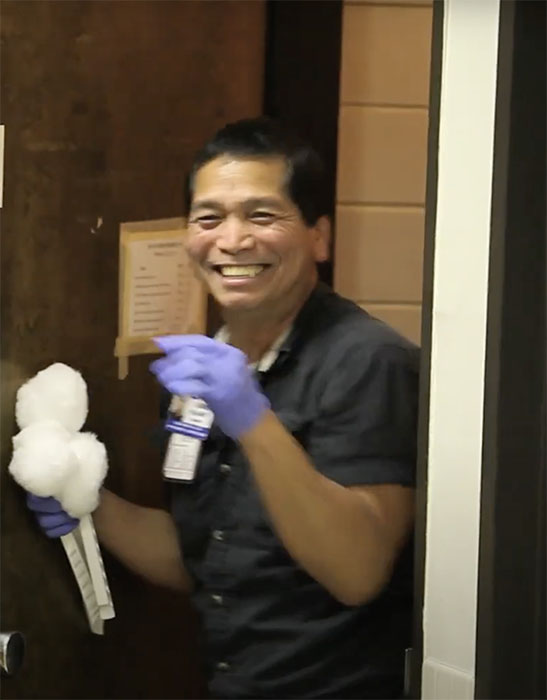 Working in a hospital, Rolando often notices the patients and their family members who walk through the hallways and who wait in the lobby waiting area. He's seen many worried faces, people silently hurting or struggling with sadness, and people doing their best to stay calm and positive while hoping for the best for their loved ones or themselves.
While smiling to the people he encountered each day shared a sense of love, Rolando's kind heart wanted to do more.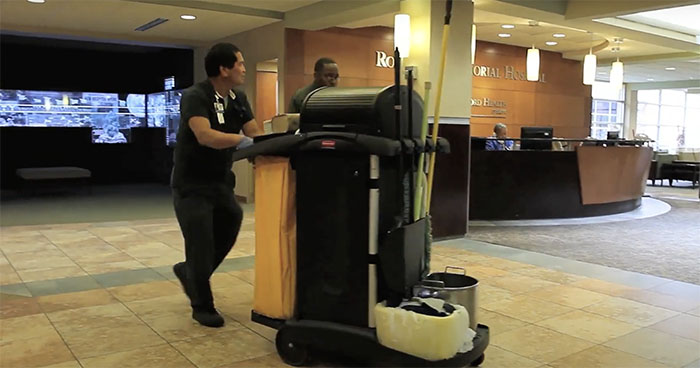 While never having a piano teacher and being unable to read piano notes, Rolando learned how to play a few beautiful songs on the piano, and he began playing them in the hospital's lobby waiting room during his 15 minute break in order to help bring some relief and peace to the people waiting there.
"I know where to touch the piano, I know the A B C D E F G, but the notes, I don't know how to read," he shared. "The bottom line is I want to be helping guests who are waiting for their relatives after an emergency or a surgery and they're worried."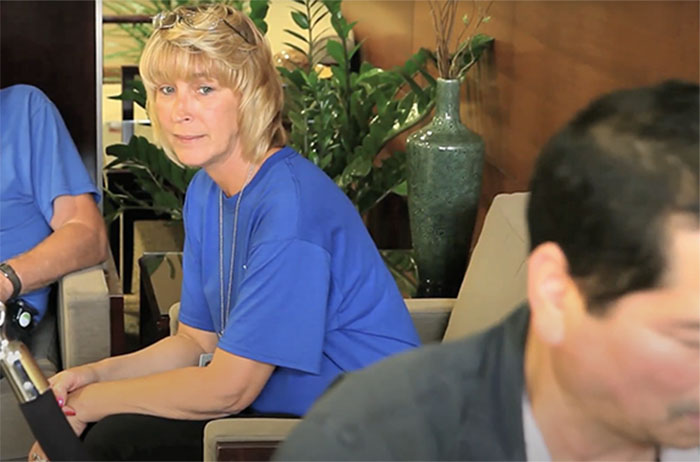 He wants to help patients and their relatives "forget all their worries", let go of their stress and relax, if only for a few minutes each day.
Rolando feels a sense of peace when he plays the piano, and he wants to share this peace with those waiting in the lobby.
"I feel so comfortable when I play… I can help these people to be happy," Rolando said.
Rolando plays for "14 minutes and 39 seconds each day" during his 15 minute break.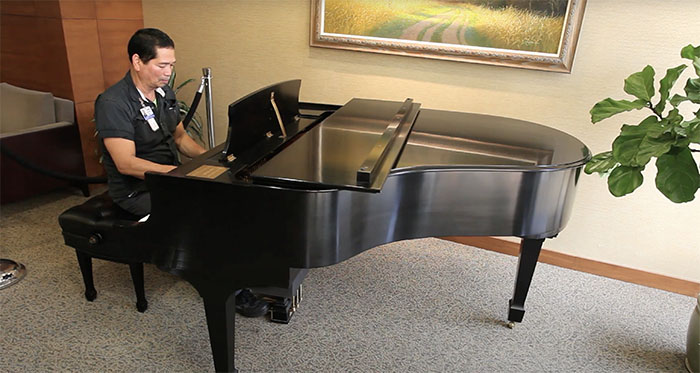 "When I'm playing something… in the lobby… some people are walking… and they hear… "Oh I like it. I like your play[ing]." For the people I can give happiness. Especially to the patient. Some couple minutes… passing there and walking… They hear it and they stand there for a while."
"When I play the piano, especially if I like the songs, and I get it and I can play it, I feel… how do I say… I feel it. Something "upstairs" helping me. I hope to continue all, as long as I'm alive, and God gave me talent."
Rolando's beautiful music has brought peace to the hearts of many in Rockford Memorial Hospital.
Watch this lovely interview with Rolando where he plays the piano:
You are Loved.
Subscribe for free to Understanding Compassion on YouTube and help us make the world a kinder place.
Related Compassion:
Gentle Homeless Man's Beautiful Piano Solo Inspired Crowdfunded $40k Rehab And Record Deal
Kind Stranger Bought Grand Piano For Self-Taught 11-Yr-Old Autistic Genius After Seeing Him Play For His Dad
Kind Students Bought Truck For Gentle Moving Older Janitor Who Walked To Work Each Day