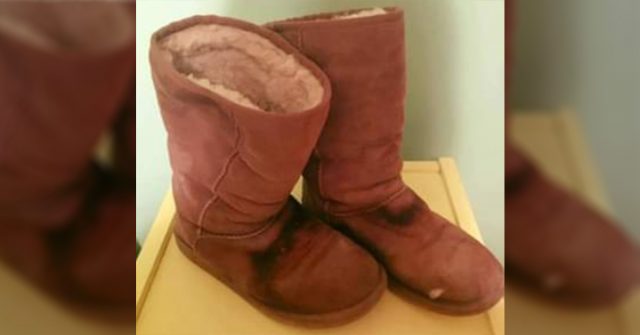 When Kelly McGuire and her husband were on their way to a football game, they were doing their best to stay warm as temperatures had dropped below freezing. Kelly had bundled up in several layers of clothes before leaving the house, and as she walked to the train station, she noticed a homeless woman crouched down on the ground trying to stay warm.
"I went to the Chicago Bears game today," Kelly wrote. "We spent $32 total on the train fares, $200 for our tickets, $7 for a hotdog, and $41 at Giordanos after the game. We paid that much money to come to spend a fun day in the city even though it was cold. I feel guilty. We have much more than what we need and we don't even have half of what most people have."
"The high today was 30 degrees, so naturally I layered up in a lot of clothing. I wore Under Armor pants and an Under Armor long sleeve shirt along with 2 additional pairs of pants, 4 shirts, 2 sweatshirts, 3 pairs of socks, 2 pairs of gloves, a coat, a hat, a scarf, and my favorite new pair of winter boots."
"While we were inside of Giordanos I was very warm so I took off everything except my pants, socks, boots, Under Armor Shirt, and hat. I tossed it all into a bag and when we left I carried that bag and put on my coat. We had a short walk to the train station and as we were walking across the street I noticed a homeless woman crouched down trying to stay warm. The "walking" light appeared and Sean, me, and two of our friends hurried across the street to make sure we made it to the train on time so we wouldn't have to wait for the next one."
As Kelly crossed the street, a feeling of deep uneasiness came over her.
"I got across the street and felt like I was going to throw up. I had passed countless amounts of homeless people all day but for some reason I was so drawn to this woman. I told my friends to please wait for just a moment and I tried to quickly get back across the street to talk with this mystery woman."
She walked back to the homeless woman and noticed her sign which was asking for winter boots and warm clothing.
"As I approached her, I saw that her cardboard sign said "I am in need of winter boots and winter clothing items." Immediately I knew that this was providential timing and that I was supposed to give her the winter boots straight off of my feet."
"I felt a little bit crazy because I was just planning on walking back to the train in just my socks. I asked her what size she wore and she said 8.5 (same as me). I asked her what size shirt she wore and she said medium (same as me). YOU GUYS I HAD EVERYTHING IN THAT BAG THAT SHE NEEDED. Shirts, sweatshirts, gloves, scarves, etc. The boots she was wearing were worn and were wet. Mine were warm and waterproof."
"I handed her the bag of clothing and winter items that I had taken off at Giordanos, and my leftover pizza, and told her that I would like to give her my boots. She stood up and cried. I sat down with her, untied my boots, and slid off the top layer of my fuzzy warm socks and handed them to her. She said they were the nicest shoes she's ever had."




As Kelly was giving the cold homeless woman, who was in tears of gratitude, her new favorite winter boots, the homeless woman said that she did not want Kelly's feet to be cold, so she offered her the only thing that she had; her own boots. Kelly then joyfully wore the homeless woman's wet boots for the rest of the day.
"We exchanged names and a few other words. We looked about the same age. We talked a lot. Not through words as much as just by looking at each other. She looked worn and tired when our eyes first met but by the time I left I could sense the warmth of her personality and the thankfulness in her heart. I started to walk away and she said, "I don't want your feet to be cold, can I give you my "old" boots?" She who had nothing, offered me these boots. HER boots. I wore them all the way home. Her name was Amy and I just cannot stop thinking about her. If you have the urge to do something kind for someone, I want to encourage you to do it."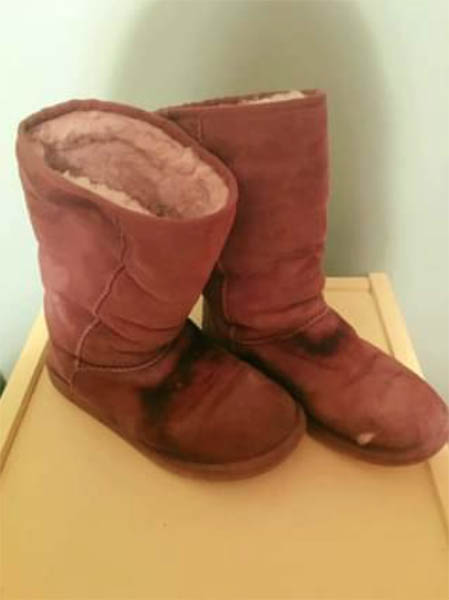 Many hearts have been deeply moved by Kelly's compassion for Amy, the cold homeless woman. Ellen DeGeneres was so touched that she invited Kelly onto her show and gave Kelly $20,000; $10,000 of which needed to be given to 10 of her friends to be used in an act of kindness to pay it forward.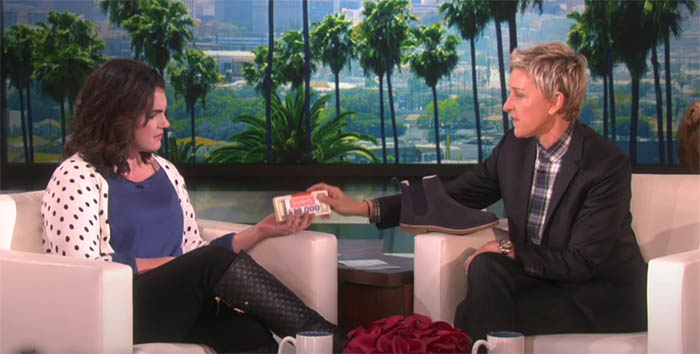 The pandemic has made lives more difficult for everyone, especially for our homeless. People are doing their best to social distance, which is deeply appreciated, yet it has also reduced the amount of charity the homeless have been able to receive, as they've been isolated from strangers.
When we see a suffering homeless person today on the streets, let us not only love them with words and with prayer, but also with concrete action, with truth and with compassion.
You are Loved.
Watch this wonderful interview with Kelly on Ellen's Show:
See Also: Kind Child Sees Soles Falling Off Of Classmate's Old Shoes So He Gave Him His Brand New LeBron 13s